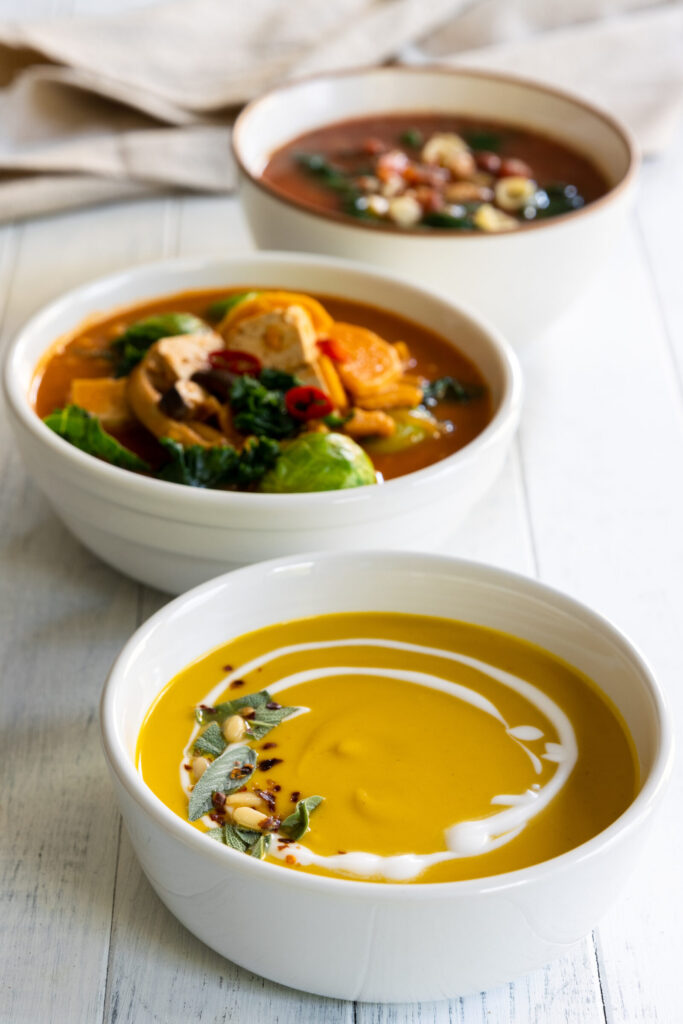 There is nothing quite like a delicious warm and comforting soup to get me into the fall mood. Today, I narrowed down the search for my three most favorite fall soups to the following three choices: Fall Sweet Potato Kale Curry Soup, a Classic Butternut Squash Soup, and The "Faithful" Minestrone soup. All three of these recipes are healthy, plant-based, vegan, and can easily be made gluten-free! Perfect meals for the cozy fall days we are currently experiencing.
We are in the middle of Fall Season here in New Hampshire. The roads have more traffic than usual as the leaf-peeping tourists who have come to experience the vivid colors really add to our population count this time of year. But we do not mind the visitors; we are glad to share the experience.
As I write this post, the weather is "kinda" grey, and it is raining. We are not complaining; we need it; summer has been dry. I am the type of person who loves the rain anyway, especially when I can be indoors, tucked under a blanket while enjoying a beautiful, comforting bowl of soup. Add fire to the fireplace, and you have an experience worth repeating time and time again.
Yes, rain and cooler weather have a way of making us want warm and comforting meals, and soups take one of the top slots on the comforting-meal-scale during the Fall Season.
Three Favorite Fall Soup Recipes
Click Here to watch me make three fall soup recipes on YouTube!
I have to admit it was hard to pick just three soup recipes for this "My Favorite Healthy Fall Soup Recipes" post. I have so many favorites, but I guess these are my favorite favorites:) for fall. Here are my favorite healthy fall soup recipes: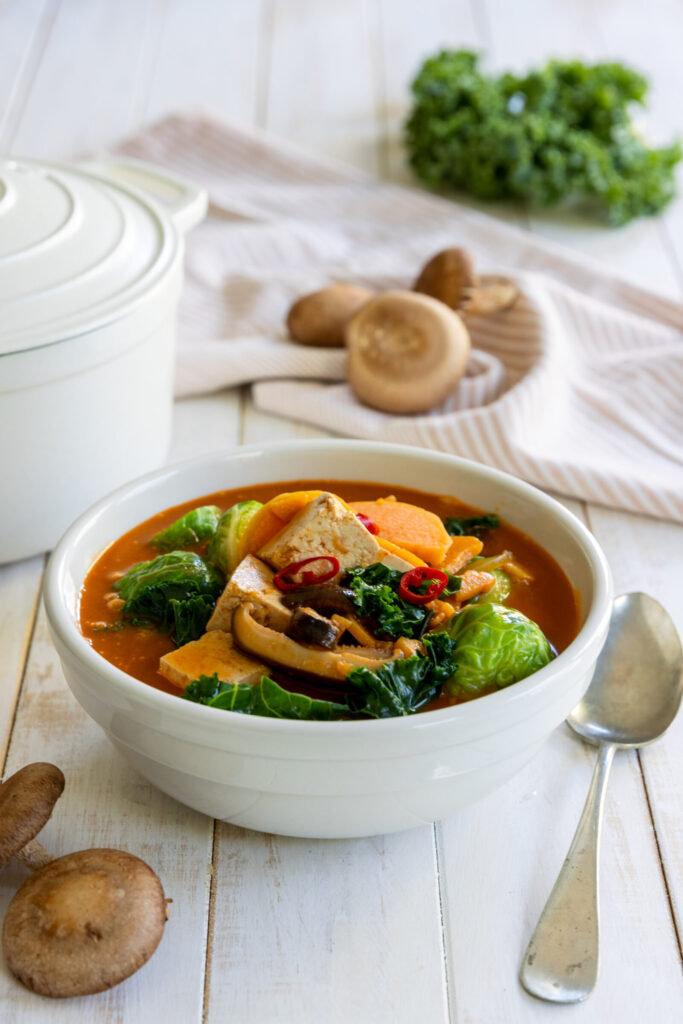 There is something about a warm curry soup that gives you that warm-comforting-hug sort of feeling. The broth is the secret, and the reason it keeps me coming back for more. The spice from the curry adds such a nice kick, the sweet potato adds balance to the flavor profile, and the kale contributes with the green color and healthy nutrition. The tofu adds a bit of protein along with a soft smooth texture, and the shiitake mushrooms add chew and the earthy tones.
This soup basically combines all of my favorite things: sweet potato, kale, tofu, curry all wrapped into one delicious broth. I truly can enjoy this soup any day of the week, month, or year. Click Here to get this Fall Soup Recipe.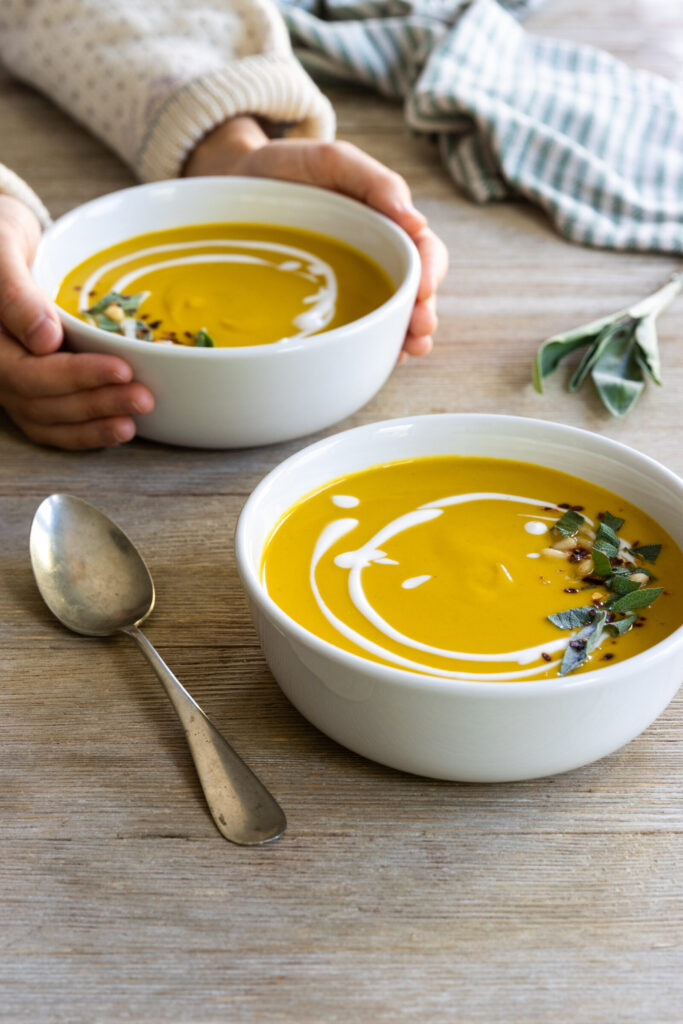 This soup does not need much of an introduction. It is already a classic fall soup in America, Loved for its beautiful color and deep comforting flavor. I totally agree with the rest of the country when it comes to this show-stopping comforting soup. I roast the butternut squash in the oven to intensify the beautiful vegetable, which adds a roasted flavor component to this dish. Add in a small carrot for color, an onion, some beautiful fall seasonings, and a few cashews to make this soup irresistibly creamy, and you have yourself a winner. Sage goes especially well with Butternut Squash, so I usually add dried sage to the soup and fresh sage for garnish. I often add some toasted pine nuts and a touch of red pepper flakes for a little extra crunch. Click Here for the Recipe!
When my family and I entertain guests, we most often start their visit with a bowl of Minestrone Soup, especially if the weather is on the cool side. It is a great soup to have on hand when you don't know exactly when the meal will be served. It heats up quickly and is hardy enough for hungry family members and worn out visitors. You can't go wrong with this beautiful soup, packed full of fresh, healthy vegetables. Serve this soup with some crunchy French Bread, and you will have raving reviews. Click Here to for the recipe!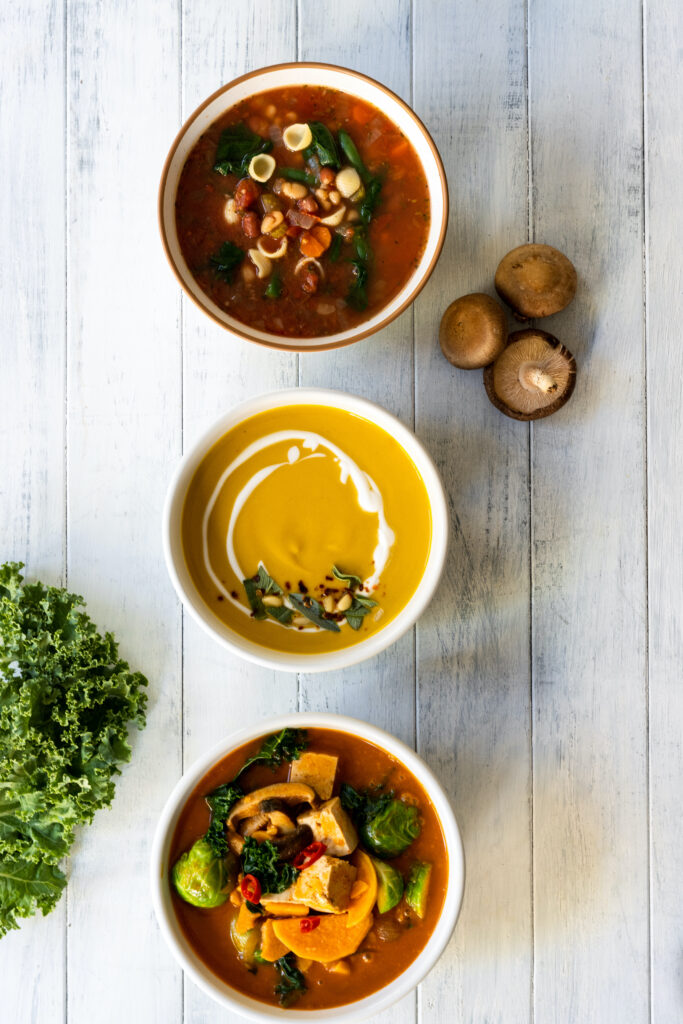 LOOKING FOR MORE SOUP RECIPES?