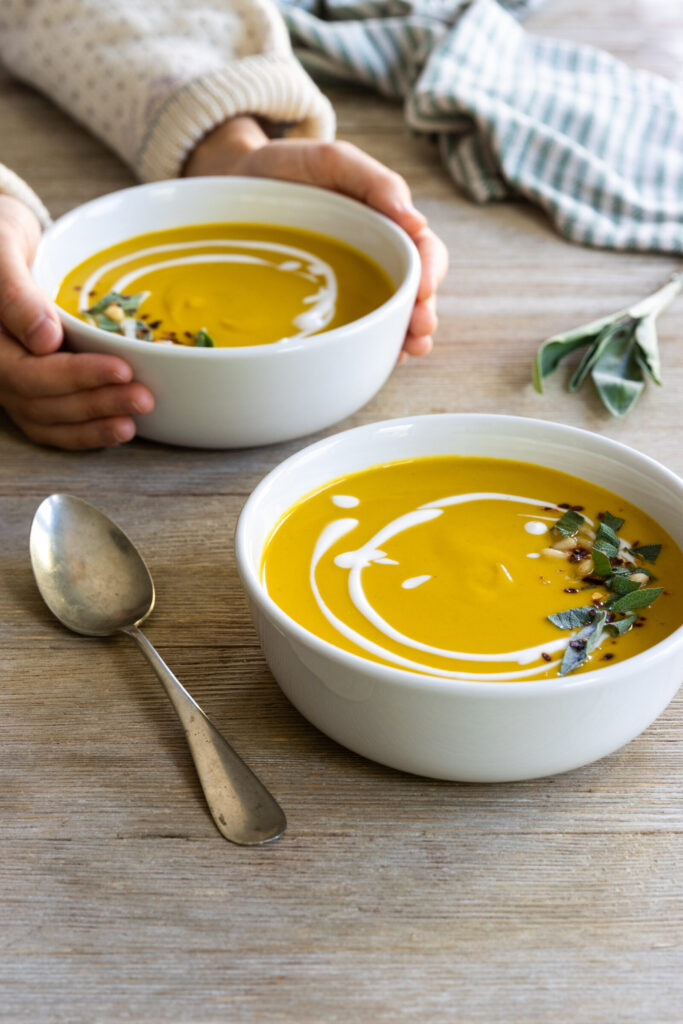 This soup does not need much of an introduction. It's already a classic fall soup in America, loved for its beautiful color and deep comforting flavor. I agree with the rest of the country when it comes to this show-stopping comforting soup; it's a favorite. This Classic Butternut Squash Soup is one of the most popular soup recipes on my blog. And for good reasons:)
It is actually a super easy soup to make. I roast the butternut squash in the oven to intensify the beautiful vegetable, which adds a roasted caramelized flavor component. While the vegetables are roasting, I saute the onion and garlic. Add a small carrot for color and flavor, some vegetable stock, cashews, sage, salt, crushed red pepper, a bay leaf, and bring to a simmer. Let simmer until carrots are tender and then add to a blender along with the roasted vegetables and blend until smooth.
Picking a Butternut Squash
I think it is always better to start with fresh vegetables in their natural packaging, but you can cut time by buying an already peeled and sliced squash if you are short of time. Pick a medium-sized, heavy, and hard squash with a solid beige color. Avoid those with brown spots or deep cuts.
When preparing the Butternut Squash, I usually start by cutting off both ends. Next, I usually peel the squash using a vegetable peeler. Then I cut it in half lengthwise and remove the seeds from both halves. Now I am ready to chop it into bite-size pieces, place it on a baking tray, sprinkle with a little oil and salt, and roast until tender.
This Classic Butternut Squash Soup is great for making ahead. It stores well in the fridge and tastes just as good, if not better, the next day. It is a fantastic soup to serve guests. Make a small circle with some extra creamy coconut milk, add some toasted pine nuts, and a few fresh sage leaves, and the soup will look beautiful too.
It's the perfect soup for a heartwarming, comfort-producing, and uniquely delicious experience.
Print
Butternut Squash Soup with Pine Nuts & Sage
1 1/2

lbs butternut squash, diced

1

medium onion, diced

1

T olive oil

4

garlic cloves, minced

4 cups

vegetable stock

1

small carrot, sliced thinly

2

T cashews

1/2 teaspoon

sage

1 1/2 teaspoon

salt

1/4 teaspoon

crushed red pepper (or a pinch of cayenne)

1

bay leaf (remove before blending)
Instructions
Preheat oven to 400 F
Peel, deseed, and dice the butternut squash.
In a bowl, coat the butternut squash in about a tablespoon of olive oil. Place on a baking tray.
Roast for 40-50 minutes, until tender.
In a medium sauce pan, sauté onion in a little olive oil (or water) until translucent. Add the minced garlic, sauté another minute or so.
Next add the vegetable stock, carrot, cashews, sage, salt, crushed red pepper or cayenne, and a bay leaf.
Bring to a boil, let simmer for a few minutes until the carrots are tender (5 min).
Remove the bay leaf.
Pour into a blender, and blend until smooth (2-3 min).
Add the roasted butternut squash and blend again.
Pour the soup back into the sauce pan, and let simmer for a couple of minutes. It is now ready to serve.
Garnish:
Garnish with roasted pine nuts.  (Roast in a skillet for a few minutes on medium heat, while stirring)
Fresh sage
Butternut squash chips. (slice very thin using a mandolin, rub with a little olive oil, salt, and herb de provence, roast at 375F until crisps)
Cashew cream (soak 2 T cashews overnight, drain, blend with 1/2 cup water in the blender for 2-3 min.) 
Or you can use Coconut milk (full fat)
Notes
For a more vibrant color, add in a teaspoon of tomato paste.
LOOKING FOR MORE SOUP RECIPES?