This crave-worthy creamy and totally satisfying vegan lasagna soup is loaded with all the creamy, veggie flavors we can expect from a lasagna.
This soup is jam-packed with nutritious ingredients and the savory goodness that roasted tomato, nutritional yeast and Better-Than-Bouillon are bound to bring.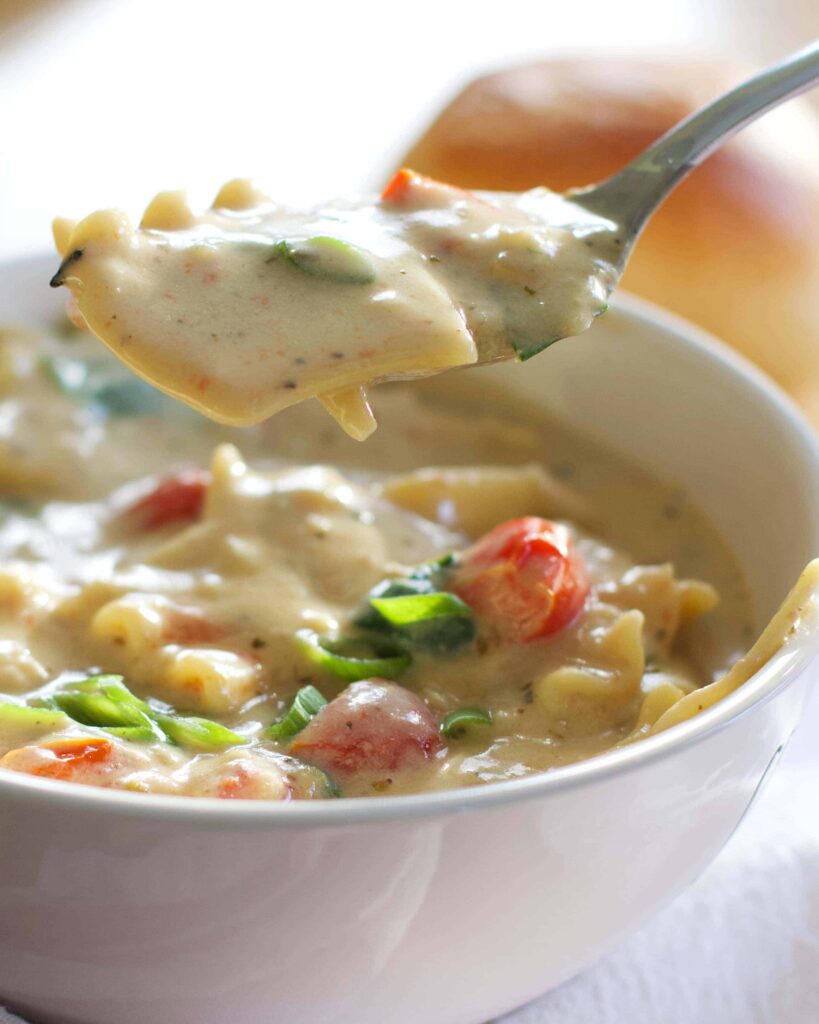 If you loved my quick and easy cherry tomato soup, you'll love this soup recipe.
Why you'll love this vegan lasagna soup
It's a healthy option: Vegan lasagna soup is packed with vegetables, making it a nutritious meal option. It's also lower in calories and fat compared to traditional lasagna.
Easy to make: Vegan lasagna soup is easy to make, requiring only a few simple ingredients. You don't need to spend hours in the kitchen to enjoy a delicious meal.
It's customizable: You can adjust the recipe to suit your tastes and preferences. Add your favorite vegetables or switch up the spices to create a unique flavor profile.
It's a comfort food: Lasagna soup has all the flavors of traditional lasagna, making it a comforting and satisfying meal option.
Great way to use up leftovers: If you have leftover vegetables or pasta, you can use them up in this soup. It's a great way to reduce food waste and create a delicious meal at the same time.
Crowd-pleaser: Vegan lasagna soup is a great option for dinner parties or family gatherings. It's a hearty meal that everyone can enjoy, regardless of their dietary restrictions.
Looking for more recipes? Here are some of my favorite vegan soup recipes:
Ingredients and substitution notes
Cherry Tomatoes: Cherry tomatoes are small and sweet, and add a pop of color to the soup. If you don't have cherry tomatoes, you can use regular tomatoes, diced tomatoes from a can, or even sun-dried tomatoes for a more intense flavor.
Olive Oil: This is used to sauté the onion and garlic for added flavor. You can use any other cooking oil.
Onion: Adds a sweet and savory flavor to the soup. You can use any type of onion you have on hand.
Garlic: Adds a pungent and savory flavor to the soup. You can use garlic powder or minced garlic from a jar if you don't have fresh garlic.
Italian seasoning: A blend of dried herbs that typically includes basil, oregano, and thyme. You can use any Italian herb blend you like or make your own by combining dried herbs.
Nutritional Yeast Flakes: Adds a cheesy and nutty flavor to the soup. If you don't have nutritional yeast, you can skip it or add a tablespoon of miso paste instead.
Better-Than-Bouillon: A concentrated paste that adds flavor to the soup. You can use vegetable bouillon cubes or powder instead of Better-than-Bouillon.
Lemon Juice: Adds a tangy and bright flavor to the soup.
Salt: Balances the flavors in the soup. Use any type of salt you prefer.
Soaked Cashews: These add a creamy texture and nutty flavor to the soup. If you don't have cashews, you can use soaked almonds or macadamia nuts instead.
Recipe variations and add-ins
Vegan lasagna soup is a hearty and comforting dish that's perfect for colder days. Here are some recipe variations and add-ins to make your vegan lasagna soup even more delicious:
Vegetable Variations: Add in your favorite veggies to boost the nutrition of your soup. Try adding diced zucchini, mushrooms, or chopped spinach.
Protein Add-ins: Add in a protein source to make your soup more filling. You can add cooked lentils, chickpeas, or vegan meat crumbles.
Cheesy Add-ins: To make your soup even more flavorful, add in some vegan cheese shreds. You can use mozzarella, cheddar, or Parmesan-style cheese.
Creamy Add-ins: If you want a creamier soup, add in some vegan cream or coconut milk. This will give your soup a rich and decadent flavor.
Topping Options: Add some texture and crunch to your soup by adding toppings. You can use croutons or toasted nuts.
Top tips
Don't skimp on the seasonings: Use plenty of seasonings to give your soup depth of flavor and make sure you taste the sauce and soup as you go so that it isn't under-seasoned.
Be mindful of the soup's thickness: Lasagna soup should be thick and hearty, but not too thick. If your soup is too thick, you can add a bit of vegetable broth to thin it out.
Use a large pot: Lasagna soup makes a lot of servings, so it's important to use a large pot to avoid overflow.
Experiment with variations: Don't be afraid to experiment with different vegetables, noodles, and spices to make your vegan lasagna soup unique and exciting every time you make it!
Make ahead of instructions and storage
To Make Ahead:
Prepare the soup according to the recipe, but do not add the noodles or fresh spinach yet.
Allow the soup to cool completely.
Transfer the soup to an airtight container and refrigerate for up to 2 days.
To Reheat:
Cook the noodles separately and set them aside.
Gently reheat the soup on the stove over low heat until heated through.
Add the cooked noodles to the soup and stir gently.
To Store Leftovers:
Allow the soup to cool completely. Transfer the soup to an airtight container and refrigerate for up to 4 days.
Vegan Lasagna Soup Serving suggestions
Garlic Bread: Serve the soup with a side of garlic bread for a classic Italian dinner.
Salad: Pair the soup with a simple green salad for a light and refreshing meal.
Crusty Bread: Serve the soup with a slice of crusty bread to dip into the soup.
Roasted Vegetables: Roasted vegetables like Brussels sprouts or asparagus make a great side dish for this soup.
Vegan Meatballs: Serve the soup with some vegan meatballs on the side for an extra protein boost.
Antipasto Platter: Set up an antipasto platter with olives, marinated artichokes, and roasted red peppers for a Mediterranean-style meal.
Vegan Caesar Salad: Serve the soup with a vegan Caesar salad for a complete and satisfying meal.
Vegan Garlic Knots: Serve the soup with some vegan garlic knots for a delicious and filling meal.
Roasted Garlic Mashed Potatoes: Serve the soup with a side of roasted garlic mashed potatoes for a hearty and comforting meal.
FAQs
Can I freeze this soup?
It is not recommended to freeze this soup as the noodles may become mushy and the texture of the soup may change. However, you can store the soup in an airtight container in the fridge for up to 4 days. Make sure to remove the noodles before storing.
Can I use different vegetables in this soup?
Yes, you can use any vegetables you like in this soup. Some great options include zucchini, yellow squash, eggplant, mushrooms, or spinach. Just make sure to chop them into bite-sized pieces so they cook evenly in the soup.
Watch My Vegan Lasagna Soup Recipe Video:
Print
Vegan Lasagna Soup
1 cup

cherry tomatoes, halved
Soup Ingredients:
1 tablespoon

olive oil

1/4

onion, chopped

3

garlic cloves, minced

3 1/2 cups

water

1 teaspoon

Italian seasoning

2 tablespoons

nutritional yeast flakes

1 tablespoons

Better than Bouillon

1 1/2 teaspoon

lemon juice
Salt to taste
Cream Ingredients:
1/2 cup

soaked cashews

1/2 cup

water

1 1/2 teaspoon

lemon juice
pinch of salt
4

lasagna sheets

1 cup

chopped spinach
Instructions
Preheat oven to 400 degrees. Toss cherry tomatoes with a little olive oil and salt. Spread on a lined baking sheet tray. Roast for 10-14 minutes in the oven. Remove from oven and set aside.
In a pot add olive oil. Sauté onion and garlic for a couple of minutes. Add water, Italian seasoning, nutritional yeast, Better than Bouillon, and lemon juice.
To make the cream add the soaked cashews, water, lemon juice, and pinch of salt. Blend until smooth.
Add to the pot of soup. Bring to a boil. Break lasagna sheets into smaller pieces and add to the soup once it comes to a boil. Reduce to a simmer and cook until the lasagna noodles are cooked. (Normally around 10-15 minutes)
Stir in the roasted cherry tomatoes and right before serving, add the chopped spinach. Enjoy!