There are few recipes that speak to me, as this recipe does. There is something about curry that warms you from the inside out, and this recipe is no exception. It is a fantastic Chickpea Coconut Curry with comforting flavors, smooth and rich texture, which creates a truly unique culinary experience. This recipe must be one of my all-time favorite recipes. I am one happy camper when this recipe is on the menu. It also happens to be gluten-free, which is lovely for those that are sensitive to gluten.
Several years ago, we developed this recipe for a friend's wedding, and we had such a positive response to the dish that we decided to make it a staple in our home. Ever since it has been a go-to recipe when needing something special for dinner.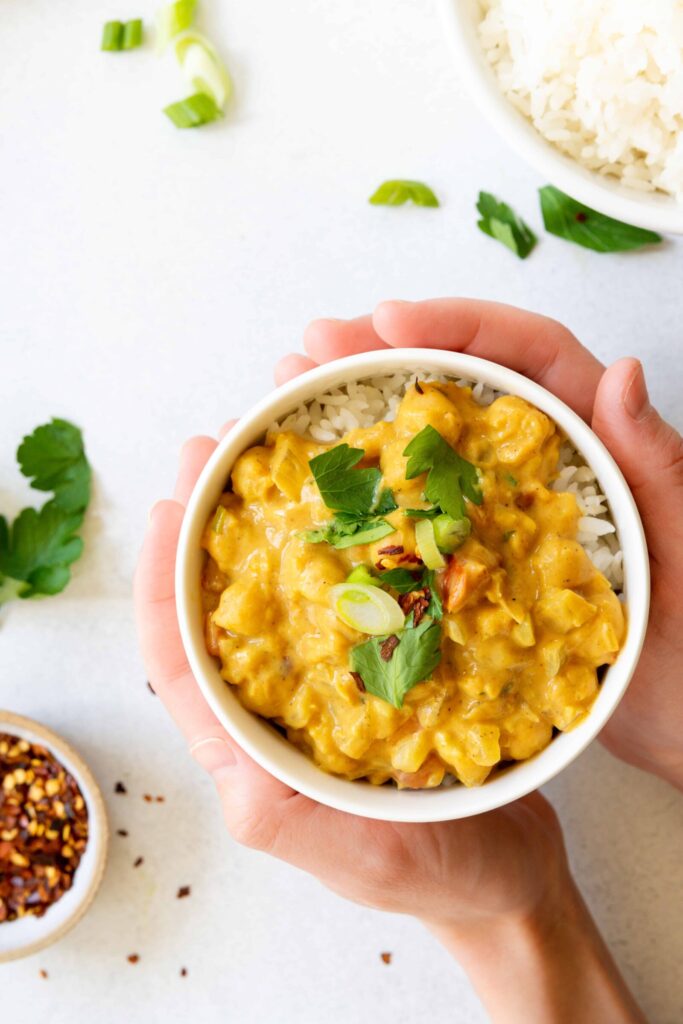 It is a great recipe to serve over rice, brown or white. Brown rice is a whole grain, which means it is more nutritious and contains more fiber than white rice, where the germ and endoderm have been removed. We use white rice for special occasions and brown rice for every day. It is also a fantastic curry to serve over riced cauliflower.
Let's Talk Chickpea Coconut Curry Ingredients:
Cauliflower:
Cauliflower is a beautiful vegetable, mild and nutty in flavor, packed full of fiber and vitamins, with numerous health benefits. We use cauliflower in this curry for three reasons:
It really balances the flavor.
Cauliflower thickens the sauce without the need for cornstarch or flour.
It adds valuable nutrition.
Cauliflower is an excellent vegetable for weight loss. It is low in calories and high in antioxidants and fiber.
Chickpeas:
A rich source of vitamins, minerals, and fibers, chickpeas offer many health benefits. Chickpeas (sometimes called Garbanzo beans) belong to the legume family and are high in protein, making them an excellent addition to any plant-based meal. I love chickpeas and serve them at least a couple of times a week in various recipes. Check out my other chickpea recipes: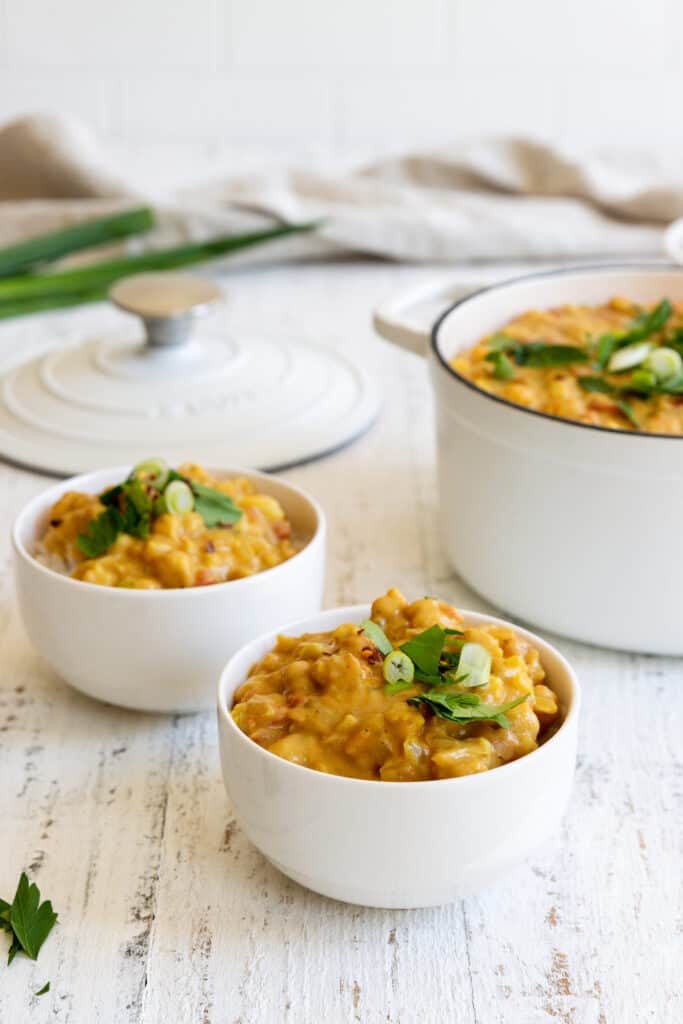 Coconut Milk:
In this recipe, coconut milk is the ingredient that provides a rich, decadent, and smooth texture. Coconut milk pairs so well with the curry flavors and classifies this dish as comfort food. We use full-fat coconut milk for this recipe as we like the result, but it will also work with light coconut milk.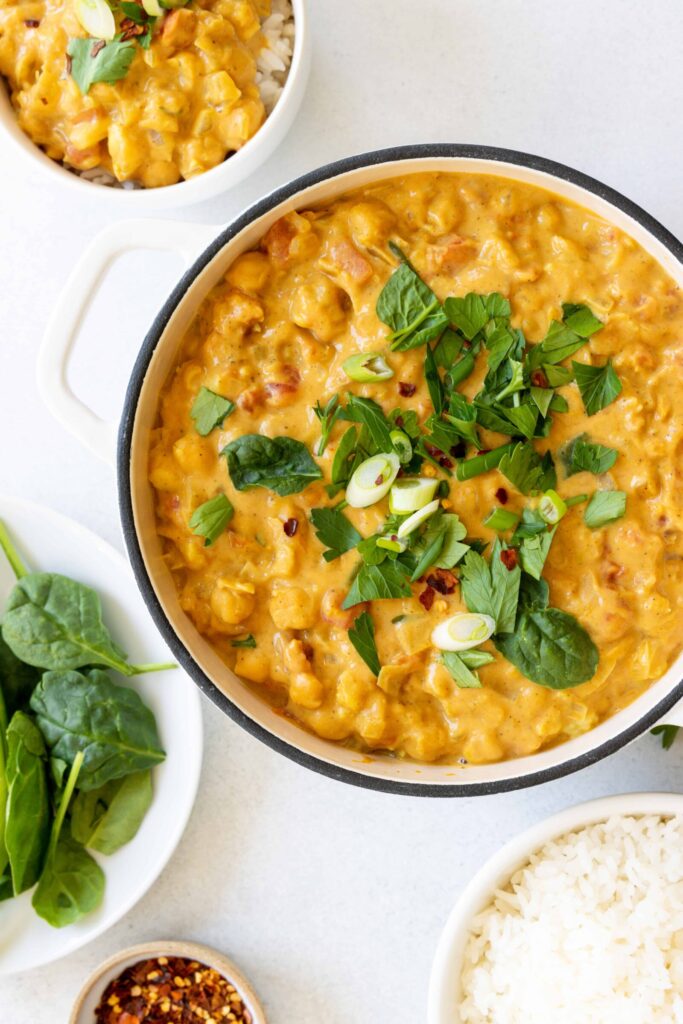 Seasoning Blend:
We use a blend of coriander, cumin, turmeric, and a touch of crushed red pepper to create that wonderful curry taste. If you prefer a spicier curry, feel free to add some extra crushed red pepper. We also add Italian seasoning and nutritional yeast flakes for additional flavor.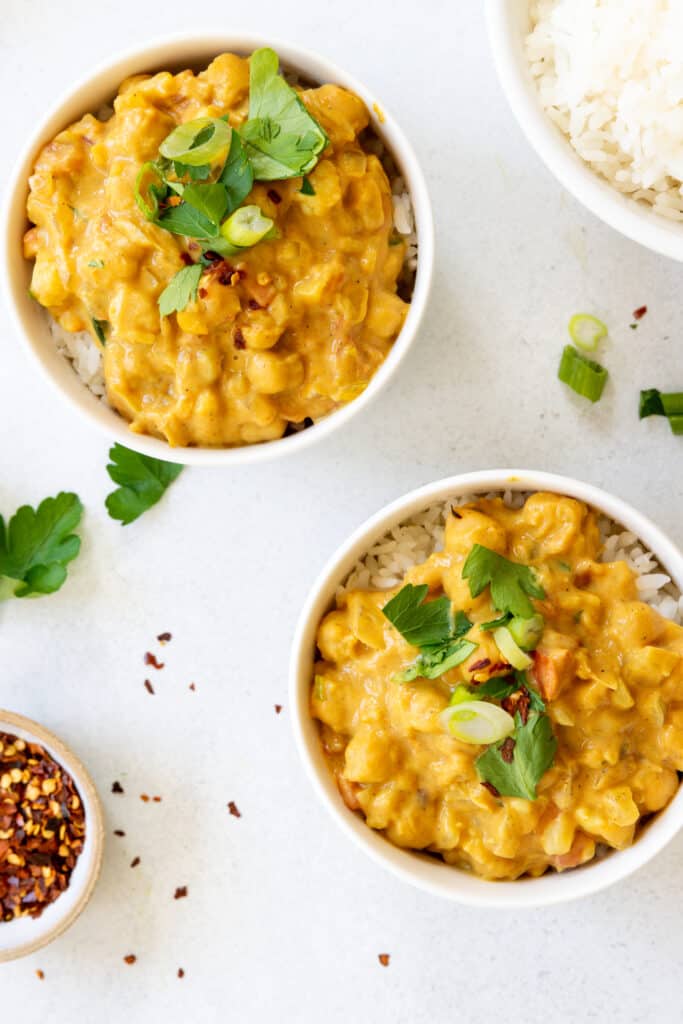 Finishing Touches:
To finish this dish and to make it look and taste fresh, we add chopped spinach towards the end of the cooking period. We garnish with sliced green onion, chopped cilantro and parsley.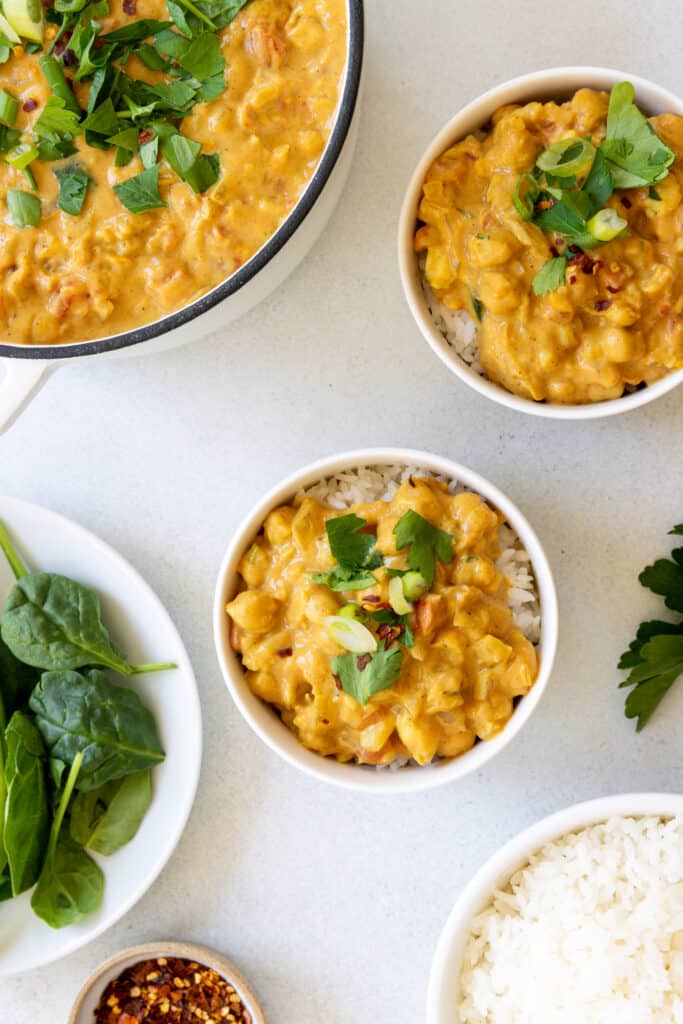 Again, I could not be more excited about this recipe. I hope that you will like this Chickpea Coconut Curry as much as my family does. After all, the object of this channel is to make healthier choices one recipe at a time.
Click Here to Watch Me Make this Chickpea Coconut Curry on YouTube!
Print
Chickpea Coconut Curry | Gluten-Free, Vegan, Plant-Based
1/2

a large cauliflower, divided into small pieces

2 cups

chopped onion (small dice)

2 tablespoons

olive oil

4

large garlic cloves, minced

1

can coconut milk

1 1/2 teaspoons

ground cumin

1 1/2 teaspoons

ground coriander

2 tablespoons

nutritional yeast flakes

1/2 teaspoon

turmeric

1/8 teaspoon

crushed red pepper (optional)
pinch of ground celery seeds (optional)

2 teaspoons

Italian seasoning

1 teaspoon

natural cane sugar (optional)

2 teaspoons

sea salt

1

can petite diced tomatoes

2

cans chickpeas, drained and rinsed
FRESH GREENS:
1 cup

fresh spinach, chopped

1 cup

fresh cilantro and/or parsley, chopped

1/3 cup

sliced green onion
Instructions
Clean and cut cauliflower into bite-size pieces.
Add to a saucepan, cover with water, and sprinkle with a little salt.
Bring to a boil, reduce heat and let simmer for 5-6 minutes, until soft.
Drain the cauliflower, mash into small pieces, and set aside.
Sauté chopped onions in olive oil until soft. 
Next, add the minced garlic and cook for 1 minute.
In a blender, add 1 cup cooked cauliflower (set aside the remaining cauliflower to add texture at the end).
Also add the coconut milk, and seasonings to the blender.  Blend until smooth.  
Add the content of the blender to the onion and garlic mixture in the saucepan.  
Add the petite diced tomatoes (including liquid), and bring to a soft boil.  Reduce heat to low, add the chickpeas and simmer for 7-10 minutes.
For the last couple of minutes, add the extra cauliflower pieces.  
Right before serving, add the chopped spinach.  
Garnish with sliced green onion, chopped cilantro and/or parsley.  This curry is lovely served over rice, white or brown.