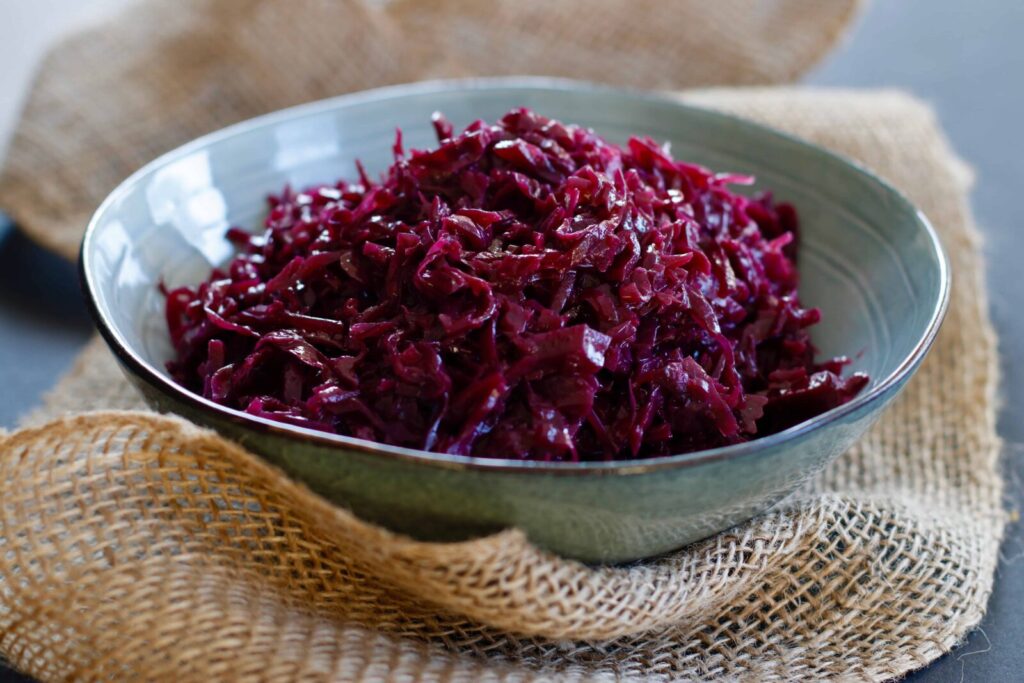 One of my favorite childhood memories is waking up to the smell of red cabbage slowly simmering on the stove. It's sweet aroma broadcast the fact that the Holiday meal preparation is in full swing. Today, my mom is showing us how to make this exclusive Holiday side dish.
You may not be excited about cabbage as a side dish for the Holiday meal, but let me tell you, this is no ordinary cabbage dish. It is a sweet and tangy side dish that adds just the right flavor for an extraordinary experience. In my home, it is as necessary as the cranberry sauce, and who can have a Holiday meal without that?
My mom loves this side dish. She has fond memories of it simmering on the stovetop as she was growing up too. It spells Holiday to her.
If you visit a Scandinavian or European specialty food store, you are sure to find red cabbage precooked and ready to heat for the Holiday. But let me tell you, this homemade version is so much better.
The trick to making this dish extraordinary is to let it simmer at low temperatures until done. In our house, we usually cut the cabbage and add all the ingredients in a saucepan the day before. Then we cover and put it in the fridge overnight. Early the next morning, before the house wakes up, we put it on the stovetop, set the temperature on low and let it do its thing. It takes a while, but it is so worth it.
If you try to cook this too fast, you will end up with ordinary boiled cabbage, which is something entirely different. It is almost like the flavors need to get to know each other before this dish works.
So hence, the smell of red cabbage simmering usually wakes the whole house for the Holidays. I hope you enjoy this dish as much as my family does. Over the years, our guests have grown to expect and like this side dish so much that we can not have a Holiday meal without it.
Print
Amazing Holiday Red Cabbage with Mama
1 small red cabbage, finely shredded
2 tablespoons vegan margarine (Earth Balance)
1/3 cup fresh lemon juice
1 teaspoon salt
2 tablespoons natural cane sugar
3 tablespoons frozen grape juice concentrate (Welch's 100% Grape Juice)
2 teaspoons Better Than Bouillon or chicken style seasoning
Instructions
Remove outer leaves and core from cabbage. Shred cabbage very fine.
Melt butter in a medium pot. Add all ingredients.
Cover and gently, GENTLY, on low heat, bring to a simmer. (This step is crucial to the flavor of the cabbage). Let slowly, SLOWLY, simmer for about 1 hour until the cabbage is tender and flavorful.