This has to be one of my all-time favorite snacks to bring along on hikes, pack in lunch boxes, or as a sweet treat to finish a meal. Why would you make your own, you might ask, as grocery stores carry a wide variety of different fruit leather options? For two reasons, and there are probably more if I really think about it, but the first reason is that you know what is in it, and second, it contains no refined sugar. My Homemade Raspberry Fruit Leather is made with only four ingredients: raspberries, apple juice concentrate, maple syrup (optional), and lemon juice.
Growing up eating fruit leather:
I grew up loving fruit leather. It was a real treat in my home. We did not get it that often, but when we did, it was a good day. Mom would bring it along on nature walks or have it packed in our backpacks when we were traveling. It was always a welcomed sight. As I grew, I decided that I would make my own fruit leather, a healthier version, and then be able to eat more of it. How do you like that logic?
I started with some frozen raspberries, added some maple syrup, and a touch of lemon. I was amazed at the result. Loved it! Though we love maple syrup in New England, I decided to replace some of the maple syrup with frozen juice concentrate, making it a little healthier, which also turned out really good. In fact, you can make the fruit leather with fruit juice concentrate as the only sweetener, if you prefer.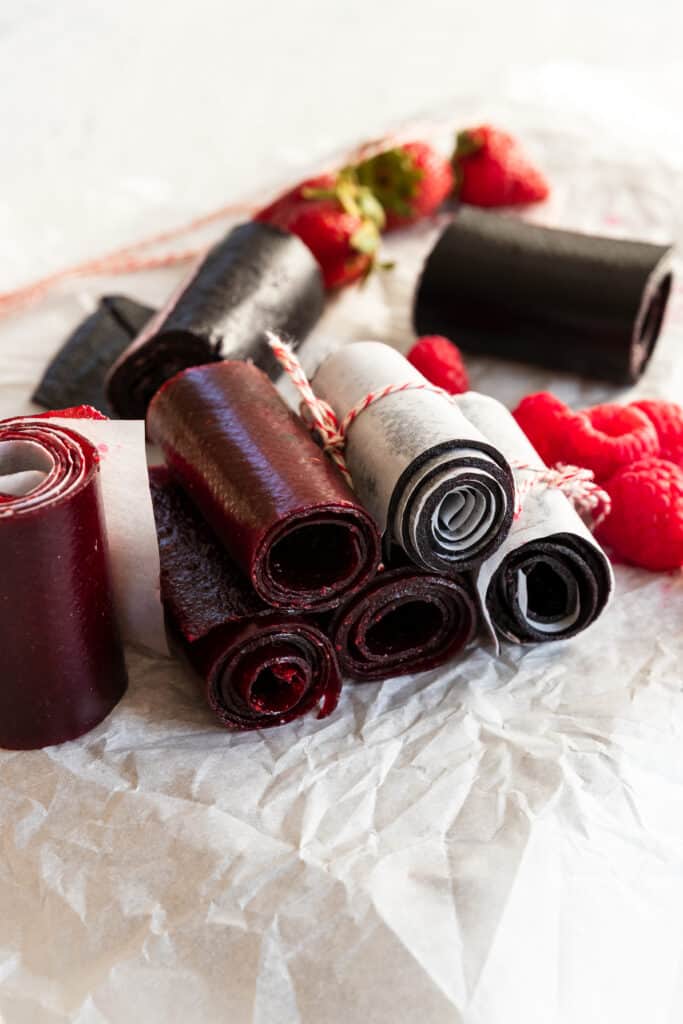 Some berries are sweeter than others, such as strawberries and blueberries, and may therefore not require as much sweetener. Raspberries tend to be tart, and require a little more. However, raspberries are high in fiber, providing another health benefit. You can also mix and match berries; the sky is the limit.
Helpful Tool For This Recipe:
I LOVE these silicon baking mats from Amazon. I have used them for years and they make baking so much easier and cost effective as you can reuse them over and over again, not to mention healthier as you don't have to worry about greasing a baking sheet tray. This is a super helpful tool for this recipe as the fruit leather peels right off the mat.
[lasso ref="amazonbasics-silicone-baking-mat" id="3390″ link_id="322″]
Have Fun:
Have some fun with this recipe. It is a great one to get the kids involved in. Now, it takes some patience as the fruit leather needs to be reduced and then dried, but it is well worth the wait.
Give this homemade fruit leather recipe a try. I think you will be amazed. It disappears very quickly in my home.
Watch me Make this Homemade Fruit Leather on YouTube!
Print
Homemade Raspberry Fruit Leather
This has to be one of my all-time favorite snacks to bring along on hikes, pack in lunch boxes, or as a sweet treat to finish a meal.
12 oz

. frozen raspberries

3 tablespoons

frozen apple juice concentrate

3 tablespoons

maple syrup

1 tablespoon

lemon juice
Instructions
Thaw the raspberries so that you are able to blend them.

Add raspberries, apple juice concentrate, maple syrup and lemon juice to a blender.

Blend until smooth.

Add to a medium size sauce pan. Cook on medium to high heat to reduce mixture until the mixture is so thick that you can push it to one side of the pot.

Line a baking sheet with a silicon mat. Pour mixture onto the baking sheet.
Move the baking tray to help the mixture flow to cover the whole sheet, or use a spoon to smooth it.
The thinner the layer, the less time it will take to dry.
Bake at 170F for about 3 hours or until dry.
I usually leave the fruit leather in the oven with the light on overnight.

Hope you enjoy this recipe. It is such a favorite.
(Read my affiliate discloser here.)