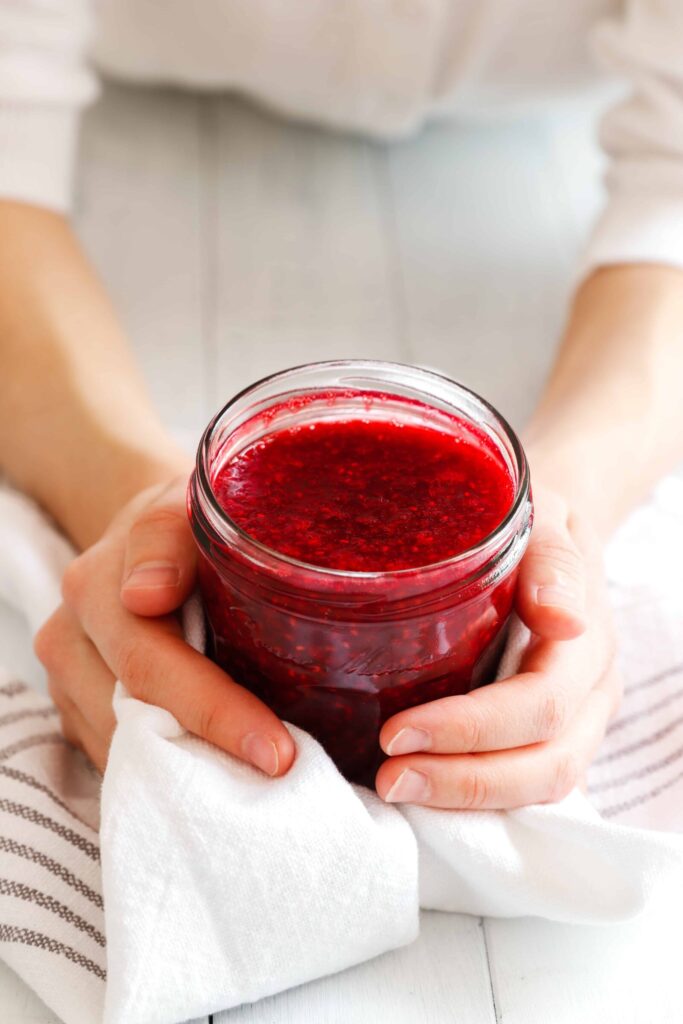 This is my absolute favorite homemade raspberry jam recipe! It is super simple and so delicious. Last week, I shared my Homemade Whole Grain Bread recipe and some of you requested that I share a jam recipe also. I thought that was an excellent suggestion given the fact that I Love Jam:) Spread a little homemade jam on a beautiful slice of bread and I am a happy girl:)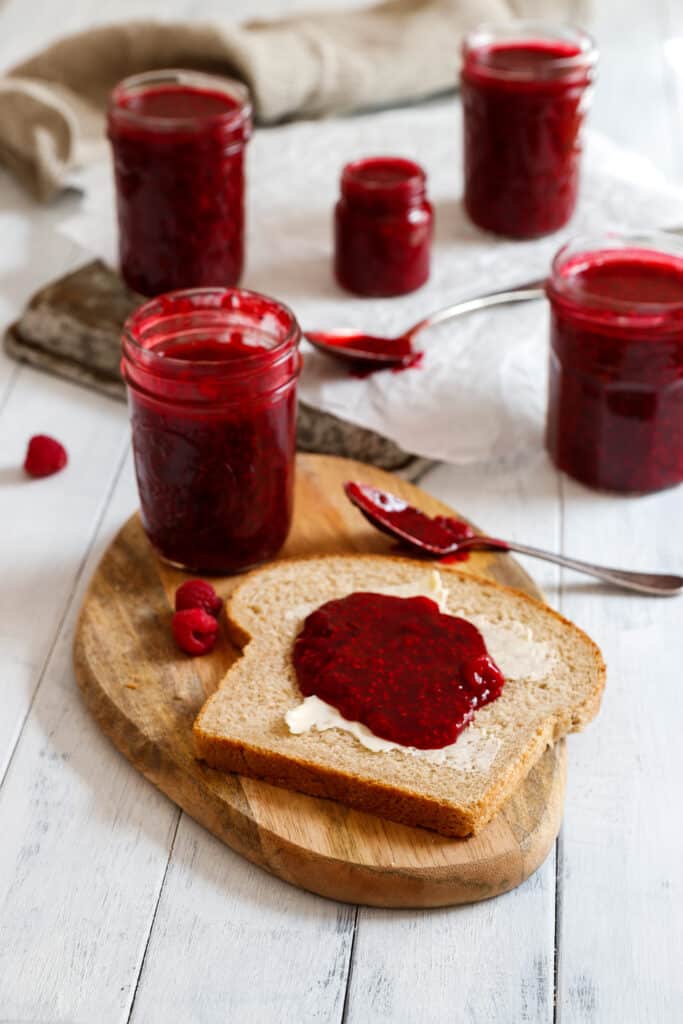 Raspberry Jam Recipe: Tart and Sweet in One Delicious Jar
I love raspberry jam because raspberries are such a complex little fruit! The berries themselves are soft and juicy. When it comes to flavor, no other berry delivers the flavorful punch of tartness and sweetness. It's hard to eat just one!

Raspberry jam is like the essence of raspberries. I find it almost addictive because it's never too sour or too sweet.

There are many other varieties, too! The golden raspberry and black raspberry (not to be confused with blackberries) are both tart, yet very different from the usual variety. I think they're all amazing in jam!
Bestemor's Jam
My love for homemade jam evolved during my summer visits to Norway. My grandmother was always experimenting with making the best jam possible, and being very health conscious, she would make many wholesome variations over the years. I loved them all. She made the best jam. I think one of the reasons for this was that she would pick the berries herself, growing wild in the woods, totally fresh, and make this beautifully delicious and adorably sweet, but reasonably healthy jam.
Click Here to watch the video of my grandma making jam.
I have taken up the tradition; I experiment with my jams too. Today I will show you how to make a super easy jam. I sweeten this with the essence of New England, can you guess? You are right, maple syrup. There is something about the maple flavor that compliments the raspberries.
Spring is still hesitating to make an appearance in New Hampshire. It will be a while before the berries grace us with their beautiful look and wonderful taste. But not to worry, we can still make a delicious jam with frozen raspberries. I love that we can get organic berries in the freezer section of regular grocery stores these days.
You can make this jam using your favorite berries. I love raspberries as they have a unique sweet-tart flavor quality, but blueberries and strawberries will work also. I think you get the idea. You be you!
Why Making Raspberry Jam is Perfect Any Time of Year
I love jam because it keeps for so long. You can make a jar during the peak of summer and enjoy those memories in the dead of winter.

And honestly, I feel like there's never a bad day for jam. Too hot to cook? Make some toast and enjoy with your delicious jam. Feeling cold and chilly? The exact same snack is a perfect winter pick-me-up.

Our ancestors canned jams and jellies because of their naturally long shelf lives. They also didn't have a grocery store to pick up produce any time! The only way to enjoy fruit in the winter was by preparing jam in the spring and summer.

But now, you can make jam any day of the year with fresh or frozen fruit. It's so easy to make and absolutely delicious—truly perfect for any time of year!
I hope you enjoy my favorite homemade raspberry jam recipe!
Print
Easy Homemade Raspberry Jam
This is my absolute favorite homemade raspberry jam recipe! It is super simple and so delicious.
Author:
Prep Time:

10 minutes

Cook Time:

5 minutes

Total Time:

15 minutes

Yield:

1/2 Pint

1

x
10 oz

. frozen organic raspberries

3 tablespoons

maple syrup

1 tablespoon

tapioca (mix with 1 tablespoon water)
Instructions
In a small saucepan add the frozen raspberries and maple syrup. Bring to a simmer while stirring.

Mix the tapioca with about 1 tablespoon of water to make a slurry. Add to the saucepan. Stir. It will thicken quickly. Let it simmer on low for about a minute, stirring frequently.

Pour into a small mason jar, and let cool. Keep in fridge. The jam will thicken as it cools.
Substitutions:

You can use 1 1/2 teaspoons cornstarch instead of 1 tablespoon tapioca.  Let it simmer for a couple of minutes to get rid of some of the starchy flavor. 

You can use 6 tablespoons 100% frozen apple juice concentrate instead of the 3 tablespoons maple syrup. Simmer the jam for an additional minute or two to reduce the added liquid.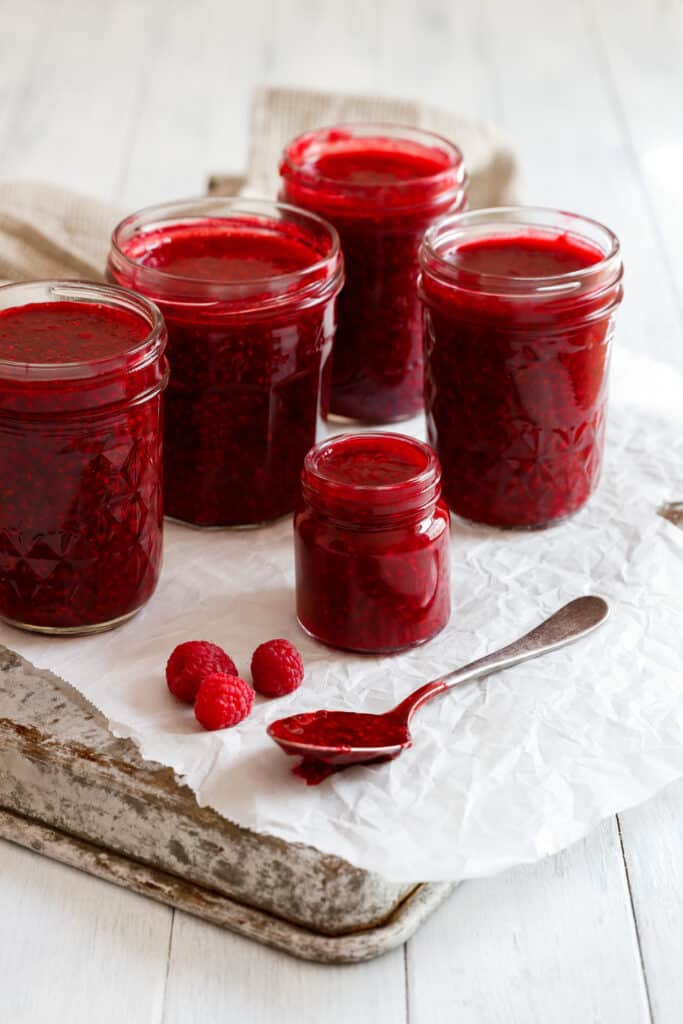 How to Store Jam in the Fridge
Your homemade raspberry jam should be kept in the fridge at 40 degrees Fahrenheit or colder. It's also important not to let your jam sit on the counter for too long.

We've all been there, right? You decide to make a nice weekend breakfast—and a nice big mess in the kitchen to go with it. After you've enjoyed a delicious meal, the last thing you want to do is put away jars and do dishes.

But here's the thing. The shelf life of your jam will get shorter if you leave it sitting out of the fridge for long periods of time. An hour or two every weekend might not seem like much, but it adds up.

To ensure you can enjoy all your jam before it goes bad, always keep the jar in the fridge unless you're using it right that second.
How Long Does Jam Keep in Storage?
Sealed jam can keep for up to 1 year in storage. (1) Once your jar of jam is open, try to use it within 1 month of the open date.

The reason for this comes down to mold. When you keep jam in the fridge, the cold temperature helps prevent mold or yeast from growing in the jar. Your open jar of raspberry jam is likely to go bad much faster at room temperature.

If you see yeast or mold growth, your jam has expired and needs to be thrown out. The same is true if you detect a yeasty or alcohol-like odor when you open the jar. 
Can You Freeze Jam?
Yes, you can freeze jam! It's quite easy—there's just a couple things you need to pay special attention to.

First, the type of container. If you're going to use glass, use a thick, rigid type. Thin glass containers can warp and even snap during the freezing or defrosting process. Of course, plastic containers are fine too.

Next, filling the jars. If you're using glass containers, I suggest not filling them all the way. Depending on the fruit you choose, jam can expand slightly as it freezes. So, leaving a little space can save you some heartbreak down the road!

Third, the temperature. Let the raspberry jam come down to room temperature before going into the freezer—this protects the container and any other items in your freezer.

Finally, timing! I find that frozen jam is good for about a year, but it's best within 6 months of freezing. The jam will slowly lose its delicious tartness if left in the freezer indefinitely.

To defrost, just pop the jar in your fridge overnight!
Why Shop Organic for Jam Fruits?
You should shop organic for jam fruits because they have lower levels of pesticides and higher amounts of nutrients. (2)

Another thing with jam fruits is that you don't peel them—the skins go in, too. If you're using non-organic produce, even washing won't remove all pesticides from the skins. Using organic fruits for your jam means you'll get a healthier result every single time!
Fresh is Always Better
I used frozen raspberries in this recipe because you can get them almost anywhere in the country year-round.

But if you can find fresh berries, your jam will be even better. Fresh fruit has a more pleasing texture, which carries over to your finished jam. Frozen fruit also tends to lose a bit of flavor.

For me, if the choice is jam made with frozen fruit or no jam, I'll make it with frozen fruit! But I also suggest trying this recipe with fresh fruit whenever you can.
Looking for Something Less Tart for the Recipe? Use These Fruits Instead
There are plenty of people out there who find raspberries just a bit too mouth-puckering for jam. If this describes you, no worries! There are plenty of sweeter, less tart fruits you can use, like:

Peaches- Peaches are low in both pectin and acid, so you won't get much tartness. But you will also notice a slightly runnier jam. I suggest cooking the mix for a few minutes longer if you use peaches. This will help you get a nice, thick peach jam.
Blueberries-These berries are also low in pectin and acid. You can add a dash of lemon juice if you want a bit of tartness, or omit it for luscious, sweet blueberry jam. Just like with peaches, cook your mix for a few minutes longer to help it thicken up.
Strawberries- Strawberries can be tart, but usually less so than your typical raspberry. These berries are also "jam"-packed with nutrients, making them a relatively healthy jam fruit.
Adjusting the Sweetness: Make Raspberry Jam Based on Your Tastes
This raspberry jam recipe is more like a springboard for your own tweaks and preferences. You can adjust the sweetness in several ways.

The easiest way is with our sweetener, maple syrup. You can add more or start with less to suit your desired flavors. Be sure to taste the mixture as you cook it so you can tweak as you go.

One thing I want to call out is that too much maple syrup can mess with the consistency of your jam and make it runny.

If you want to use raspberries but can't get it sweet enough with maple syrup, consider adding a sweeter fruit too. Peaches, blueberries, and apples are my go-to fruits for adding serious sweetness without sacrificing thickness.

References:

1. National Center for Home Food Preservation, Making Jams and Jellies
https://nchfp.uga.edu/how/can_07/storing_jams.htm2. Mayo Clinic, Organic Foods: Are They Safer? More Nutritious?
https://www.mayoclinic.org/healthy-lifestyle/nutrition-and-healthy-eating/in-depth/organic-food/art-20043880