"What's for breakfast?" seems to be a common question around my house, and often our busy lives demand an "eat to live" attitude rather than "enjoy what you eat" philosophy. Well, today is a day of pure enjoyment. We are making a fantabulous Vegan Breakfast Blueberry Crisp. Breakfast will never be the same again. This is one of my "Happy Breakfast" recipes.
And believe it or not, this is a power-packed, nutrient-dense, and energy-boosting breakfast. What better way to start your day?
Because it is a breakfast crisp, we have gone to great lengths to add healthy ingredients to give you what you need for the day ahead.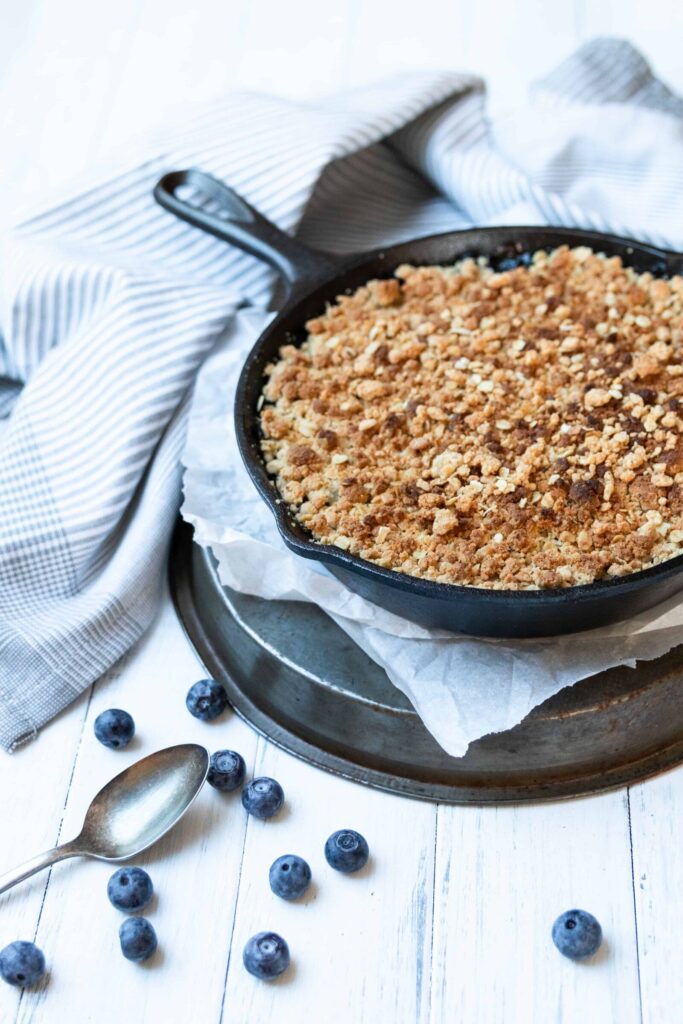 Sprouted Organic Whole Grain Flour:
We also like to add sprouted whole grain flour from One Degree. "Sprouted grains are grains that are just entering the germination process. These grains release the optimal amount of nutrients and ease the digestion process." Click Here to visit One Degree's website!
In addition, we throw in some flaxseed, almond flour, and oats. You may even want to add some nuts and chia seeds.
Truly, this blueberry crisp is one of my most exciting breakfast recipes. If you are anything like me, something sweet for breakfast, lunch, and dinner, is a good thing. Think of eating a nutritious, healthy, energizing breakfast that tastes so delicious; it's more like a dessert. Well, here it is!
This vegan breakfast blueberry crisp will have you jumping out of bed in the morning.
We sweeten this blueberry crisp with 100% apple juice concentrate. It is a great way to sweeten things, eliminating the need for refined sugar. This time of year, I use frozen blueberries, the wild blueberries are my favorite. They have such a unique flavor.
I hope you will give this vegan Breakfast Blueberry Crisp a try. It is, by far, one of my favorite ways to start the day. Remember, breakfast is the most important meal of the day.
Print
Vegan Breakfast Blueberry Crisp
Vegan Breakfast Blueberry Crisp is one of my "Happy Breakfast" recipes.
Topping:
1/2 cup

all-purpose flour (or Whole Wheat pastry flour)

1/2 cup

almond flour

1/2 cup

oats

1 tablespoon

ground flax meal

1/4 teaspoon

salt

1/8 teaspoon

cardamom 

1/4 cup

coconut oil, melted

1/4 cup

maple syrup 

1/4 teaspoon

vanilla
Filling:
3/4 cup

frozen 100% apple juice concentrate

1 tablespoon

tapioca starch

1/2 teaspoon

vanilla

1 teaspoon

lemon juice

3 cups

frozen wild blueberries

2 tablespoons

flour
Instructions
Preheat oven to 375 degrees.  
Lightly spray a cast iron pan (8 in) or a baking pan of your choice.
For the topping: 
In a large bowl, mix the flour, almond flour, oats, ground flax meal, salt, and cardamom.  
In a small saucepan, add the coconut oil, maple syrup, and vanilla.  Heat on low until the coconut oil has melted.
Add the wet to the dry mixture and work until you have a crumbly consistency.
For the Filling:
In a small saucepan, add the frozen apple juice concentrate.  Stir in the tapioca starch and heat until the mixture thickens.  Turn off the heat and stir in vanilla and lemon juice.
In a separate bowl, toss the frozen blueberries with two tablespoons of flour.  Fill your prepared baking dish with berries and pour the thickened juice mixture over the top.  Lightly toss the berries to coat them.  The mixture will turn quite thick and gooey.
Finally, add the crumb topping to the blueberries and Bake for 45 minutes.  The top of the crisp should be slightly golden brown.
Enjoy!