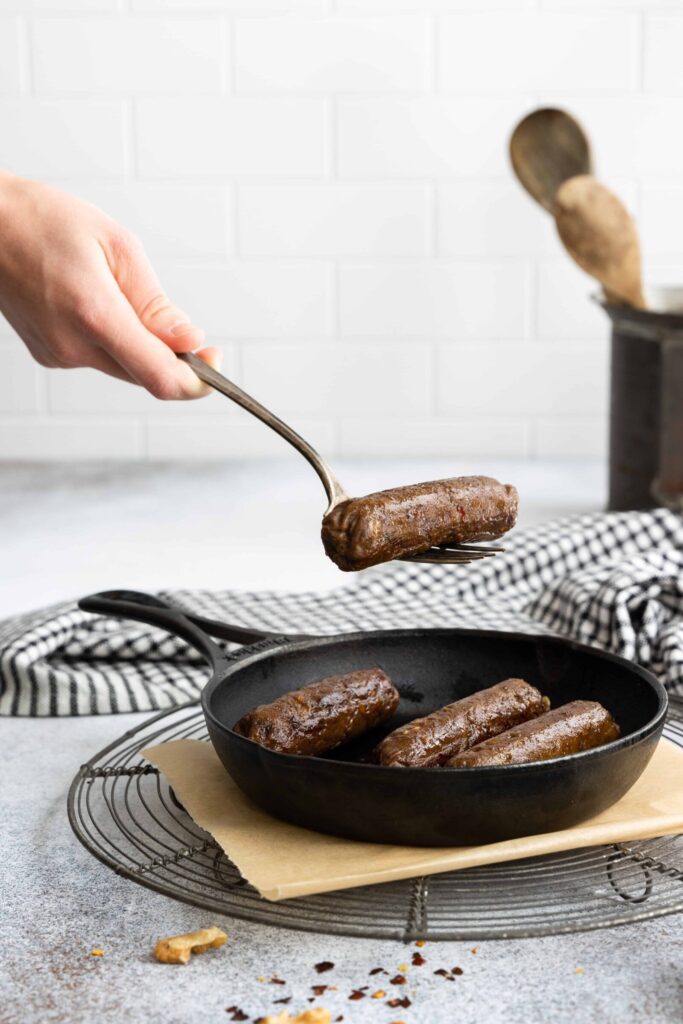 There is something exceptional about recipes and meals that include sausages. We have had an easy vegan sausage recipe on my website for a couple of years now, and it has been my most visited post. People have really liked these easy vegan sausages. So today, we want to make a variation of these sausages. We will add some oomph and make them Easy Vegan "Spicy" Sausages.
If you are not a fan of spicy food, check out my other sausage recipe: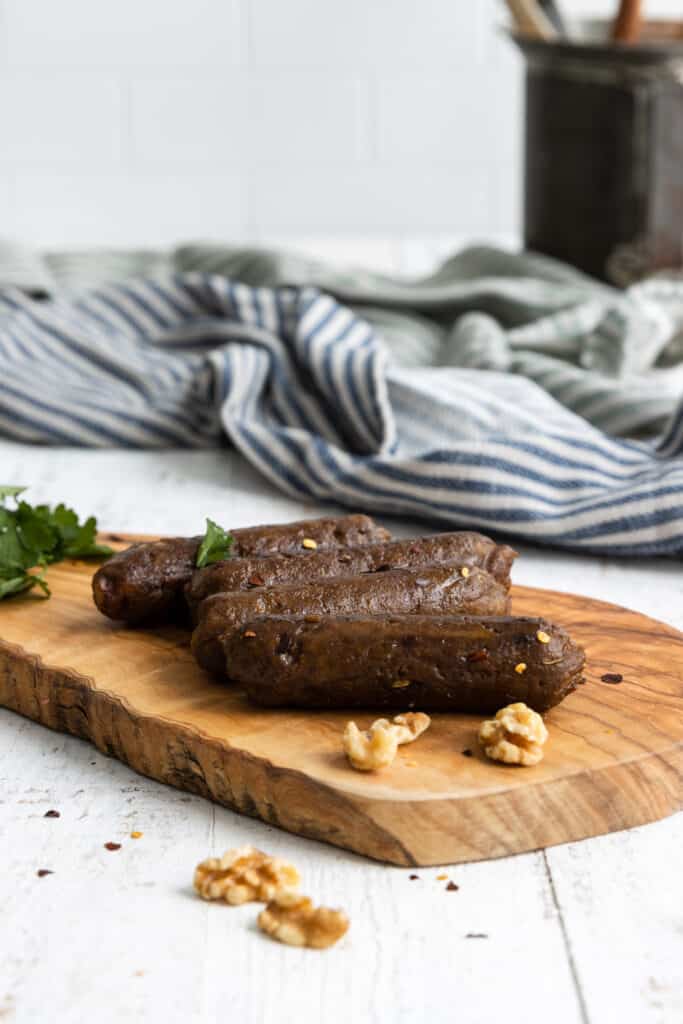 Let's Talk Vegan Sausage Ingredients:
Vital Wheat Gluten:
The base is vital wheat gluten, the natural protein found in wheat. It binds the dough together and creates a desirable texture. You can usually find vital wheat gluten in your local grocery store's health-food-section; Bob's Red Mill is one brand. Vital Wheat Gluten is the main ingredient in the popular meat substitute seitan, so it is good to have on hand.
Molasses:
We add molasses to these sausages for two reasons. First, it adds to the color, and secondly, it adds flavor and a touch of sweetness. If you would prefer no sweetness, decrease the molasses to one teaspoon instead of the tablespoon.
Fennel:
Fennel creates a unique flavor. In these sausages, we use both ground and whole fennel seeds. Ground, because the flavor is incorporated into the dough better, and whole fennel seeds for texture and an extra boost of flavor. It also looks pretty neat.
Hickory Smoke:
The hickory smoke powder adds an authentic and delicious smoke flavor to the sausages. You may not find this in your local grocery store, but it can be found online. A little goes a long way.
Red Pepper Flakes:
It is the Crushed Red Pepper Flakes that give the sausages their spice. In our original recipe, we used 3/4 teaspoon, which just added to the flavor, but did not provide heat. In this recipe, we have chosen to add a little more to create a spicy note.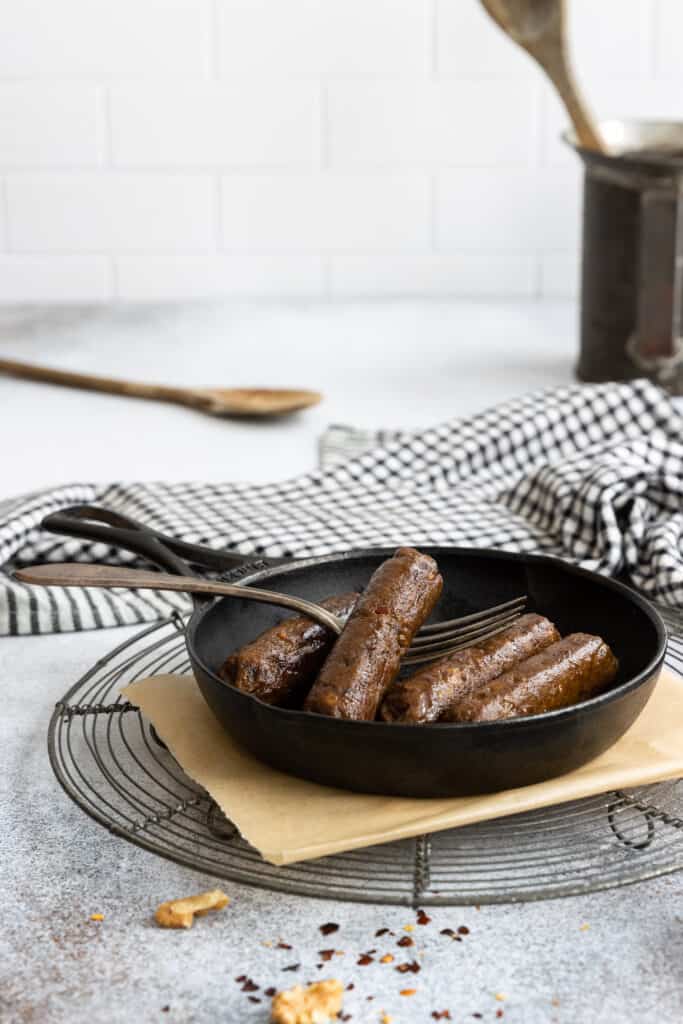 Optional ingredients:
I sometimes add fresh garlic rather than dried (5 cloves). It creates an interesting texture, but I am not convinced that it is worth it as ground garlic powder is easier to use. On occasion, I will add a teaspoon of smoked paprika, which adds to the flavor profile but is not necessary for a successful outcome. Finally, I sometimes add a 1/4 teaspoon of cayenne for a little extra heat.
The best thing about making sausages is that you can customize them to fit your preferred flavor profile. In my family, we differ in likes and dislikes; mom loves sausages with some extra heat, I prefer them with a little extra sweetness, dad likes the walnuts for extra texture, and Kaija would rather have no nuts in her sausages. There you have it, a family divided in taste but bound together in love.
Cooking Method:
We have chosen to steam these sausages. It gives them a slightly softer, moister texture and is very easy to do. We use a large pot, put a steamer basket in the bottom, add water until it touches the steamer basket, and place the sausages in the steamer basket. You can stack them. Next, we let them simmer on low for about 50-60 minutes, and the sausages are now ready to be enjoyed.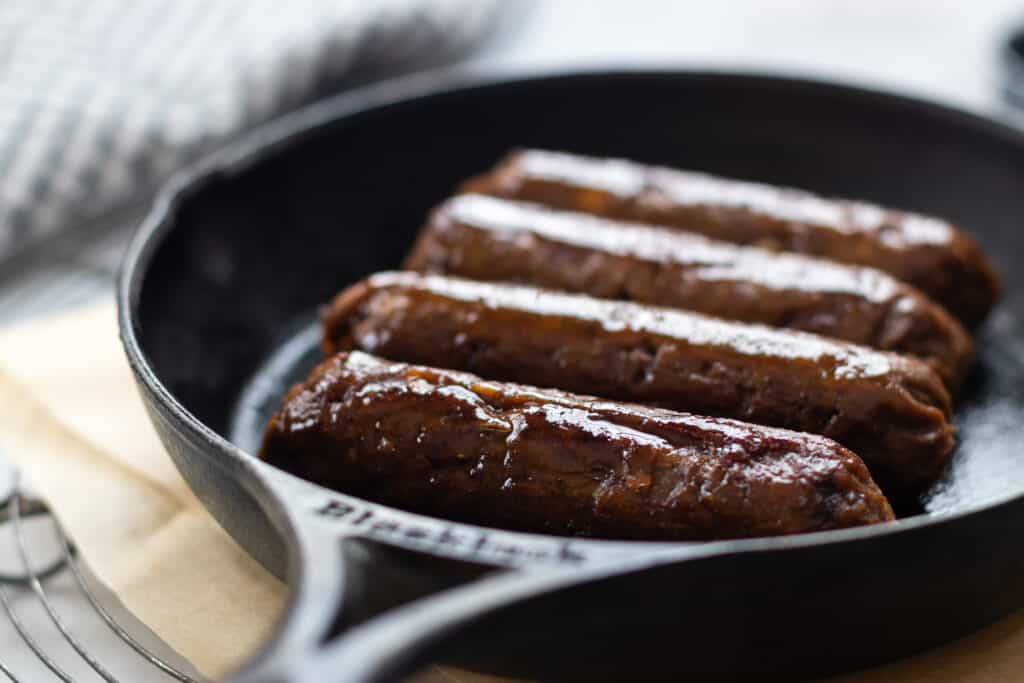 Glazing:
To make these sausages sparkle, I add a glaze by using an equal amount of olive oil, Bragg liquid amino, and maple syrup. Be aware that maple syrup burns easily, so if the sausages are warm, I would add a little of the glaze and gently sear them in a skillet. If the sausages are cold, I will warm them in a little olive oil before adding the Bragg liquid amino and maple syrup towards the end of the warming cycle. This way, you do not end up with a seared outside and cold inside.
How to store Vegan Sausages:
These can last in the fridge for a few days. I usually leave them in the wrappers. It protects them, and when I am ready to use them, I discard the wrapper (saran wrap and foil).
The best way to store these is in the freezer. They can last for months, and when you need sausages, remove them from the freezer, let them sit on the counter for a few minutes, and then reheat in a skillet.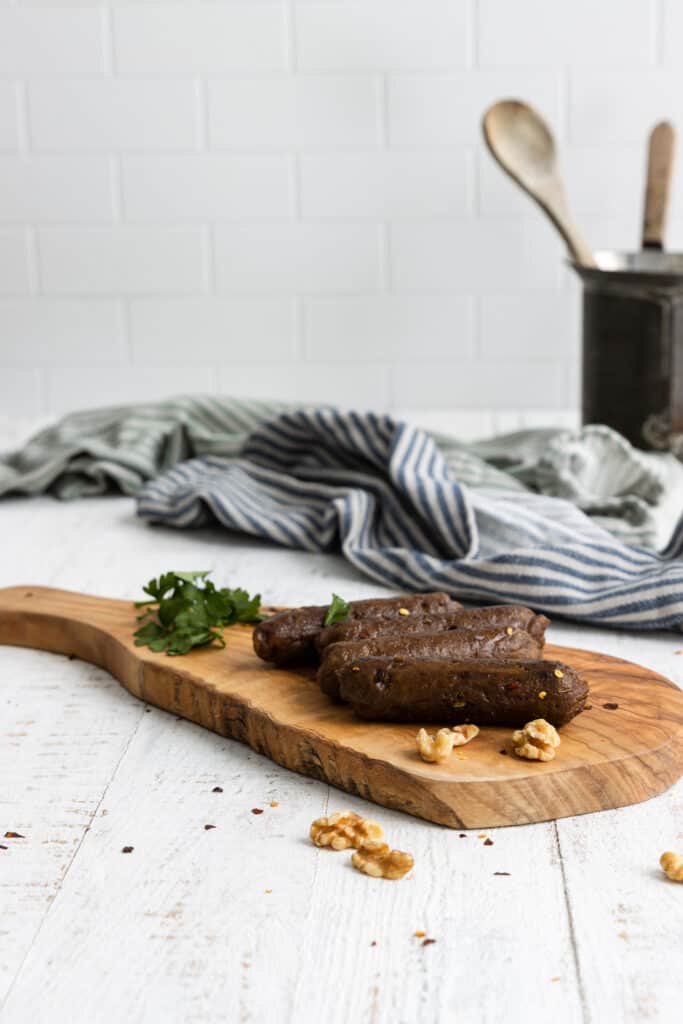 Click Here to Watch Me Make this Recipe on YouTube!
Print
Easy Vegan Spicy Sausages
Wet Ingredients:
1 1/2 cup

hot water

1/4 cup

+

1 Tablespoon

Bragg Liquid Aminos

1 tablespoon

molasses

2 tablespoons

olive oil

1 tablespoon

rubbed sage

1 1/2 teaspoon

ground fennel

1 1/2 teaspoons

fennel seeds

1/2 teaspoon

hickory smoke
Dry Ingredients:
1 1/2 cup

vital wheat gluten

1/2 cup

flour 

2 tablespoons

nutritional yeast

2 tablespoons

onion powder

5 teaspoons

garlic powder

1 1/2 teaspoon

crushed red pepper flakes 

1 teaspoon

smoked paprika (optional)

1/2 cup

walnuts, finely chopped
Instructions
Start by adding all the ingredients listed under wet ingredients to the hot water.  Let it sit for a few minutes to let the flavor develop.  
In the meantime, add all the dry ingredients and stir to combine.  
Next, fill a large pot with a steamer basket until the water touches the steamer basket.  Bring to a boil.  Reduce heat to a simmer.  
While the water is heating, add the wet mixture to the dry ingredients and stir to combine.  Knead for a couple of minutes to make sure everything is well combined, and it will also give the gluten a chance to develop.  
Use a 1/4 cup measurement to size each sausage.  Roll in saran wrap to resemble sausages.  Cover with foil.  Twist each end.  (see my video demonstration for reference).  
Place sausages in the steamer basket, cover with a lid, and steam on low for 50-60 minutes.  Check occasionally to make sure the pot does not go dry.  If it does, add some boiling water.
These sausages store well in the fridge for a few days, but even better in the freezer.  It is easy to take from the freezer, warm in a skillet, and they are ready to be enjoyed.