I love to start my morning with a flavorful and delicious Vegan Breakfast Sausage Pattie. This recipe is a family favorite, and you may be surprised at how simple they are to make.
These vegan sausages are crispy on the outside and have a softer chewy texture on the inside. Let me warn you; I have found it practically impossible to just eat one 🙂
Plus, one of the best parts of this sausage recipe is that it is naturally gluten-free. So I hope all my gluten-free friends enjoy this gluten-free recipe.
Starting the Day Off Right:
In my mind, starting the day off with a vegan breakfast sausage pattie sets the day off to a great start. Who does not want to wake up to a savory breakfast filled with protein and nutrients to get you going for the day?
The beauty of this recipe is that it can be made ahead of time and stored in the freezer. That way when I get up in the morning, it's just a matter of heating them. This is a game-changer! It saves me a ton of time and I have something substantial to eat in the morning. A win-win situation for sure!
When I heat them in a pan with a wonderful unique glaze, the sizzling sound and smell make even the sleepiest member of my family wake up and take notice.
I love vegan sausages, but it cannot hold a candle to how much my Dad loves sausages. I would even go as far as to say that he is a vegan sausage connoisseur.
So I was thrilled when he gave me the thumbs up on this recipe.
About a year ago, I shared another sausage recipe on my blog. Click Here to watch the video. I was surprised to find it to be the most popular video on my YouTube channel, so I know there must be other vegan sausage connoisseurs out there.
Let's Talk Ingredients:
Here are some of the Ingredients that I get questions about the most. I am including links to Amazon to hopefully make it easier for you to find the products. (I earn a small commission and it doesn't cost you a penny more!)
TVP (Textured Vegetable Protein)
The texture is an essential thing in a sausage recipe, and TVP adds so much texture and chew to these sausages. Plus, it is a wonderful thing for gluten-free people or anyone who want to cut back on gluten as it is entirely gluten-free.
[lasso ref="tvp-textured-vegetable-protein12-ounce-pack-of-1″ id="3407″ link_id="317″]
Nutritional Yeast Flakes:
Nutritional Yeast Flakes is an ingredient that we use quite often. It is a good source of B vitamins and adds a nice cheesy-like flavor to dishes.
[lasso ref="bobs-red-mill-large-flake-nutritional-yeast-5-ounce-pack-of-2″ id="3412″ link_id="318″]
Better Than Bouillon:
Better Than Bouillon rounds out the flavor of these sausages. I add it to many of my recipes to give more of a base flavor and then I build from there.
[lasso ref="better-than-bouillon" id="3402″ link_id="319″]
Bragg Liquid Aminos:
Bragg Liquid Aminos is a Natural Soy Sauce Alternative. It tastes amazing and has all the essential amino acids. You can also use soy sauce in this recipe, but I have to say I love the flavor that the Bragg Liquid Amino adds to these sausages.
[lasso ref="bragg-liquid-aminos-all-purpose-seasoning-soy-sauce-alternative-gluten-free-no-gmos-kosher-certified-32-ounce" id="3378″ link_id="320″]
I hope you enjoy this recipe. In my option, and definitely in my family's: "These are winners":)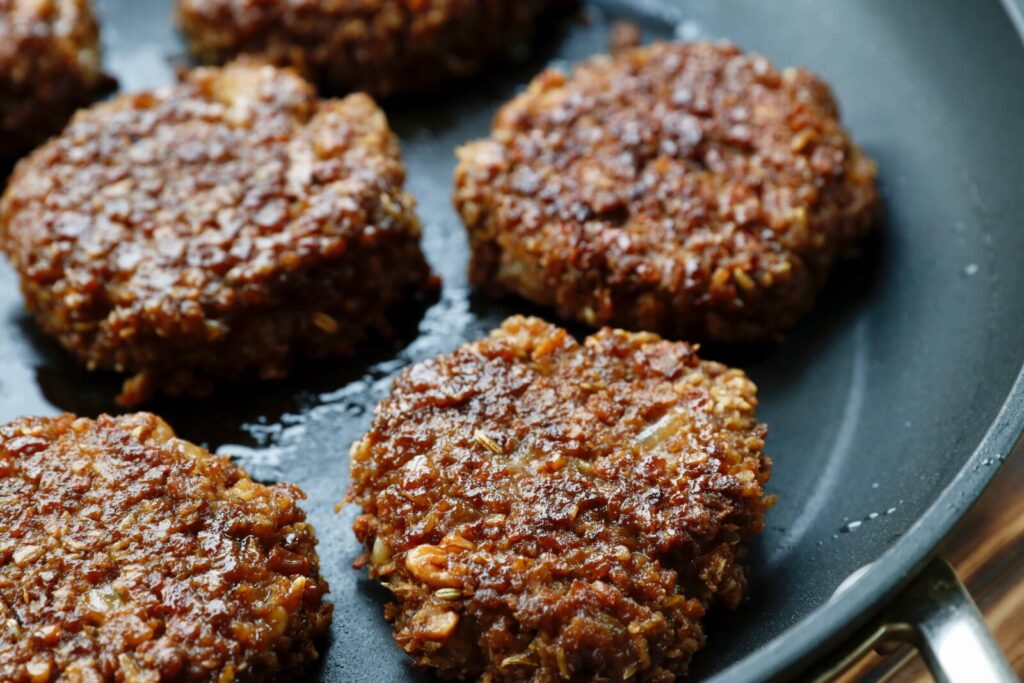 Print
Vegan Breakfast Sausage Patties (GF, nut-free, oil-free options)
Author:
Yield:

18

–

20

Patties

1

x
1 cup

onion, finely diced

1 tablespoon

olive oil (optional, use water if wanting to make this oil-free)

4

large garlic cloves, crushed or minced

1/4 teaspoon

red pepper flakes

1 teaspoon

fennel seed

2 tablespoons

Bragg liquid aminos

2 tablespoons

nutritional yeast flakes

2 teaspoons

rubbed sage

1 tablespoon

Better-Than-Bouillon

1 tablespoon

molasses

3/4 teaspoon

salt

1 1/2 cup

TVP (Textured vegetable protein)

2 1/2 cup

quick oats

1/3 cup

walnuts, finely chopped (optional)

4 cups

water
Glaze:
Instructions
In a large saucepan, sauté onion for a few minutes. Add the minced garlic, red pepper flakes, fennel seeds, and sage, cook for an additional minute. Add the water, Bragg liquid aminos, Better-Than Bouillon, molasses, and salt. Bring to a boil.
Remove from heat. Add the TVP, oats, and walnuts. Stir to combine.
Let sit for 15 minutes.
Preheat oven to 350F.
Using a 1/3 cup measuring spoon (oiled to release mixture), make patties on a lined or greased baking sheet.
Bake in the oven for 20 minutes. Flip and bake an additional 15 minutes.
Let cool completely before freezing.
When ready to eat, remove from freezer, brown in the pan for a few minutes to thaw.
If desired, brown in the glaze below. This adds such flavor and color to these sausage patties.
Notes
TVP is textured vegetable protein. It is made from soy and is naturally gluten-free. This recipe can easily be made without oil if wanting an oil-free option.
It can also be made without nuts to make it a nut-free option.
Click to see my other Vegan Sausage Recipe
(Read my affiliate discloser here.)