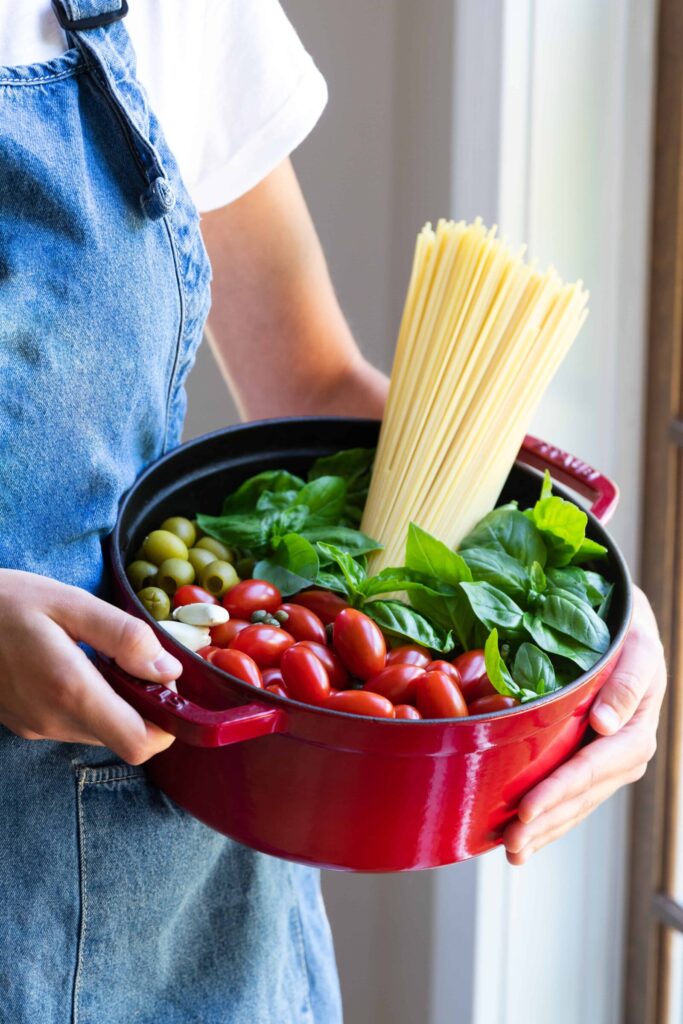 Hello Everybody! It is that time of year, the One-Pot-Pasta time of year:) Summertime! Today, I am sharing my Mediterranean One-Pot Pasta recipe, which I am super excited about. The combination of the cherry tomatoes, green olives, capers, and fresh herbs make this dish an absolute favorite.
SUPER DUPER EASY TO MAKE:
Let's be honest, during the summer, the days seem to fly by like minutes, and if your house is anything like mine, mealtime can sneak up on you and leave you scrambling for something to eat. It's just so much more fun to be outdoors, but why not take the cooking outside too. This One-Pot Mediterranean pasta dish is perfect for outdoor cooking. Throw everything in one pot, cook for a few minutes, stir occasionally and you will have this amazing meal on the table in no time. Add a quick salad, and you have a favorite meal, at least my family thinks so.
What type of Pasta should I use?
I am using Linguine Pasta, which is similar to Fettuccine, though not quite as wide in shape. I like the texture of this slightly thicker pasta because it has more chew and soaks up the sauce's flavor quite nicely. I have also found that linguine Pasta makes it easier to keep the pasta al dente when cooking as a one-pot meal. Angel hair pasta is a little more difficult to keep al dente, you need to stay on top of it, but feel free to experiment with different pasta types.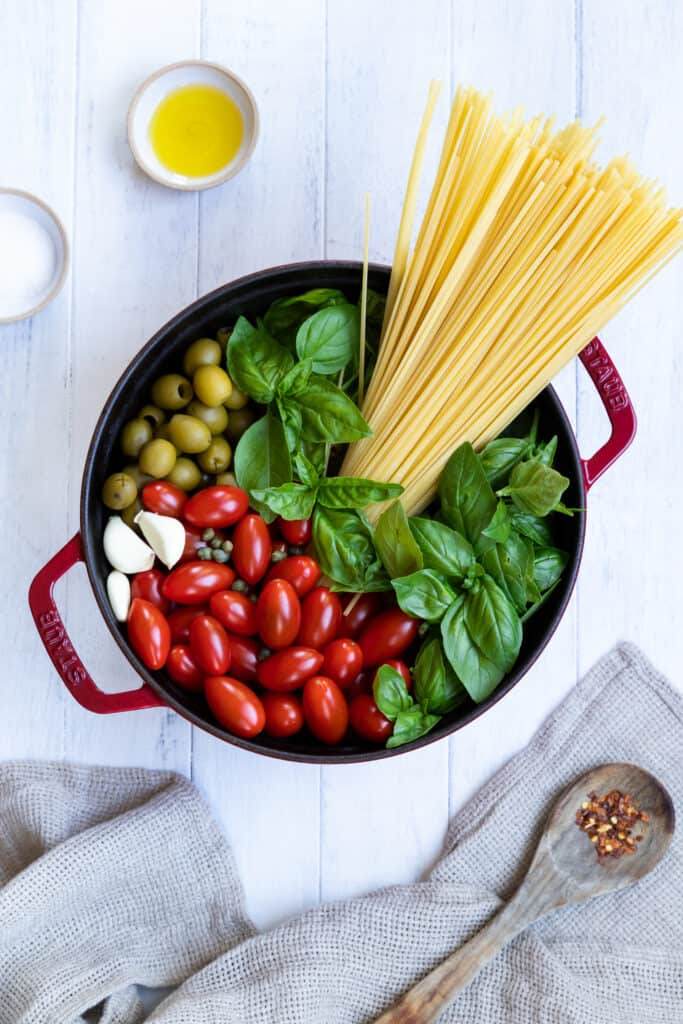 I share at least one of these one-pot pasta recipes every summer! Check out my other recipes:
They are all favorite pasta dishes around my house.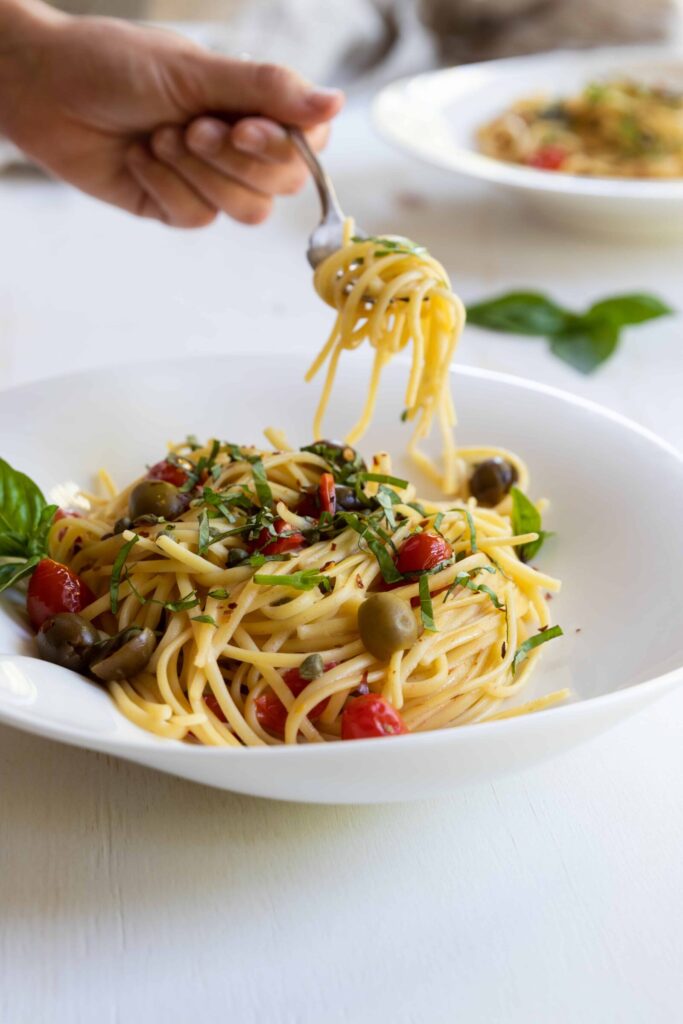 I hope you enjoy this Mediterranean One-Pot Pasta Recipe! Click Here to watch me make this recipe on YouTube!
Print
Mediterranean One-Pot Pasta
14 oz

linguini

10 oz

(about

2 cups

) cherry tomatoes, sliced in half

1/2 cup

green olives

1/4 cup

capers

2 tablespoons

olive oil

1

garlic clove, thinly sliced

1 teaspoon

salt
pinch of crushed red pepper

1 teaspoon

Better-than-Bouillon

4 1/2 cups

water

1/2 cup

fresh herbs, chopped (Basil & Parsley)

1 tablespoon

vegan margarine (optional)
Instructions
In a large pot add the pasta, cherry tomatoes, green olives, capers, olive oil, garlic, salt, crushed red pepper, Better-than-Bouillon, and water.
Bring to a boil and then reduce to a simmer.  Cook for 8-9 minutes or until the pasta is al dente.  Make sure to stir during the cooking time so that the pasta cooks evenly.
 Stir in the herbs and the vegan margarine.  Serve immediately.  Enjoy!
Notes
Do not omit the capers in this dish.  It adds such a pop of flavor.  Capers can be found in almost any grocery store.