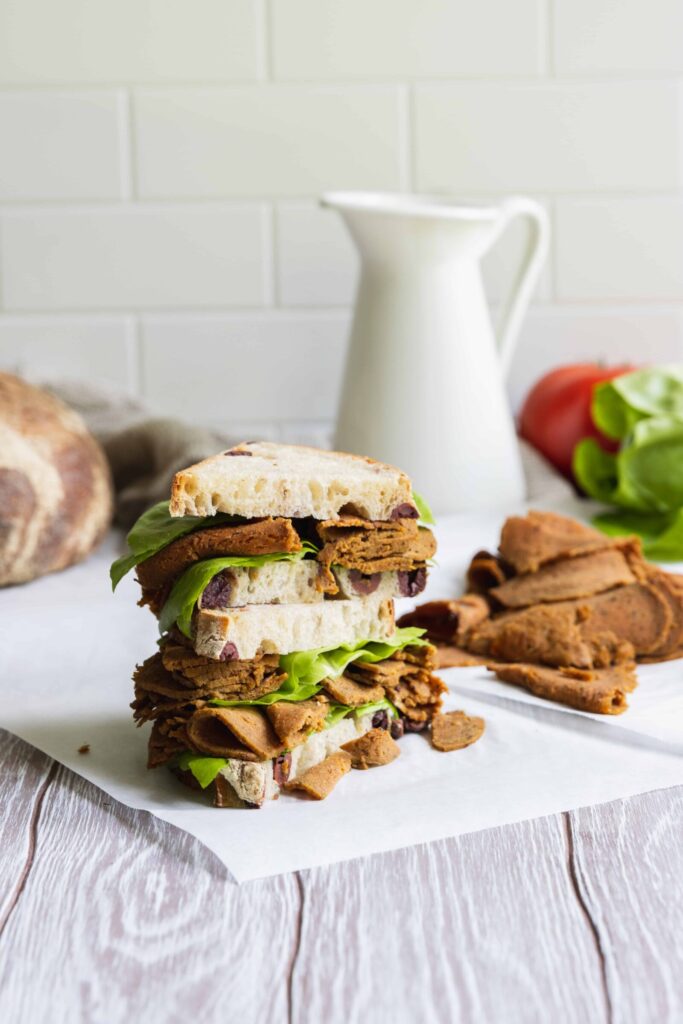 Be prepared to be amazed. This Plant-Based Deli Meat is a fantastic addition to any sandwich. So take your sandwich to the next level and customize the flavors to fit your palate. You can make it smokey, herby, sweet, or spicy; the sky is the limit. This deli meat has to be one of my dad's favorite plant-based meats. He likes it plain with BBQ sauce. So, individuality is encouraged around here. You be you!
If you have never made plant-based deli meat, it may seem like a daunting task, but it is pretty easy. It does, however, require a little time, which often is in short commodity for most people, so when I make this recipe, I usually make a couple, slice and freeze.
Let's Talk Special Equipment:
The thing to remember when making plant-based deli meat, is that it is helpful to have a good blender. Thus, there are at least two essential pieces of equipment that I would recommend in a plant-based home: An excellent blender and a good food processor. Fortunately, today, we only need a good blender.
The other piece of equipment that is useful for this recipe is a steamer basket.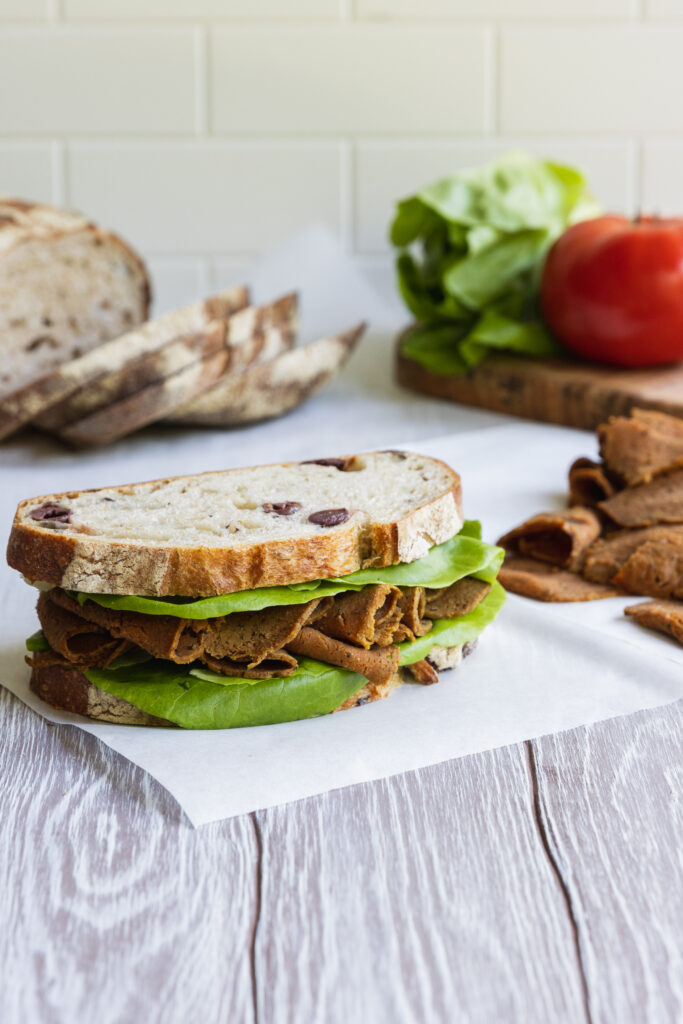 Let's Talk Plant-Based Deli Meat Ingredients:
Beets:
Beets are among the most nutritious vegetables on the planet. They are packed with essential vitamins, minerals, and fiber. It is a great vegetable to add to the diet, and when you can sneak it in, it is even better. This time we will incorporate a beet into our plant-based deli meat, and it will give us a beautiful color and some added nutrition.
Vital Wheat Gluten:
Vital Wheat Gluten is a fantastic ingredient in making mock meat. It is almost tasteless, which gives you a lot of options for flavor combinations. It is fun to experiment with different herbs and spices. I like the Bob's Red Mill brand, which you can find in the health food section of most grocery stores, but I also buy Vital Wheat Gluten in bulk. I found a wonderful option on Amazon. Vital Wheat Gluten keeps so well, which makes it very easy to have on hand when you want to make a meat substitute of any kind. When working with Vital Wheat Gluten, you have options for texture. You can make it pretty rubbery if you prefer that, or by adding in a few extra ingredients, you can make it more tender. In this recipe, we have chosen to make the consistency tender.
Mushroom Powder:
Dried mushroom is a tremendous source of flavor for plant-based meat. It adds a rich earthy tone, which is wonderful. We prefer to buy whole dried mushrooms in bulk, store them on the shelf, which lasts for a long time. When we need mushroom powder in our recipes, we simply grind the dried mushrooms in a spice/coffee grinder, and we are good to go.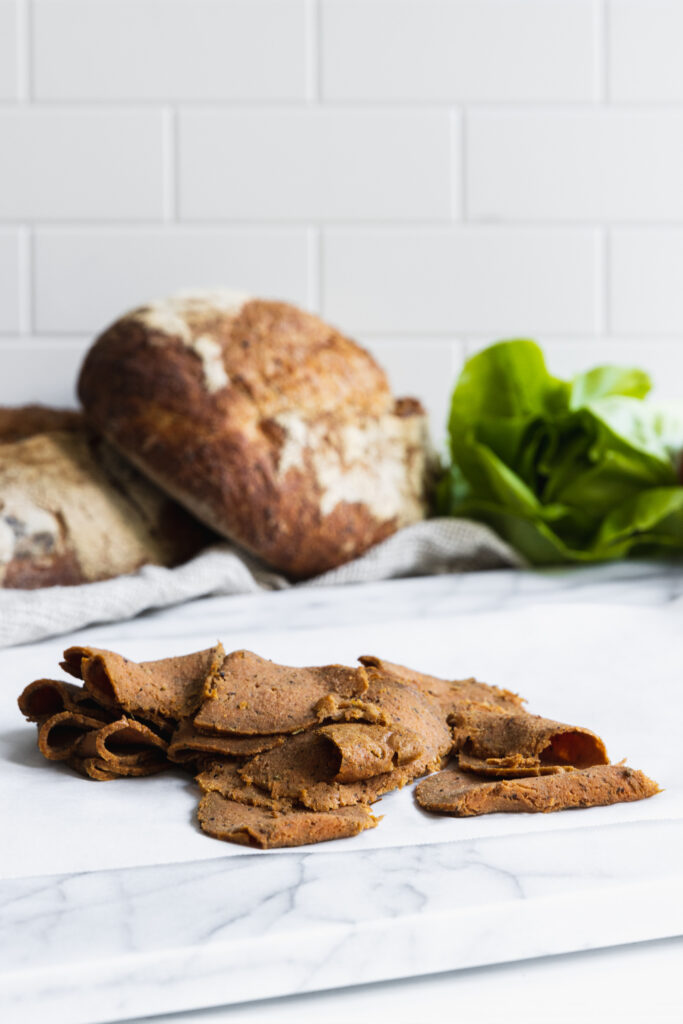 Nutritional Yeast:
You may not be familiar with this gem of an ingredient, but it is a wonderful ingredient to have on hand when cooking plant-based recipes. Nutritional yeast is not the same as baking yeast, so it does not have the same rising properties as regular yeast, but it has a wonderful tangy cheese flavor.
Garbanzo Beans:
Garbanzo beans, or chickpeas, do not need any special introduction. Most people are familiar with this wonderful versatile bean. We add Garbanzo beans to this recipe for nutritional purposes but also to tenderize the final product.  
Hickory Smoke Powder: (optional)
Hickory Smoke Powder is an ingredient that can be stored in your spice cabinet for long periods. It is a great ingredient to have on hand when making substitute meat products, but it is not required. If you like a smoky taste to your meat, add some extra, if you don't care for the smoky flavor, eliminate this ingredient.
 Braggs Liquid Aminos:  
Braggs Liquid Aminos is a soy sauce alternative, which you can find in the health food section of most grocery stores.
Give this deli meat a try. I think you will be amazed at how easy and wonderful it is to make homemade, plant-based deli meat. My household is a happy home when deli meat is in the oven.
Click Here to Watch Me Make this Recipe on YouTube!
Print
Plant-Based Deli Meat
Dry:
1 1/2 cups

Vital Wheat Gluten 

4 tablespoons

ground mushroom powder

3 tablespoons

flour

4 tablespoons

nutritional yeast flakes
Seasoning:
2 teaspoons

onion powder

1/2 teaspoon

hickory smoke powder

1 teaspoon

smoked paprika

1/4 teaspoon

cayenne

1/2 teaspoon

ground fennel

1 teaspoon

Herb de Provence

1/2 teaspoon

salt
Wet:
1 cup

water

1

medium-size raw beet, peeled and roughly chopped

1/2 cup

garbanzo beans

4

large garlic cloves

1/4 cup

olive oil

1/4 cup

Braggs Liquid Aminos
Instructions
In a large mixing bowl, stir together the dry ingredients:  vital wheat gluten, mushroom powder, flour, nutritional yeast and the seasonings.  Set aside.  
In a blender, add water and beets.  Blend until smooth. 
Next, add garbanzo beans and garlic cloves, blend until smooth.  
Finally, add olive oil and Braggs Liquid Aminos and blend until combined.
Pour the wet mixture into the dry mixture and stir to make it into a dough.   When it becomes hard to stir, use your hands.  Knead for a couple of minutes.  
Add dough to a piece of foil.  If you prefer not to use foil, you can use parchment paper.  It works just as well, though it changes the consistency, though not enough to be concerned. 
Wrap the foil or parchment paper tightly around the dough and shape into a roll.  Twist the ends to keep it secure, and let the dough rest on the counter for 20 minutes.  
In the meantime, add a steamer basket to a large pot, fill it with water till the water touches the steamer basket, but it should not be visible above it.  Bring to a boil.  
When the 20 minutes is up, place the wrapped dough in the steamer basket, reduce heat, and simmer on low for 45 minutes.  Make sure to check the water level occasionally so that it does not go dry.
Preheat oven to 350 F.
When the dough has steamed for 45 minutes, remove it from the pot, place it on a baking sheet tray, and cook in the oven for an additional 30 minutes.  Do not remove the foil or parchment paper.
Let cool completely before slicing.  It changes consistency in the fridge, so if you can wait (which we have trouble with in my household), let it rest in the fridge for a few hours before attempting to slice.  It slices much better when cold—store covered in the fridge.  
Looking for more recipes?