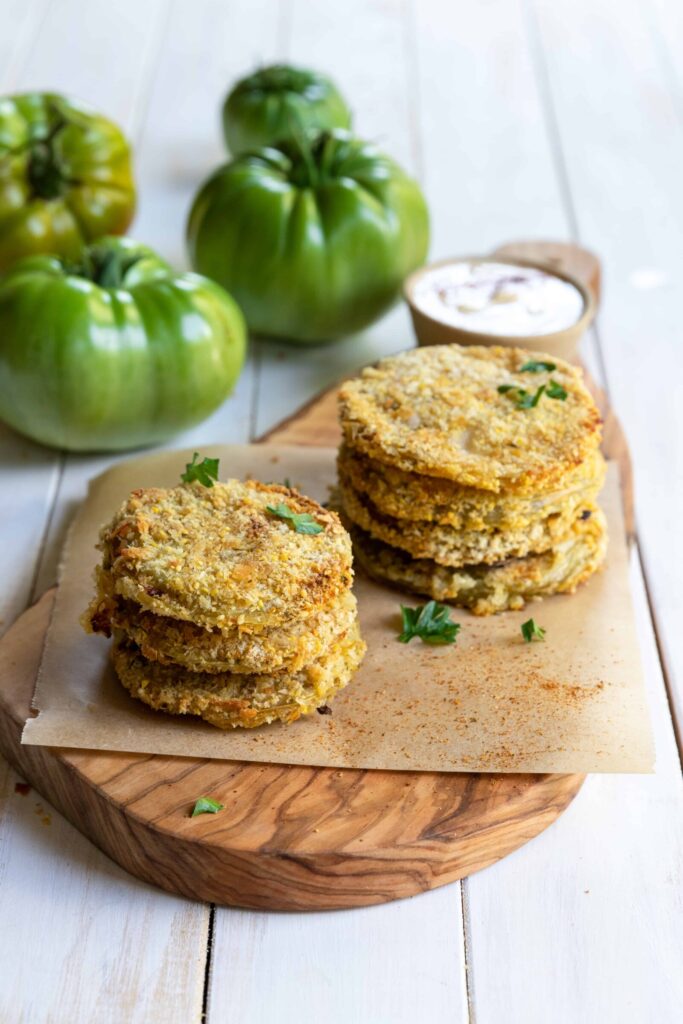 One of the beauties of summer is all those beautiful red tomatoes that are so prevalent this time of year. They taste and look amazing, but what about the green ones, can they be used too? Yes, indeed, and quite deliciously if I you ask me. This recipe is one of my dad's absolute favorite recipes. He grew up down South and often remembers Green Fried Tomatoes with nostalgic warmth. Of course, the ones he grew up with were neither vegan nor baked, but we found a way to make them a little healthier without sacrificing taste. So, today we are making my dad's favorite: Vegan Baked Fried Green Tomatoes.
Green Tomatoes in New Hampshire:)
In New Hampshire, where the growing season is quite short, we often end up with a whole bunch of green tomatoes at the end of the season. Frost comes early, and there is no time for them to ripen, which allows us to make green (fried) tomatoes in abundance. But why wait until the end of the season, we can enjoy green tomatoes all summer long.
This year, God provided us with an abundance of tomatoes. We have them in all shapes and sizes, red and green, and even in between. It has been an unusually warm summer, and tomatoes are thriving. We are excited to pick the day's produce every morning. It's like being in paradise for chefs. But this past week we actually had a hurricane come through, and while sheltering in-my-basement I worried about those tomatoes, would they make it? Most of them took a real beating, many vines on the ground, but by God's grace, I only lost a few tomatoes. Since most of them were green, I decided it was time to make the first Baked Fried Green Tomatoes of the season. Dad was thrilled.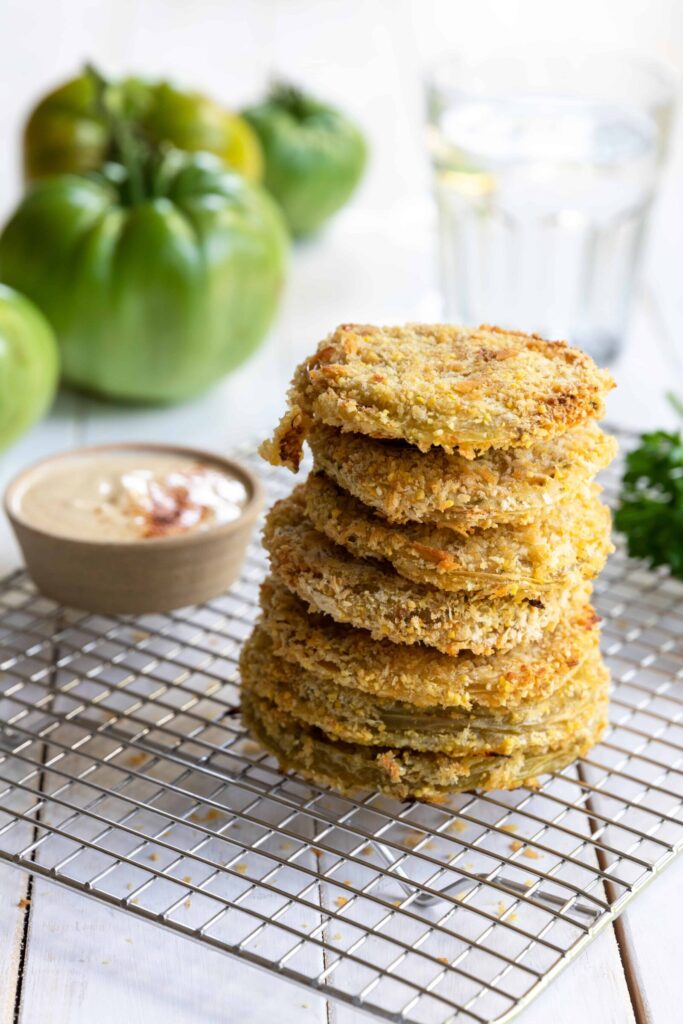 My Favorite Dip to go with this recipe!
I usually serve a nice dipping sauce with baked green tomatoes, and I have to honestly say that it is a real asset to the recipe. The tartness of the tomatoes with the spice and creaminess of the dipping sauce is a real winner. If you do not like spice, you can serve these with my Ceasar or ranch dressing, which are both amazing options too.
This Sauce is super easy to make as I use my vegan Mayonnaise recipe! Click Here to check it out!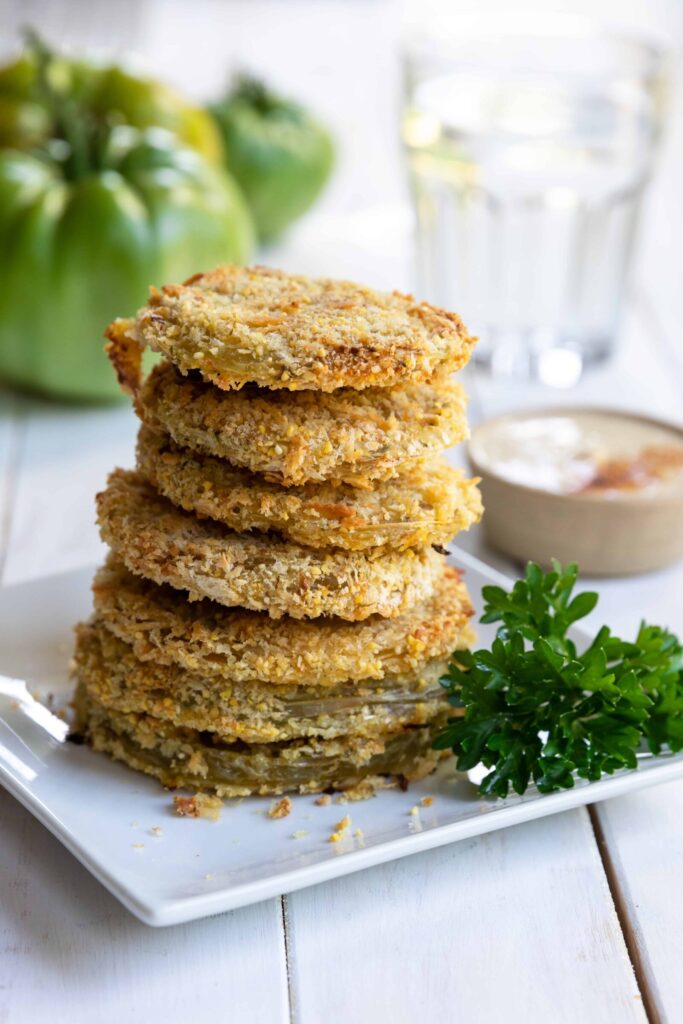 Click Here to Watch me make this Vegan Baked Fried Green Tomato recipe on YouTube!
Print
Vegan (Fried) Baked Green Tomatoes
Author:
Yield:

12

–

14

slices

1

x
1/3 cup

flour

1 teaspoon

salt

1/4 cup

cornmeal

3/4 cup

Panko breadcrumbs

1/2 cup

plant-based milk (unsweetened)

1 tablespoon

fresh lemon juice

2 teaspoons

cajun seasoning

1/2 teaspoon

salt

1 teaspoon

dried parsley

3

–

4

green tomatoes
Instructions
Preheat oven to 400 F

Cut tomatoes into slices (1/4 in). Set aside.

In three di

ff

erent dipping bowls, prepare the following:

Bowl # 1: Flour and 1/2 teaspoon salt (stir to combine)

Bowl # 2: milk, lemon juice, cajun seasoning, 1/2 teaspoon salt, and parsley (stir to combine)

Bowl # 3: Cornmeal and Panko breadcrumbs (stir to combine)

Prepare a baking sheet with oil

Take each slice of green tomato and dip in all three bowls. First with the flour mixture, shake o

ff

, and then into the seasoning bath, and finally cover with cornmeal and breadcrumbs. Place on baking tray. Continue the process until all tomato slices have been done

Spray lightly with oil

Bake at 400 F for 12-13 minutes, flip and bake the other side for an additional 12-13 minutes.
Print
Cajun Dipping Sauce
Author:
Yield:

1/2 cup

1

x
Instructions
Stir seasoning mix into vegan mayo, and chill until time to use.
Notes
You can either use store bought cajun seasoning, or you can make your own. See recipe below:
Recipe for Cajun Seasoning:
1 teaspoon salt

1 teaspoon garlic powder

1 1/2 teaspoon paprika

1/2 teaspoon onion powder

1/2 teaspoon cayenne

1/2 teaspoon oregano

1/4 teaspoon crushed red pepper
Stir to combine