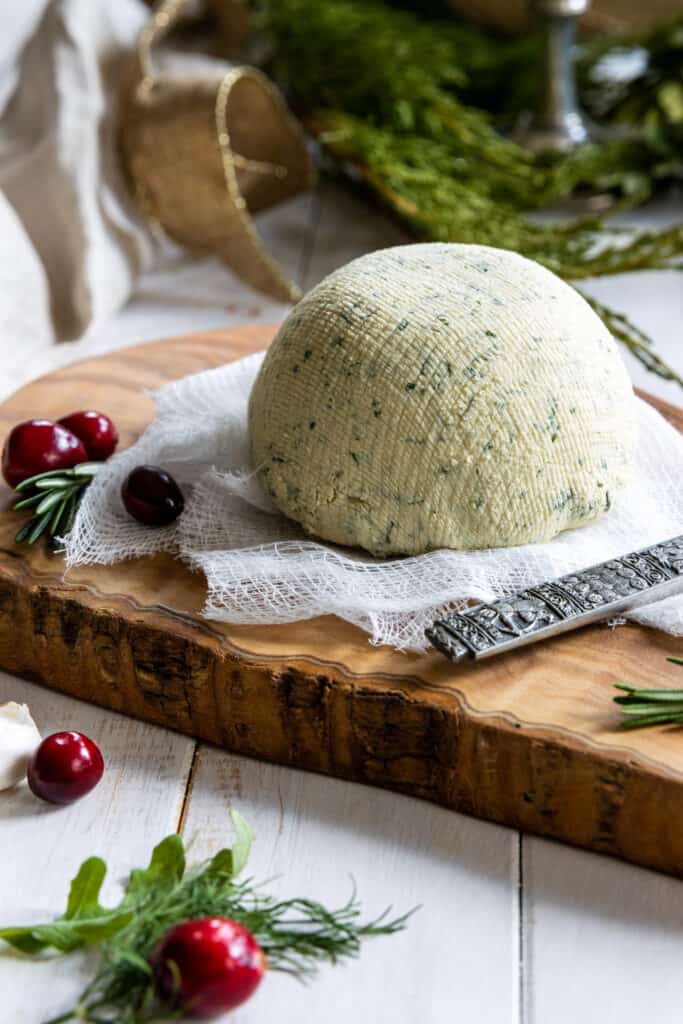 This Vegan Roasted Garlic & Herb Cheesy Spreadable Dip has to be one of my absolute favorite Holiday appetizers. The most challenging part is waiting for the cheese to set in the fridge before being ready to eat the next morning. There is something so special about this creamy, savory, cheesy spread that is hard to explain. We usually wrap this dip in pomegranate seeds for an extra special presentation for the holidays. It's incredible what this touch of sweetness does to the flavor profile of this appetizer. But regardless of how you choose to present it, it is a wonderful addition to the appetizer table.
When we entertain guests, especially for the Holiday, we like to serve appetizers. Appetizers are very helpful for several reasons:
Your guests feel welcome and well-taken-care-of.
Appetizers provides you with a little extra time to finish up the meal in the kitchen.
It takes care of immediate hunger issues.
It decreases stress and pressure for the cooks.
And it gives everyone something to do while they wait for the meal to be served.
What to look for in a great appetizer:
I remember years ago when we used to plan menus for Holiday parties; our principal requirement was that the food tasted amazing. We would often find ourselves so stressed before the meal, hoping we would get everything ready in time. Now, many holidays later, we have become wiser; we now also consider: Can it be made ahead? Is it time-consuming? Will it require oven-time? etc.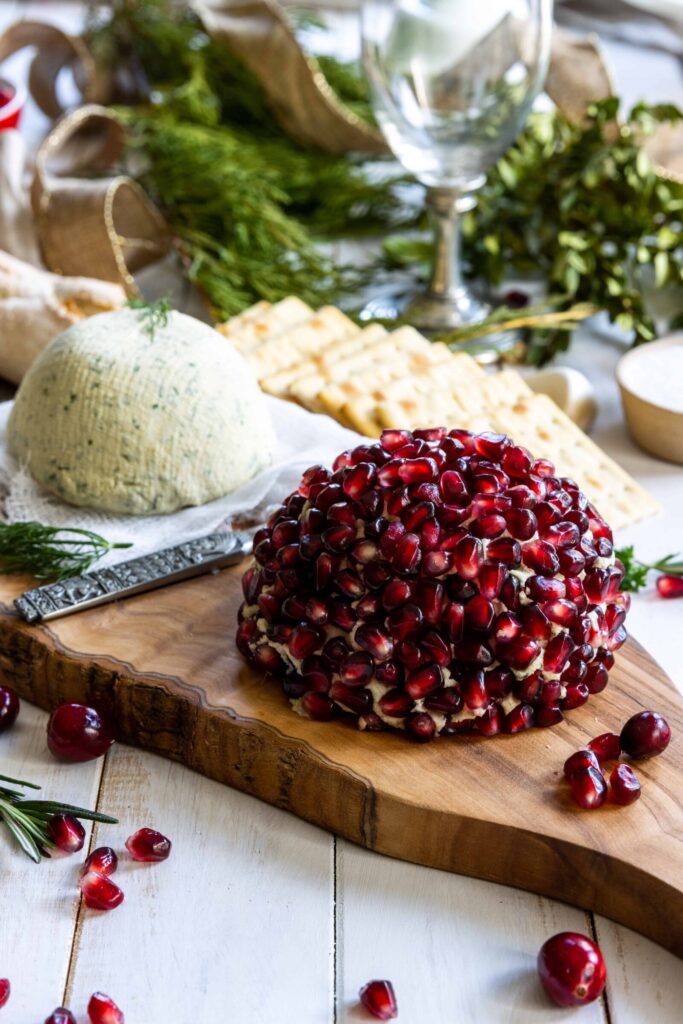 So, is this vegan roasted garlic & herb cheesy spreadable dip a great appetizer to serve for a holiday meal?
Absolutely! It can be made ahead of time, requires no oven-time the day-of, and can be served directly from the fridge to the table.
What are some of the special instructions to make this vegan cheese a success?
It is helpful to have a food processor for this recipe.
The cashews will need to be presoaked several hours before making the dip. This will ensure a smoother, creamier dip. If you are short of time, you can boil the cashews for 15 minutes or so and then let it soak in the water until cooled.
This cheesy dip will need to be made a day ahead. This makes it easy to serve as an appetizer for the Holidays, as it can go straight from the fridge to the table.
Roasting the garlic adds another flavor element to the dish. It also takes away the raw garlic taste.
I like to add fresh chives, dill, parsley, rosemary to this dip, but you can be creative and add the herbs you especially like. We will add anywhere from 2-4 tablespoons of fresh herbs for this dip. It gives it such a fresh flavor.
It is helpful to have cheesecloth to form the cheese into a round shape, but it is not necessary. You can put this cheese dip in a small serving bowl and serve it in the bowl.
My favorite way to serve this dip is to cover it in pomegranate seeds. It looks so festive, but it also adds a touch of sweetness to this absolutely fabulous spread that is quite unique.
You can also wrap this dip in chopped nuts, fresh minced herbs, or slivered almonds for a different look and taste. Be creative. Get the family involved. They'll love it.
I am really serious when I say this is a favorite. I could eat this whole "Vegan Roasted Garlic Herb Cheesy Spreadable Dip" all by myself, though I always share it with my guests and family:)
Serve this wonderful dip with crackers or french bread.
Allergies:
Gluten-Free:
Serve with gluten-free crackers for a gluten-free option.
Oil-Free:
Roast the garlic without oil.
Click Here to Watch Me Make this Recipe on YouTube!
Print
Vegan Roasted Garlic & Herb Cheesy Spreadable Dip
Author:
Yield: Serves

4

-6

1

x
1 cup

cashews, soaked overnight

5

garlic cloves, peeled

3 tablespoons

fresh lemon juice

3 tablespoons

full fat coconut milk

1 tablespoon

nutritional yeast flakes

3/4 teaspoon

salt

2

–

4

tablespoons minced fresh herbs (suggestion: chives, dill, rosemary, parsley)
Instructions
Preheat oven to 350 F
To roast the garlic, place the garlic cloves in foil, drizzle with a little olive oil, close the foil, and roast in the oven (on a tray) for 25 minutes.
Drain and rinse the soaked cashews and add them to a food processor. Pulse them into a chunky mixture, then add the lemon juice and coconut milk. Blend until a smooth consistency.  
Add the yeast flakes, salt, and roasted garlic. Process until well combined. Next, add the fresh herbs and pulse a few times to incorporate, being careful not to blend so much that it changes the color.
Line a bowl with cheesecloth and pour in the cheese mixture. Tie the top with a rubber band or string and cover the bowl with plastic wrap. Chill in the fridge overnight.
Serve as is, or decorate with fresh pomegranate seeds, sliced almonds, or fresh herbs. Serve with crackers, toast, or rolls! 
Looking for More Appetizer Recipes?