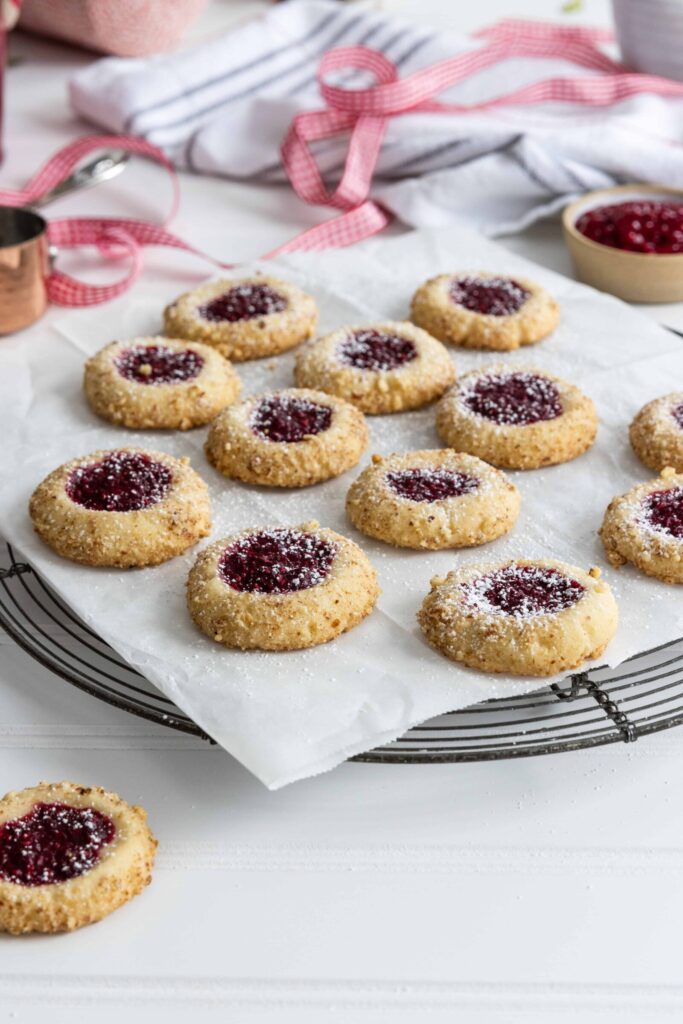 Raspberry Almond Thumbprint cookies have to be one of the most delicate and charming cookies on the planet. The sophisticated light and toasty almond flavor pairs well with the slightly sweet yet slightly tart raspberry filling, which keeps me coming back for more. Raspberry and Almond go so well together. It is among my top favorite flavor combinations.
My Dad is a cookie connoisseur. There is hardly another food item that he likes more than a good cookie. When I served him these Raspberry Almond Thumbprint cookies, he said it was "one of the best cookies he has ever had." That is high praise coming from my Dad.
Raspberry Almond Thumbprint Cookies are super easy to make. They only have five ingredients. Sometimes the simple recipes are the best. I love that they look like they required a whole afternoon of scurrying around in my kitchen, but in reality, I just whipped them up in a few minutes.
How to Make Raspberry Almond Cookies:
Cream the vegan margarine and sugar together until light and fluffy. I like to add a little almond extract to enhance the almond flavor, but this is optional. Mix in some almond flour and regular flour, and your cookie dough is done. Chill the dough in the fridge for around an hour to make it easier to shape into cookies.
Once your dough has chilled, you can roll them into small ball size shapes. I usually get about 16-18 cookies out of this recipe. I like to roll the cookie's outer edge in finely chopped (or ground) almonds to add some extra crunch and texture to the cookies.
Make a small indent in the top of the cookie with your thumb or fingers to hold the jam. Spoon the jam into the cookie's indent and bake until the cookie turns slightly golden brown.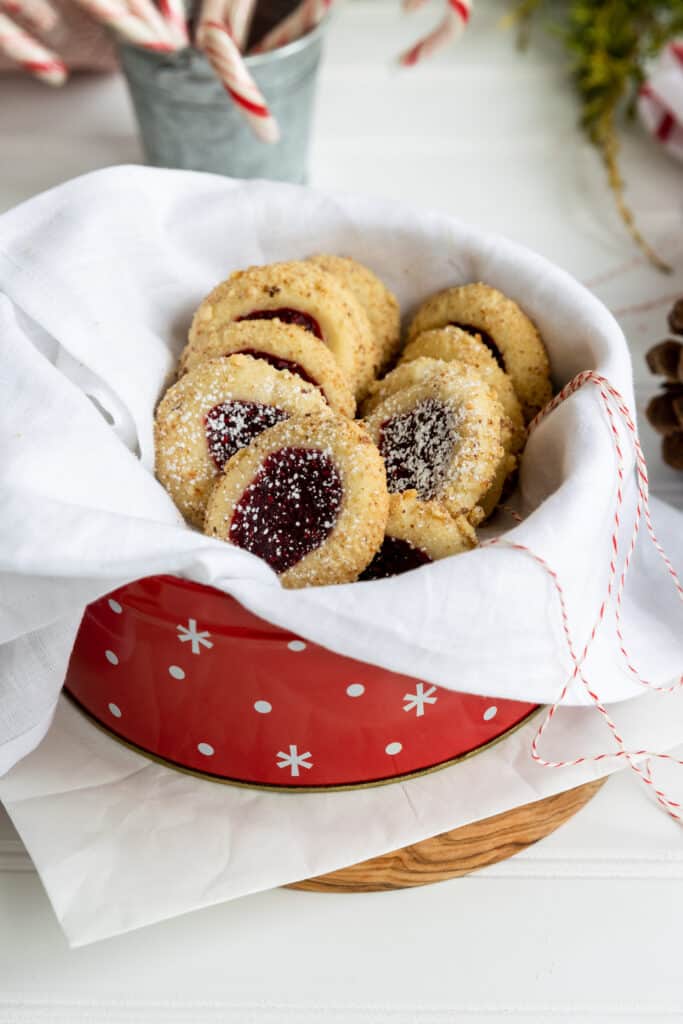 Let's Talk Jam:
This is where you can take this fantastic cookie to the next level. I like to use my own Easy Raspberry Homemade Jam Recipe. Click here for the recipe. But you could also buy or use your favorite jam recipe.
Feel free to experiment with different jam flavors. I made these cookies with blackberry jam the other day. It was delicious. However, I have to say that Raspberry is my favorite.
LOOKING FOR MORE COOKIE RECIPES?
Click Here to Watch Me Make this Recipe on YouTube!
I hope you enjoy this cookie recipe as much as I do. It is hands down one of my favorites. Happy Baking!
Print
Almond Raspberry Cookies
Author:
Yield:

16

Cookies

1

x
1/2 cup

vegan margarine (Earth Balance)

1/3 cup

all-natural cane sugar

1/4 teaspoon

almond extract

1/4 cup

almond flour

3/4 cup

& 2 tablespoons flour
Chopped or ground almonds
Raspberry jam (Click Here for my Recipe)
Instructions
In a medium-size bowl, cream vegan margarine and all-natural cane sugar with a hand mixer.  
Add the almond extract.  
In a separate bowl, mix the flour and almond flour.  
Add the flour mixture to the margarine mixture.  
It should form into a soft dough.  
Cover and cool in the fridge for about an hour.  
Preheat oven to 350 F. 
Next, form dough into bite-size balls and roll the middle section in the crushed almonds.  Place on a lined baking tray.  
Make a slight indentation in the top of each dough ball, and fill it with raspberry jam.  Each cookie should hold about 3/4 teaspoon jam.  
Bake at 350 F for 10-12 minutes, just until the edges begin to brown.  
Dust with powdered sugar or drizzle with icing if desired.  
Store in an airtight container.