If you have been with me for any length of time, you know that I love one-pot pasta dishes. I have several videos and many one-pot recipes on my website. I love these one-pot pasta recipes for three reasons, they are quick and easy to make, there is only one pot to wash, and the flavors blend and development as all the ingredients cook together. Today's One-Pot Linguine with Cauliflower, Lemon, and Olives is no exception. It is a fantastic recipe. But be sure to check out my other One-Pot recipes as well.
Who would ever have thought that pasta and cauliflower would work so well together? They provide a texture difference that I really like. Since both the pasta and cauliflower are bland in flavor, we added capers, olives, lemon, and garlic to really spruce up the flavors. Finish it up with a little fresh parsley, and you have a fantastic dish to put on the table in practically no time.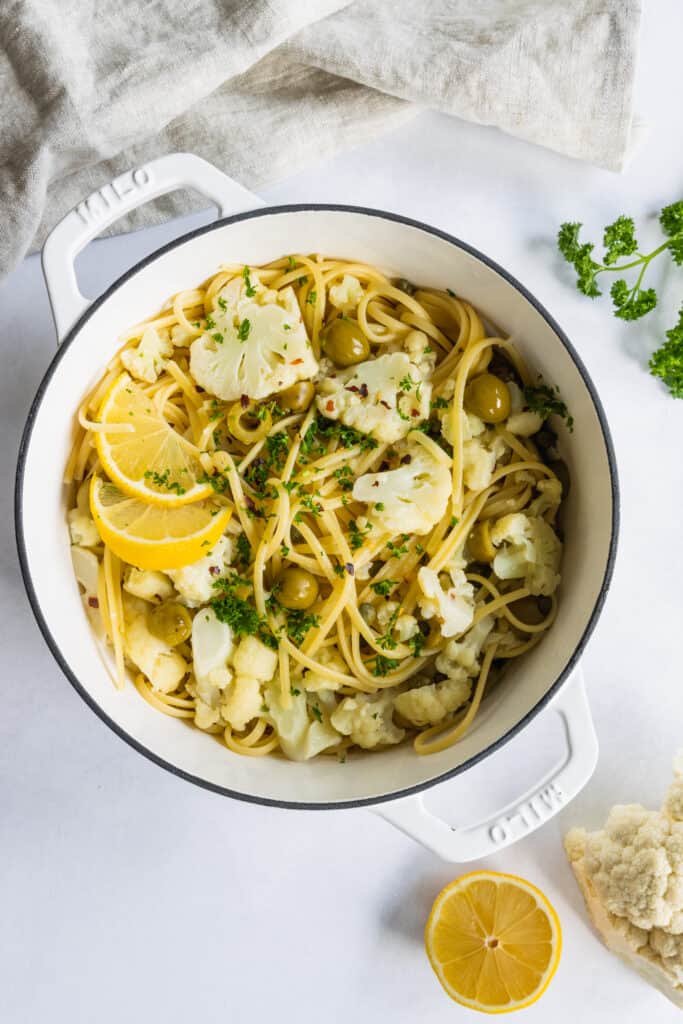 Let's Talk One-Pot Linguine Pasta with Cauliflower Ingredients:
Linguine Pasta:
We chose to use linguine for this pasta recipe, though it would work really well with penne or fusilli shapes also. I prefer the DeCecco brand when using dried pasta. Several years ago, when we were catering a wedding, we tried many dried pasta brands to find the best overall dried pasta, and we landed on the DeCecco brand. It is made from coarse-grain semolina and holds up wonderfully during the cooking process. You can find this brand in most grocery stores. I like my pasta al dente, and in order to keep a little "chew" to the pasta, the cooking time has to be carefully monitored. Because pasta in warm sauce keeps cooking, it is important to serve immediately. This is usually not a problem as it only takes 10-12 minutes to cook. When I am serving this dish for guests, I add all the ingredients to a pot except the liquids beforehand, and then add the liquid and cook the pasta right before serving. This works really well.
Cauliflower:
This happens to be one of my mom's favorite vegetables. And when you add it to pasta, it just tops the chart. Cauliflower has become very popular in the past few years; we now have cauliflower pizza crust, cauliflower pasta, cauliflower rice, mashed cauliflower, etc. It is a perfect substitute for so many things, which has been good for the gluten-free and low-carb communities.
And for a good reason, cauliflower is a precious vegetable. It is high in vitamins and minerals, low in carbohydrates, and rich in fiber and antioxidants. What is there not to like.
Green Olives:
We use canned green olives in this dish; they are mild and buttery in flavor, perfect for this dish. Olives are high in antioxidants. They do contain fat and salt and should be eaten in moderation.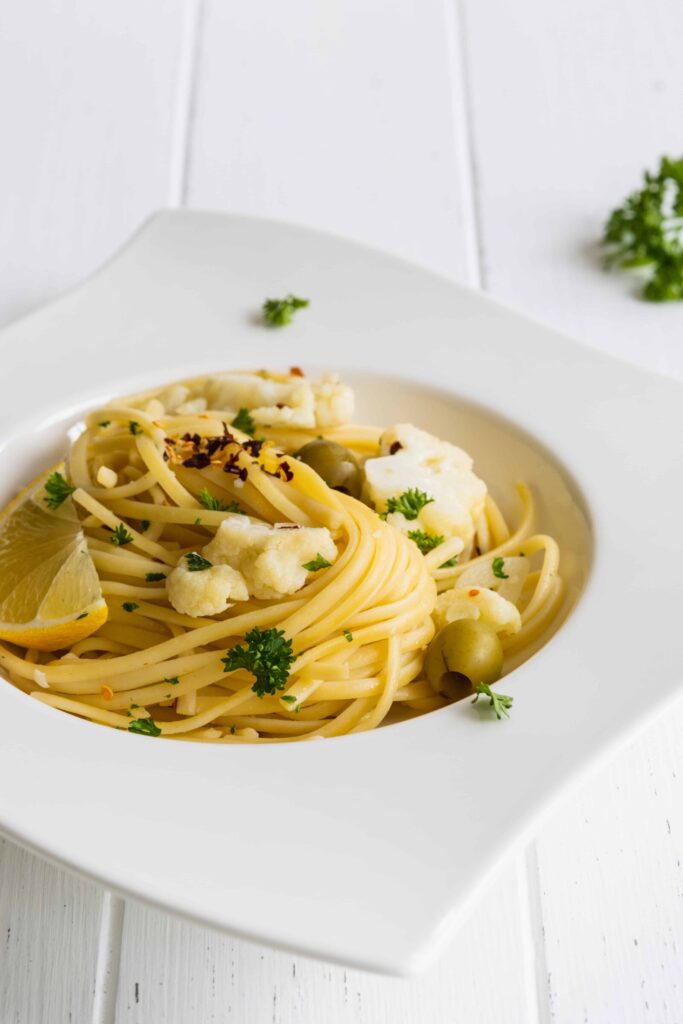 Capers:
You may not be very familiar with capers, but it is a beautiful addition to this dish. I try to have a few jars of capers on my shelf. It adds such a great flavor to pasta dishes, dips, sauces, etc. Capers are the flower buds of the caper bush and are traditionally used in Italian and Mediterranean cuisine.
Lemon:
I would think that everyone is familiar with the many health benefits of lemons. We have lemon in our green drink practically every day. It is high in vitamin C and antioxidants, helps fight disease and aids in so many other functions. For this dish, the lemon adds a touch of brightness and freshness.
Garlic:
Of course, who can make a pasta dish without garlic? Garlic is a staple in our home and is used in almost every savory dish. We prefer the fresh garlic to the dried but will use it any way we can get it. Garlic has an impressive list of health benefits.
Fresh Parsley:
Parsley is an excellent culinary herb and pairs so well in this dish. But parsley is not only good for its taste, but it is also very beneficial and valued for its disease-fighting properties. It is also a terrific garnish as it holds its color well.
Gluten-Free:
This dish can easily be gluten-free by using gluten-free pasta and substituting the "Better-than-Bouillon" with a gluten-free bouillon.
Oil-Free:
This dish can also be oil-free by eliminating the olive oil. The trick is to be good at stirring the pasta, as the oil makes the pasta less likely to stick together.
So, in conclusion, give this One-Pot Linguine Pasta with Cauliflower, Lemon, and Olives a try, or one of my other one-pot pasta dishes. You may be amazed at how easy it is to get a great dish on the table in no time. My family loves my one-pot pasta dishes, and I hope yours will also.
Click Here to Watch Me Make this One-Pot Pasta with Cauliflower Recipe on YouTube!
Print
One-Pot Linguine Pasta with Cauliflower, Lemon, and Olives
Author:
Prep Time:

15 minutes

Cook Time:

10-15 minutes

Total Time:

30 minutes

Yield: Serves

4

-6

1

x
1

pound Linguine

1 1/2 teaspoon

salt

3

large garlic cloves, sliced

3 tablespoons

capers, drained

1/2 cup

canned olives, drained and halved

1/4 teaspoon

crushed red pepper flakes

1/2

head of a large cauliflower (or

1

small cauliflower), sliced (

1/4

inch)
juice from

one

lemon (to taste)

1 tablespoon

"Better-than-Bouillon (or vegetable bouillon of your choice)

4 1/2 cups

water

1/4 cup

olive oil

1 tablespoon

vegan margarine (optional)
fresh parsley, minced for garnish
Instructions
In a large pot, add linguine, salt, garlic, capers, olives, crushed red pepper, cauliflower (see note), and "Better-than-Bouillon." 
Fifteen minutes before serving, add water and oil. 
Bring to a boil and reduce to a simmer.  Stir to make sure pasta does not stick, be vigilant, especially in the beginning. Let simmer for 8-10 minutes.  Keep in mind that the pasta will continue to cook even when taken off the heat, so you want the pasta to be a little chewy. 
Add the lemon juice, margarine (optional), and fresh parsley; stir to combine. 
Serve immediately.  
Notes
Make sure to remove the stem and green leaves from the cauliflower before slicing.