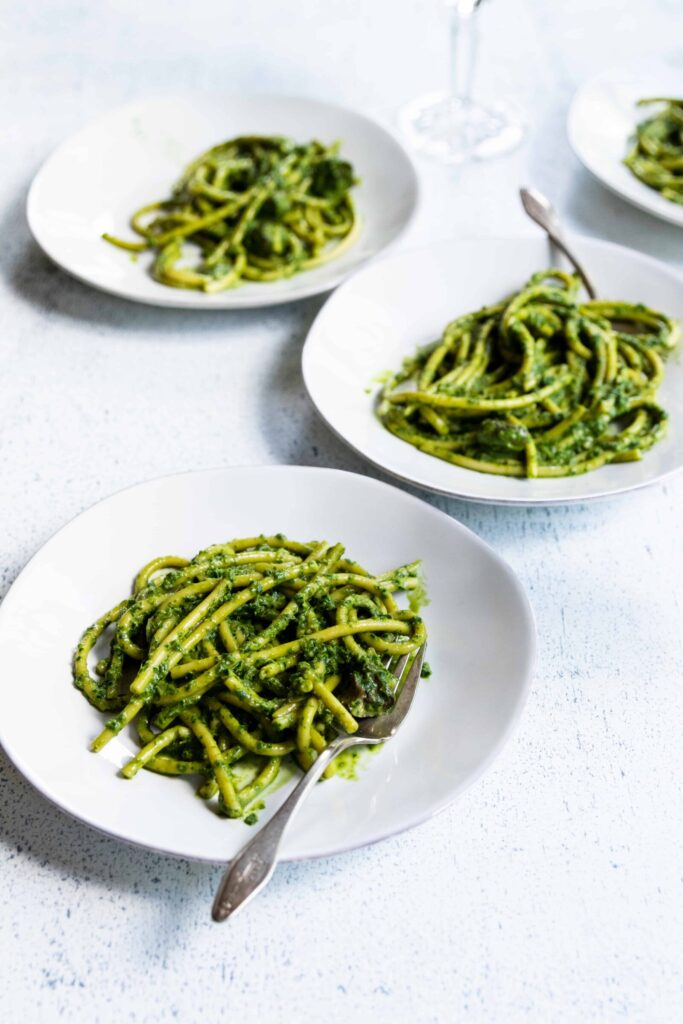 I love one-pot pasta dishes.  The simplicity in this quick and easy dish takes mealtime from frenzied, using-half-a-dozen-pots, and a sink full of dishes, to a one-pot wonder that will dazzle your family table.  Today, we are pulling out all the stops with this Vegan One-Pot Mushroom Pesto Pasta.  I am so excited about this recipe!  
It is summer in New Hampshire, which means I have a garden full of fresh produce to create beautiful and delicious dishes.  What a wonderful time of year.  One of our favorite things to grow is herbs, and this year our basil patch seems to be producing more than usual, so we have an abundance of extra flavor to add to any dish.  We are making pesto at lightning speed, adding pesto to just about everything, and it was in this pursuit that we discovered the wonderful pesto and mushroom combination. 
So, today's recipe is beautiful bucatini pasta with mushroom and gloriously fresh pesto.  Click Here for my SUPER EASY pesto recipe.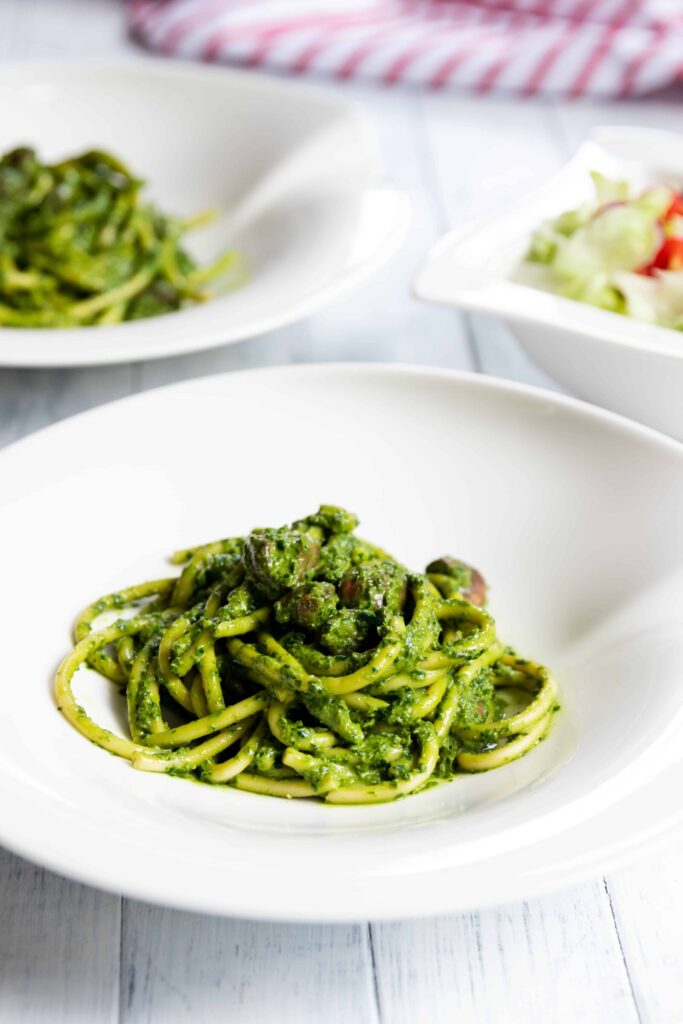 You can use your favorite pasta:
Bucatini is a thicker pasta resembling spaghetti with a small hole running through the center.  I like it because it has a bit of chew, which adds a nice texture to this dish.  But I will often create this recipe with whatever pasta type I have on hand or that makes me happy that day:)  Linguini will also work well in this dish.  Feel free to experiment by using your favorite pasta, but be sure to adjust the cooking time so that your pasta will cook properly.  
By adding some cold pesto at the end, you prevent the pasta from overcooking, which is a good thing.  This dish is best served immediately.  

I hope you enjoy this Vegan One-Pot Mushroom Pesto Pasta recipe.  It is a summer favorite. 
Click Here to Watch me make this recipe on YouTube!
Print
Vegan One-Pot Mushroom Pesto Pasta
14 oz

Bucatini (or pasta of your choice)

2 cups

Baby Bella mushrooms, sliced

6

garlic cloves, thinly sliced 

1/3 cup

pesto (Click Here for my Pesto Recipe)

2 tablespoons

olive oil

1/2 teaspoon

salt

1 teaspoon

Better-than-Bouillon

1 tablespoon

vegan margarine (optional)
Fresh basil for garnish (optional)

4 cups

water
Instructions
In a large pot, add the pasta, sliced mushrooms, garlic, half of the pesto, olive oil, salt, Better-than-Bouillon, and water.
Bring to a boil and then reduce to a simmer. Cook for 10-11 minutes or until the pasta is al dente. Make sure to stir during cooking time so that the pasta cooks evenly.
 Add the rest of the pesto and vegan margarine. Stir and serve. 
Garnish with fresh basil.
Enjoy!
I share at least one of these one-pot pasta recipes every summer! Check out my other recipes: