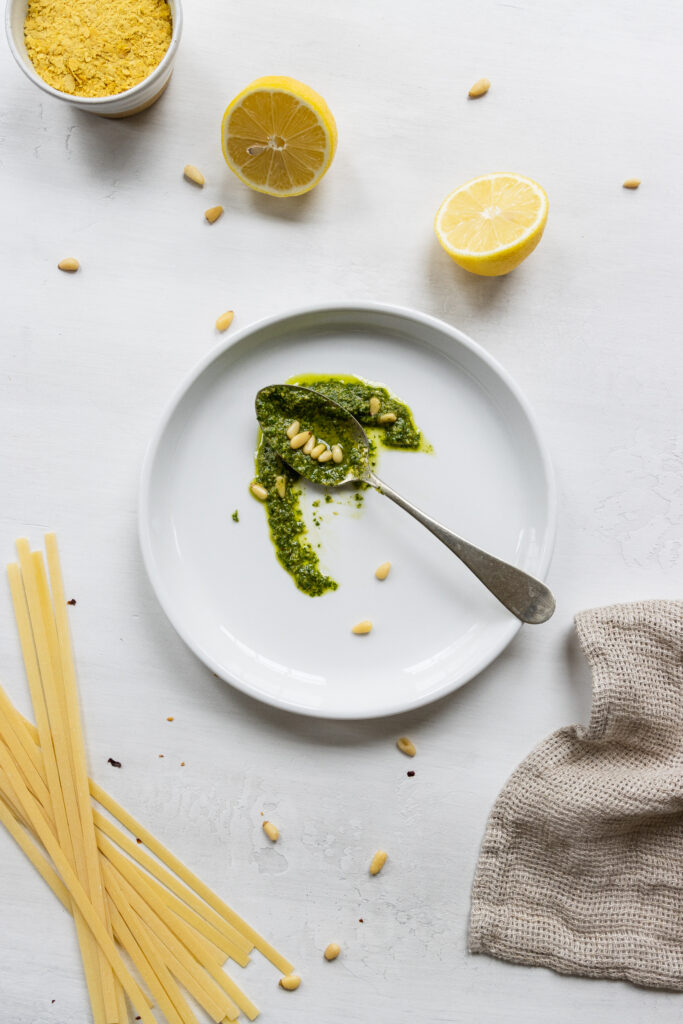 There is nothing that smells like summer quite like pesto. Eagerly we start the basil seeds in early spring, and it's an impatient wait until we harvest our first basil leaves. But it is always worth the wait. And basil produces all summer long in New England, so we are blessed with an abundance. Pesto is a perfect sauce for so many recipes. It is great on pasta, pizza, potatoes, rice, and anything else you can think may just be a little better with some pesto. This is an easy and quick recipe.
Let's Talk Pesto Ingredients:
Herbs:
Basil:
Basil is the main ingredient in pesto. It has an incredible flavor that adds boatloads of character to any dish. It also has a variety of different health benefits.
Parsley:
I add some parsley to my pesto for two reasons. One, it adds to the green color, and two, it adds to the flavor. Parsley is another herb containing multiple nutrients and antioxidants.
Nutritional Yeast:
Nutritional Yeast adds a beautiful flavor to the pesto. It replaces the parmesan cheese traditionally used in pesto. I have had several people tell me that this is their favorite pesto recipe vegan or otherwise.
Pine nuts or Walnuts:
Traditionally pine nuts are used in a pesto sauce, which adds a sweet and delicate nutty taste to the pesto. We have found that pine nuts can be substituted with walnuts if need be.
Crushed Red Pepper:
You may be tempted to omit this ingredient as it is a spicy ingredient, but somehow it seems to elevate the flavor profile in this pesto. We only add a touch, and you can add more or less as you see fit, but I would encourage you to try it with the crushed red pepper the first time around.
Good Quality Olive Oil:
Since this is a raw sauce, it is worth a good quality, cold-pressed olive oil. Naturally, the quality of the olive oil will enhance the sauce, but to be frank, we make this with regular olive oil too, when a good quality one is not available.
Fresh Garlic:
We love garlic, and we often throw a little extra garlic in this recipe, but I would encourage you to follow the recipe the first time you make it, then you will know how to adjust next time around. Raw garlic can easily be a little overwhelming, but it makes such a difference in this sauce.
Fresh Lemon:
We also add a touch of fresh lemon juice to the pesto. It really brightens the flavor. Anything taste better with a little lemon, right?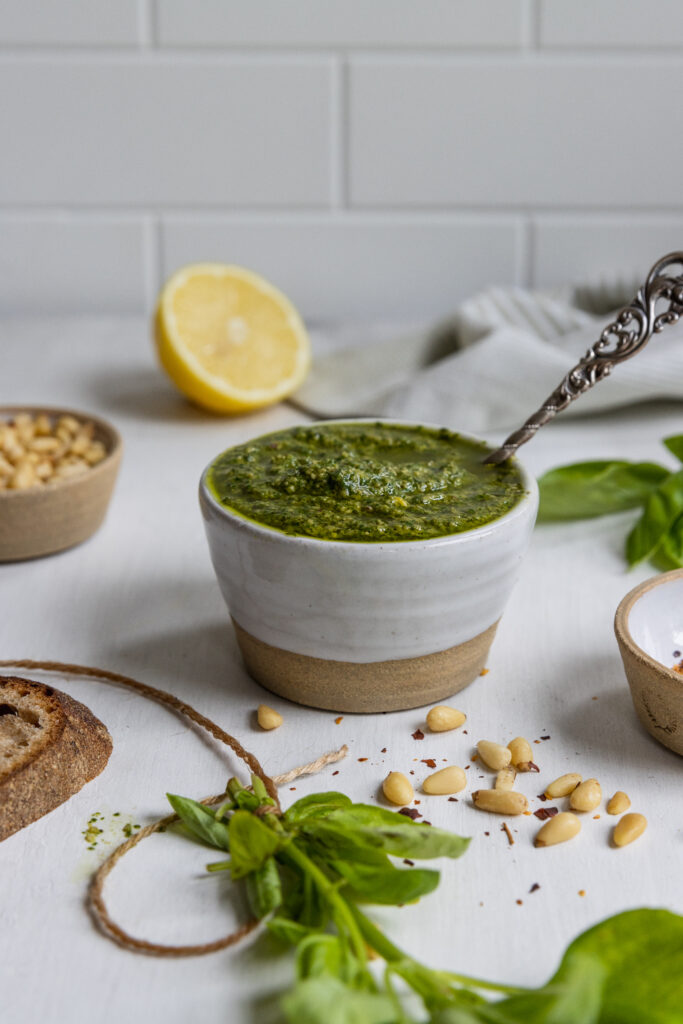 How to preserve pesto:
One of the issues with pesto is that the color can turn brown if not stored correctly. This can be avoided by placing it in an airtight container, cover the top with olive oil, and put a layer of cling wrap right over the top. Keep in fridge until ready to serve. Remove the cling wrap, stir in the oil, and serve immediately.
When I need the pesto to stay green for any length of time, I blanch the basil for a couple of seconds in boiling water and then immediately into ice water. This enhances the color, and it stays green much longer. The drawback is that it changes the consistency slightly. Some do not mind this, but I only do this when absolutely necessary.
It takes only a few minutes to pull together this wonderful sauce, a quick and easy sauce to add to your favorite dish.
Click Here to Watch Me Make this Recipe on YouTube!
Print
Quick and Easy Vegan Pesto | Plant-Based
2 cups

fresh basil

1/2 cup

fresh parsley

1/4 cup

pine nuts (toasted or un-toasted) *

3

–

4

garlic cloves

1/4 teaspoon

crushed red pepper flakes

3 tablespoons

nutritional yeast flakes

1 teaspoon

fresh squeezed lemon juice

1/2 teaspoon

salt

1/3 cup

olive oil
Instructions
In a food processor, add basil, parsley, pine nuts, garlic, crushed red pepper flakes, nutritional yeast flakes, lemon juice, and salt.
Pulse into a rough paste scraping down the sides occasionally.
Then slowly add the olive oil to the paste while the food processor is running.