You wouldn't think one could get super excited about a tomato sauce, would you?  But that is actually the case with this special tomato sauce.  The roasted vine-ripened tomatoes, garlic, and basil make a wonderful tomato sauce.  The roasting process enhances the flavors, and it comes together as the best roasted tomato sauce in the world, in my opinion.  
Tomato Season:
This is the time of year when tomatoes are plentiful.  People with vegetable gardens are looking for recipes to make with their beautiful harvest.  We were blessed with wonderful tomatoes this year, and we have made numerous batches of this great tomato sauce and stored it for winter.  We use this sauce for pasta, pizza, soups, etc. the number of recipes is endless.  Just yesterday, we made a batch with a little extra crushed red pepper for a spicer tomato sauce, which works well in some recipes.  It was delicious.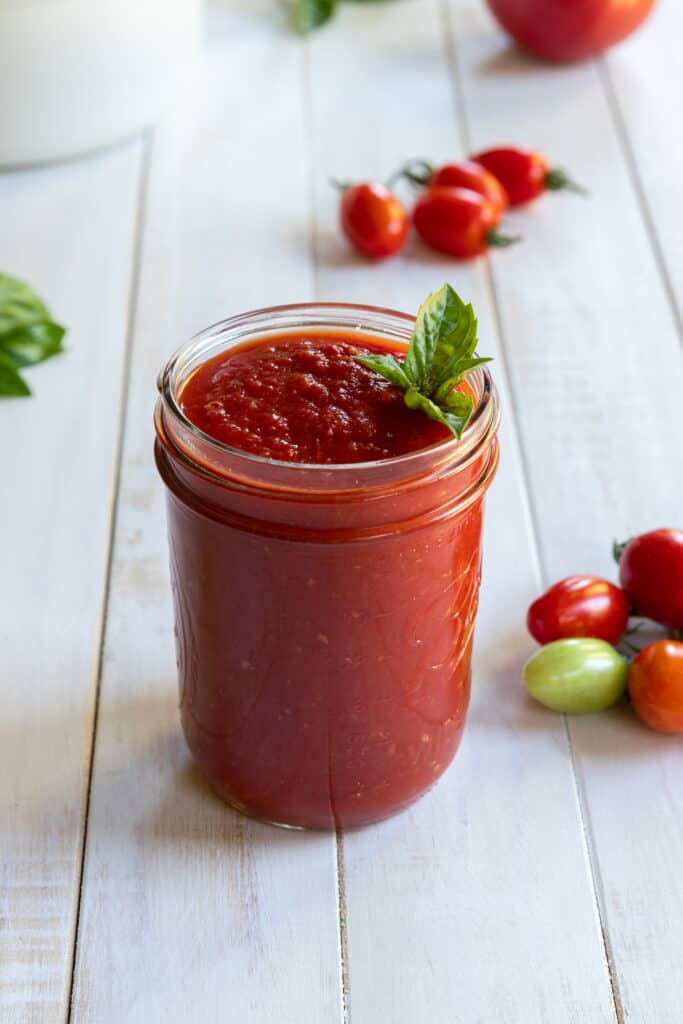 Tomatoes from the store cannot compare to tomatoes straight out of the garden.  If you do not have a garden, it may be worth a trip to the local farm stand to get some fresh tomatoes for this sauce, but we have certainly made it with store-bought tomatoes when the garden variety has not been available to us, and it has turned out just fine.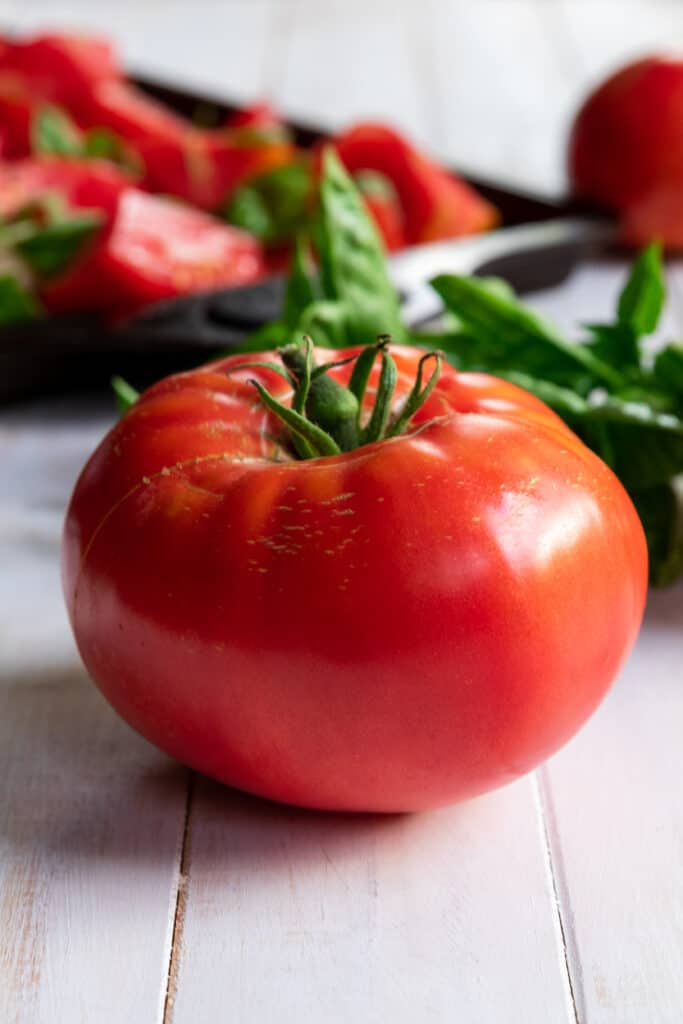 Super Simple Recipe:
This is a super simple recipe.  I cut the tomatoes into quarters, place them on a baking tray, add a few whole garlic cloves, a few basil leaves, a little oil, a touch of salt, and some crushed red pepper.   Next, I roast them in the oven for a few minutes, blend them in a food processor, and you have this amazing sauce.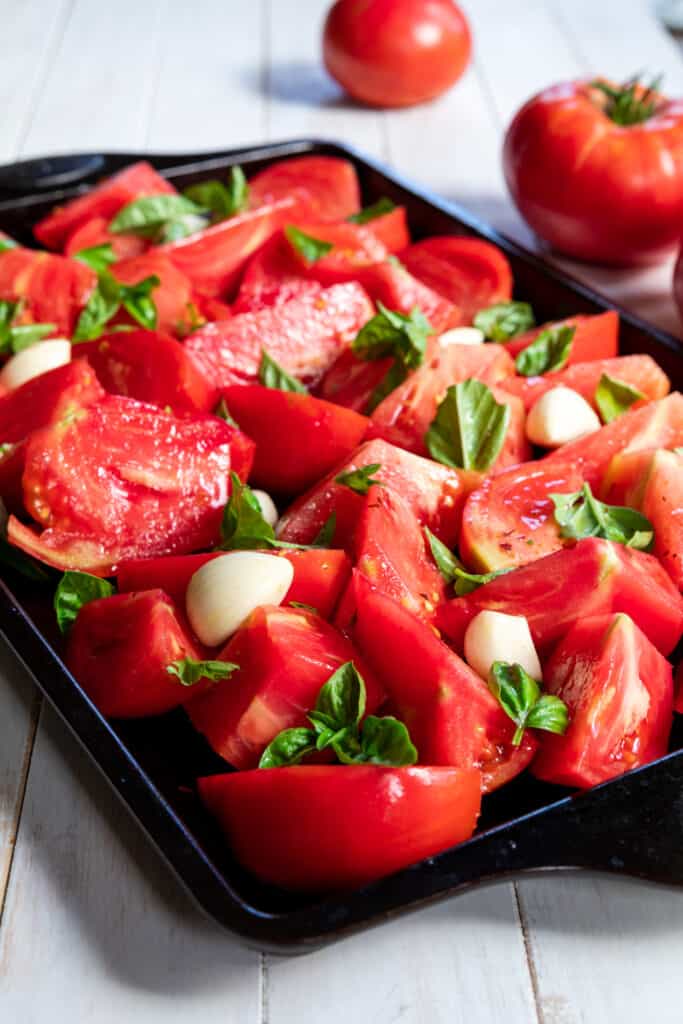 When I make this roasted tomato sauce, I usually make several trays at once.  I usually freeze the sauce in the appropriate portions.   This makes it so easy to whip up quick meals as needed.   I hope you enjoy "the best roasted tomato sauce" recipe.
Click Here to Watch me make this recipe on YouTube!
Print
The Best Roasted Tomato Sauce
Author:
Yield:

1 quart

+

1

x
6

–

8

large tomatoes, quartered

4

large whole garlic cloves

5

–

6

basil leaves

2 tablespoons

olive oil

1/2 teaspoon

salt

1/8 teaspoon

crushed red pepper
Instructions
Preheat oven to 400F

Wash and quarter tomatoes

Arrange on a baking tray

Add the whole garlic cloves and basil leaves

Drizzle with olive oil

Sprinkle with salt and crushed red pepper

Toss with your hands to evenly coat the oil (on garlic and basil leaves too)

Bake in the oven for 30-35 minutes

Remove basil leaves from tray and discard (see note)

Pour tomatoes, garlic, and liquid into a food processor, pulse to get the right consistency (see note)

Place in saucepan if needed to reduce liquid, simmer on low

Salt to taste
Notes
You can keep the basil leaves in the sauce if desired, but they will add a darker color to the finished sauce. I like to remove the basil leaves for a better colored sauce, and use fresh basil as garnish when I serve it.

I prefer to use a food processor to make this sauce, but if you do not have a food processor, you can use a blender. It does change the consistency and color of the sauce as the ground tomato seeds render the color a bit more orange and the sauce a bit thicker.

Since the type and quality of tomatoes vary so much in liquid content, there may be times that the sauce is too thin for your liking. If so, place in a sauce pan and simmer on low without the lid until the sauce has reached the right consistency. Season to taste.

Add more crushed red pepper if you like a little heat to the sauce.
Looking for more recipes?