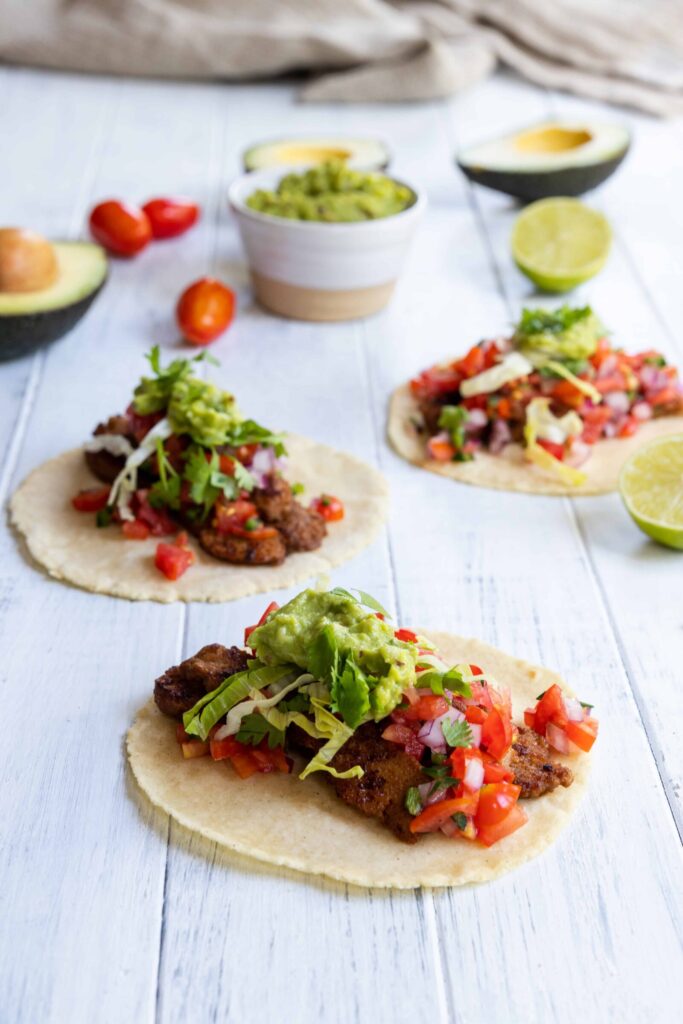 I love tacos.  Just about once a week, we have tacos at my house.  The fact that you can make your own makes this a favorite with the whole family.  We have also found that it is a great meal to serve guests.  They can make it exactly how they like, which usually makes people happy.  These Vegan Tacos with My Favorite Guacamole are absolutely delicious, colorful, healthy, and fun to eat.  
Here are all the Components to Make my Favorite Taco Recipe:
Corn and Flour Tortillas:
We like to have both flour and corn tortillas for our tacos.  We all have our preferences, but I suspect that without me, it is possible there would only be flour tortillas on Taco Tuesday Night. Click Here for my Corn Tortilla Recipe!  We make our own; they are so much better than store-bought.  We often make a bunch and keep in the freezer. Click Here for my Flour Tortilla Recipe!
Refried Beans:
Refried beans are another favorite ingredient in our tacos.  They make a great base for the various toppings, besides they add quite a lot of nutrition and fiber to the meal.  If you are in a hurry, cook the beans in a pressure cooker or Instapot.  I also like the slow-cooker method: Click Here to Check out the Recipe!
Meat Substitute:
My dad especially likes meat-substitute on his tacos.  We make our own, and it is so easy to store in the fridge or freezer, making it easier to pull together for a quick meal.  Click Here for my Basic Vegan Homemade Seitan (Meat Substitute) Recipe!
Salsa:
Taco night would not be the same without fresh salsa, especially in the summer months when we have fresh tomatoes, jalapeños, and herbs.  There is nothing quite like it.  My mom could eat salsa as the main meal, though I prefer it with my tacos. Click Here for the link to my Fresh & Restaurant Style Salsa.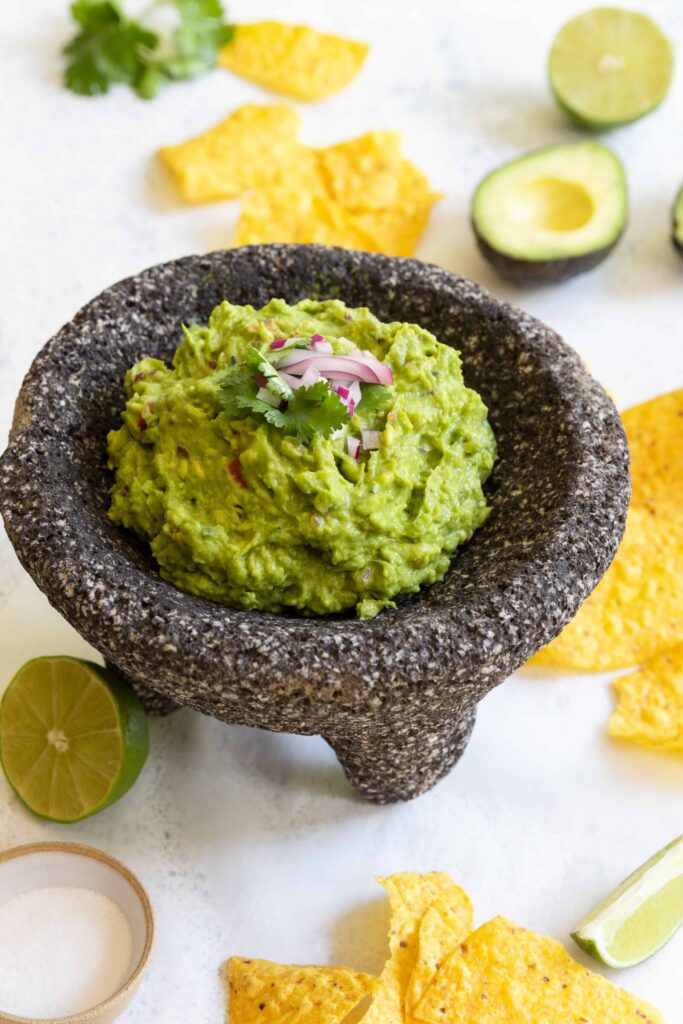 My Favorite Guacamole:
Finally, but not least, is the guacamole.  It is an absolute favorite around my house.  We use it on tacos, burritos, dips, and anything else we can think of.  Unfortunately, it is too cold to grow avocados here in New England, so we are dependent on the grocery store, but thankfully, it is available most of the year, so we enjoy guacamole often.  My Guacamole Recipe is written below.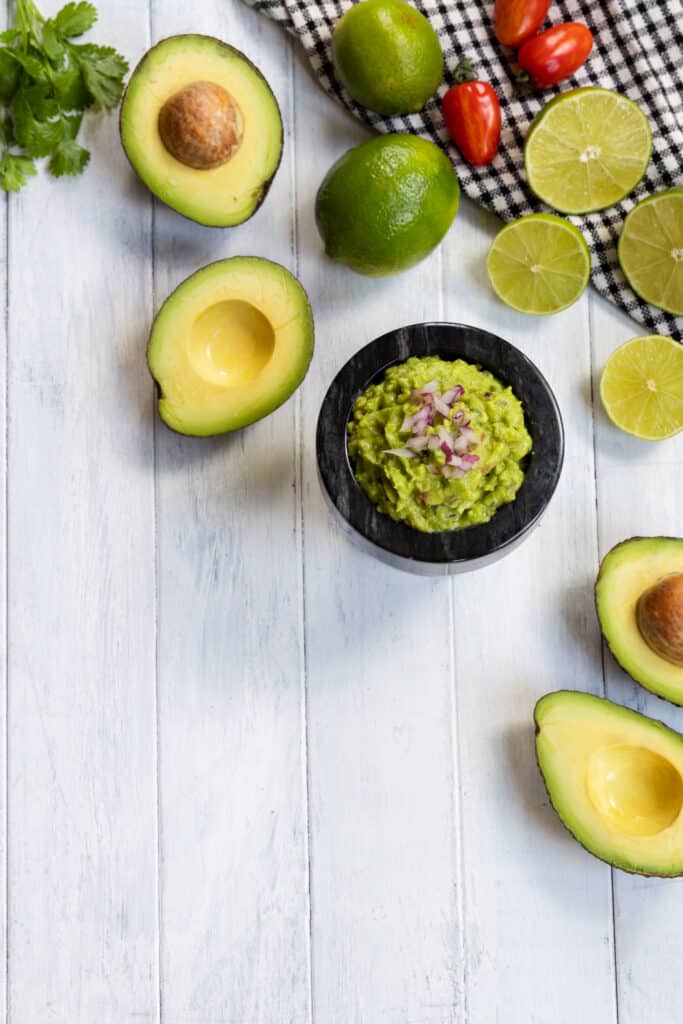 To Make Taco Tuesday Easier:
To make Taco Tuesday much easier to pull together, it is good to make some of these recipes ahead of time. The tortillas freeze well and can be heated slightly before serving. We will often make a whole bunch when we first make them, and then just take out what we need. We store them in the freezer with parchment paper in-between. It works so well. The refried beans can cook over night, or during the day to be ready for meal time. The guacamole can also be made ahead of time provided you cover it with saran wrap, not allowing air pockets between it and the guacamole, and then storing it in the fridge until ready to use. However, we most often make it fresh along with the salsa, which is also best if made the same day.
So, to sum it up:  To make these incredible Tuesday tacos, we will need corn or flour tortillas, meat substitute or refried beans (or both), fresh salsa, guacamole, and some shredded lettuce.  I hope you give these a try; they make a wonderful family meal.  
Click Here to watch me make these Tacos on YouTube!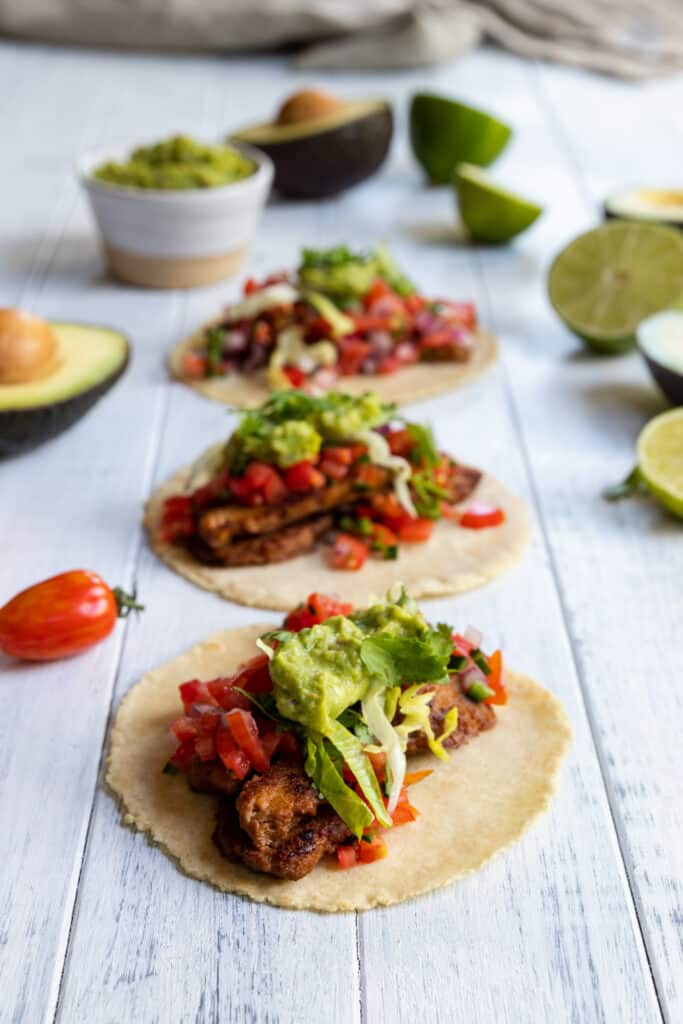 Print
My Favorite Guacamole
1

garlic clove

half a

jalapeño pepper, deseeded and cut into small pieces

2

avocados

1 tablespoon

fresh lime juice

1/4 cup

chopped cilantro

1/4 cup

chopped red onion (finely chopped)

1/4 cup

chopped tomato
salt to taste (1/2-1 teaspoon)
Instructions
Make a paste of the garlic clove and jalapeño.  Add the peeled avocado and mash until a chunky texture.  Fold in the lime juice, cilantro, red onion, and tomato.  Salt to taste.