Today, I have an exciting new One-Pot Pasta recipe to share with you! And what is super exciting is that this pasta dish is perfect for my gluten-free friends also.
Let's Talk About Gluten-Free Pasta:
My family loves pasta. We love pasta in all sorts of different shapes. Because it is a staple menu item, we have been looking for a more nutritious option than just plain white pasta. Recently we came across the Jovial 100% Brown Rice GF Farfalle Pasta and were blown away with the texture and flavor.
We are currently testing the other Jovial types of pasta, and we will keep you updated if we find other types within this brand that is worth trying, but we can highly recommend the Jovial GF Farfalle. It is made simply with brown rice and water, so 100% whole grain, but without sacrificing texture or taste. This makes pasta a nutritious option for everyday meals. We are thrilled to have discovered this. We are not sponsored by Jovial, so we can say it like it is. Today, we are making a fantastic one-pot pasta that just happens to be gluten-free. I am so happy for my gluten-free friends, but this is also huge for pasta lovers around the world. We can have pasta nearly every day:)
I also need to mention that I love the one-pot pasta dishes; I have several on my website. It is so quick and easy. You have a meal on the table in about 15 minutes or so. It is a great option when you need a quick meal. The one drawback to the one-pot pasta is that it is best eaten right away. Even when I serve this dish to guests, I prep all the ingredients ahead of time but do not cook the pasta until 15 minutes before serving the meal. I'm not too fond of overcooked pasta, so a one-pot pasta dish must be cooked and served immediately.
LOOKING FORE MORE ONE-POT PASTA RECIPES?
Pasta:
As already stated, I appreciate the Jovial 100% Organic Brown Rice Gluten-Free Pasta Farfalle very much. I love that it is whole-grain and organic. So you can trust that you are serving nutritious pasta meals to your family.
Cherry Tomatoes:
Cherry tomatoes look so beautiful in this dish. They also have a touch of sweetness that really adds to the flavor. Cherry tomatoes are high in dietary fiber, antioxidants, minerals, and vitamins. I find it so useful to have a couple of containers of cherry tomatoes around; they are such an addition to meals, salads, snacks, etc.
Capers:
The most unusual ingredient in this pasta is the capers. Capers are the green flower buds of the caper bush. They have a lemon, olive type flavor that lends itself well to Mediterranean cooking. Some of them are stored in vinegar. I prefer the ones that are stored in water. You can find these at your local grocery store, they last for years on the shelf (unopened), so they are so easy to have on hand to add that extra touch to a pasta dish. One to two tablespoons are all you need, so store the rest in the fridge (when opened) for the next pasta dish.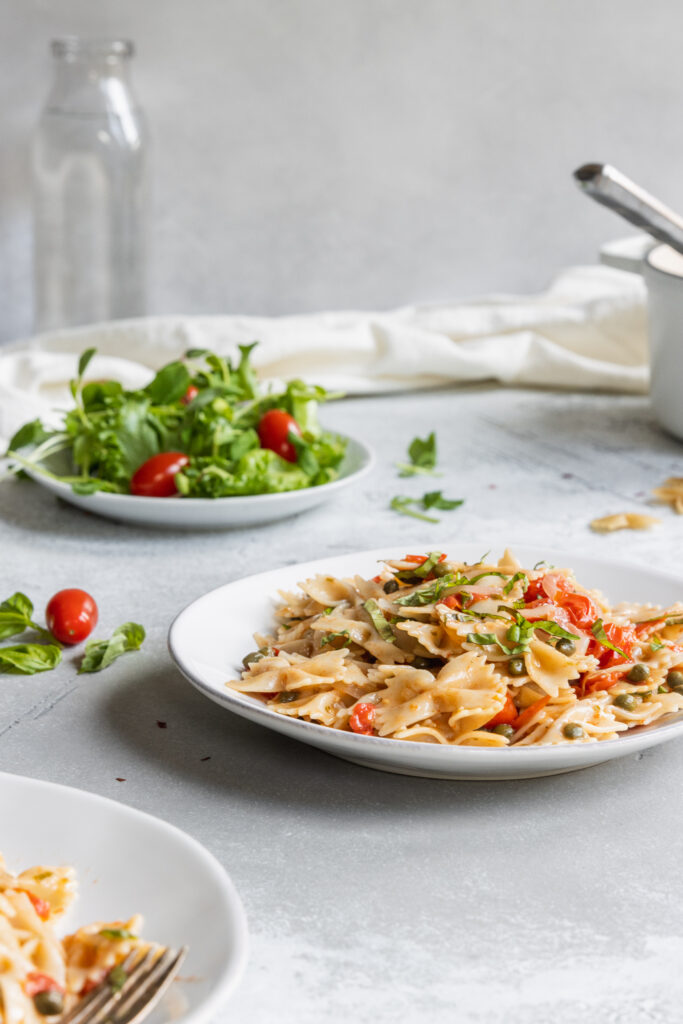 Garlic and Onion:
Garlic and onion give great flavor to this gluten-free one-pot pasta dish. It is so helpful that you do not need to precook anything. Throw everything in the pot, and in about 10 minutes, everything is cooked to perfection.
Shallow Pot:
It is not necessary, but oh so helpful to have a large shallow and wide cooking pot. I cook all my one-pot pasta dishes in mine, and I absolutely love it. Mine is a Le Creuset, 5 quarts, 12 inches.
Better-Than-Bouillon:
Better-Than-Bouillon (Vegetable Base) does not claim the gluten-free label as wheat is stored in the same facility, but as I understand it, the product itself is gluten-free. It is a great product to have on hand, especially if you do not have vegetable broth. In this recipe, we use water instead of broth as this is what we do at home, but you could use vegetable broth instead of water, skip the Better-Than Bouillon and season with salt.
Oil & Margarine:
I find it helpful to add a little olive oil to the dish. It is perfectly fine to omit the oil for those of you who are trying to avoid oil, but be a little more vigilant and stir more frequently to prevent the pasta from sticking. A final touch is a tablespoon of vegan margarine. It binds the sauce together, creates a smoother end product, and adds some extra flavor. Can this step be omitted? Absolutely.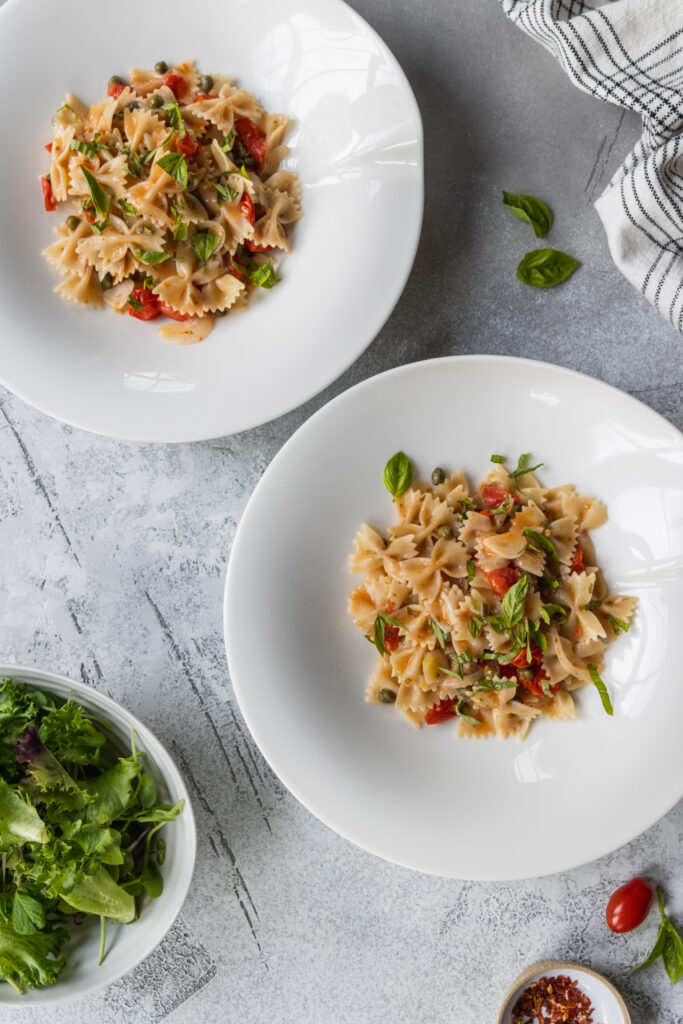 Finally, if you love pasta, I would encourage you to give this brand and type a try. I think you will be amazed, a whole-grain pasta that tastes just as good as the regular white pasta. We are in the process of trying other shapes in this brand. We will keep you posted.
Click Here to Watch Me Make this Gluten-Free One-Pot Pasta Recipe on YouTube!
Print
A Fantastic One-Pot Pasta That Happens to be Gluten-Free
Author:
Yield: Serves

4

-6

1

x
12 oz

. Jovial 100% Organic Brown Rice Gluten-Free Farfalle Pasta

2 cups

cherry tomatoes, halved

1

small onion, thinly sliced

1

large garlic clove, thinly sliced

2 tablespoons

capers, drained

1

  1/2 teaspoon salt

2 teaspoons

dried sweet basil

2 teaspoons

Better-Than-Bouillon (vegetable base)

4 1/2 cups

water

1

–

2

tablespoons olive oil

1 tablespoon

vegan margarine (optional)
Fresh basil for garnish (optional)
Instructions
Place all the ingredients in a large shallow pot (5 quarts), except the margarine and fresh basil.
Bring to a boil quickly.
Reduce heat to a simmer.
Stir occasionally to prevent the pasta from sticking.
Cook for approximately 9 minutes (or according to the directions on the pasta box).
When the pasta is the right consistency, stir in the margarine, sprinkle with fresh basil, and serve immediately.
Notes
I'm not too fond of overcooked pasta, so I always undercook my pasta by at least a minute.  I prefer mine to have a slight chew.  Remember the pasta will continue to cook in the sauce until the sauce cools.