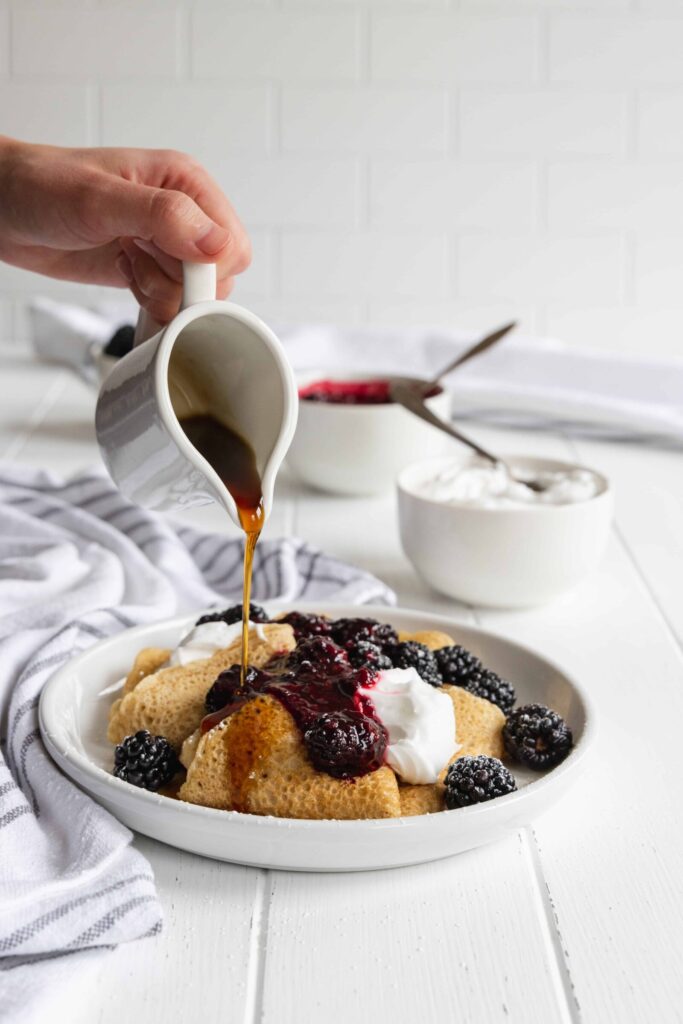 I am visiting my sister away at college for a few days, and one of the first things she asked me to make was crepes. So, in her little college apartment, we made these wonderfully tender and delicious crepes. Mom and I had already filmed a video showing how to make crepes with a lemon cream cheese and blackberry filling, which is an amazing way to serve crepes. So, we decided it was the right recipe for this week as mother's day is right around the corner.
Crepes are associated with tender memories for me. They resemble my aunt's Norwegian pancakes that she used to serve us when we would come for a visit in the summers. On sunshiny days, these were usually served outside, and what precious memories that created for me. Do not underestimate the value of simple things in making fantastic memories. A little thing such as eating outdoors can make a huge impact, and this is something the Norwegians are very good at doing. In the summertime, they eat a lot of their meals outdoors. They also take their time and visit as they eat. It has very fond memories for me.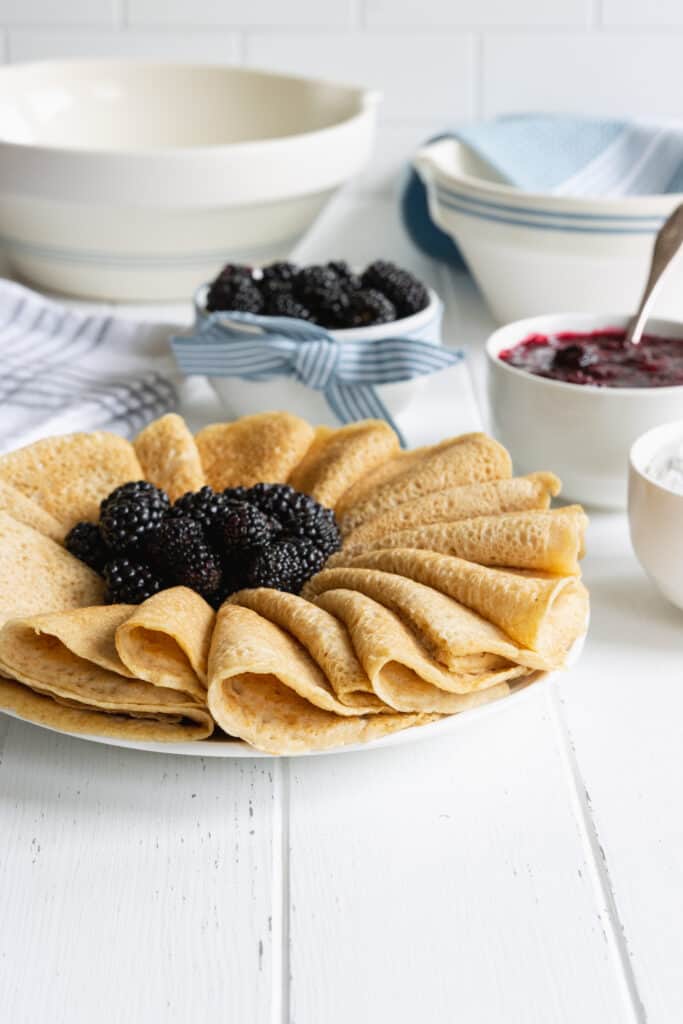 So, Let's Talk Crepes with Lemon Cream Cheese and Blackberry Filling Ingredients:
Sparkling water:
We use sparkling water to make these crepes light, fluffy, and delicious. It's amazing how it adds that little extra fluff to the crepes. Any type of unflavored carbonated mineral water will do.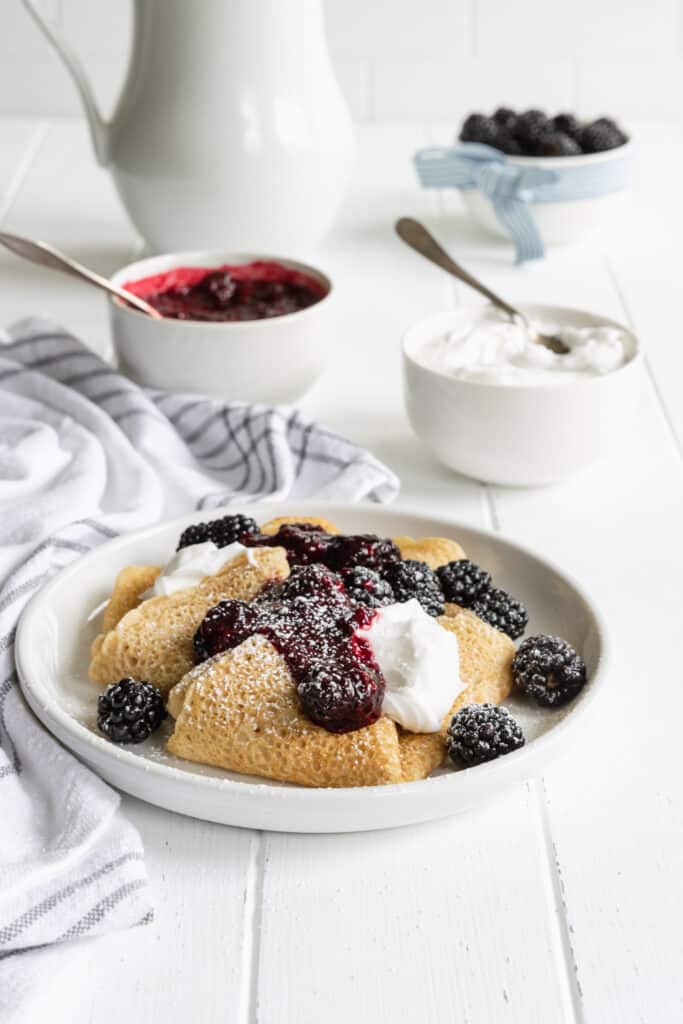 Vegan Cream Cheese:
In this recipe, we use the Violife Vegan Cream Cheese. We prefer this cream cheese for several reasons. First, it is completely white, which gives it a beautifully fresh and appetizing look. It is also smooth and creamy, has an exceptional flavor, and resembles cream cheese in its consistency.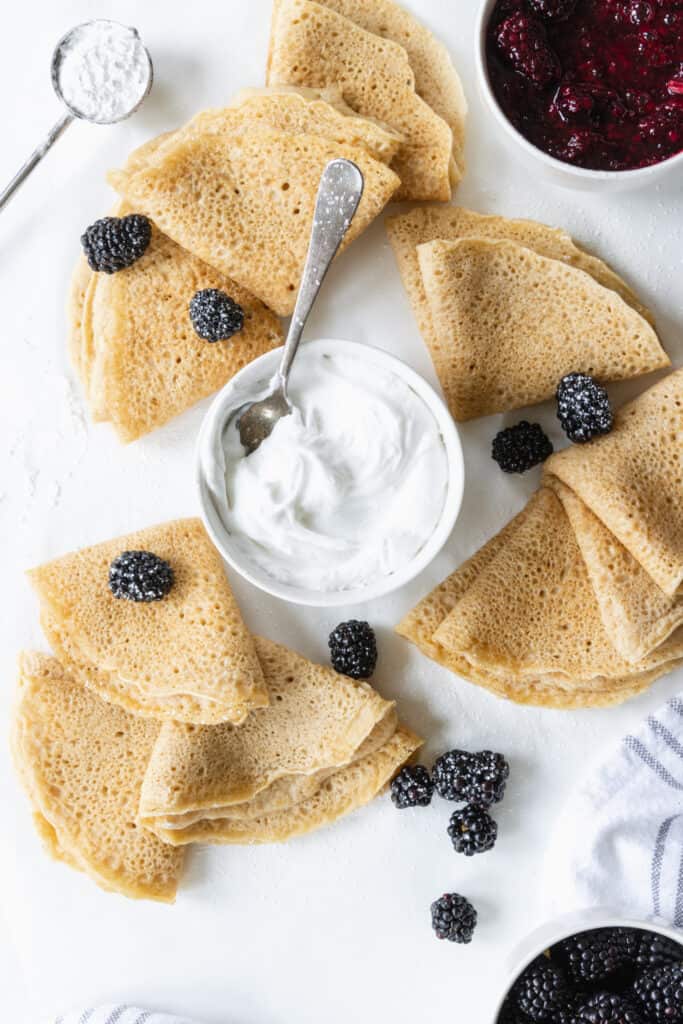 Blackberries:
Blackberries are high in vitamin C, are packed with fiber, and provide antioxidants to protect the cells in your body. It also has an anti-inflammatory component and is, therefore, a great berry to add to your diet.
Maple Syrup:
Being from New England, it is only natural for me to sweeten things with maple syrup. It is slightly better than sugar in that it has a few minerals and many antioxidants. But if you do not have that option, you can add a couple of tablespoons of sugar instead. As with all sweeteners, they should be consumed in moderation. It is one of my grandfather's favorite sayings: "All things in moderation."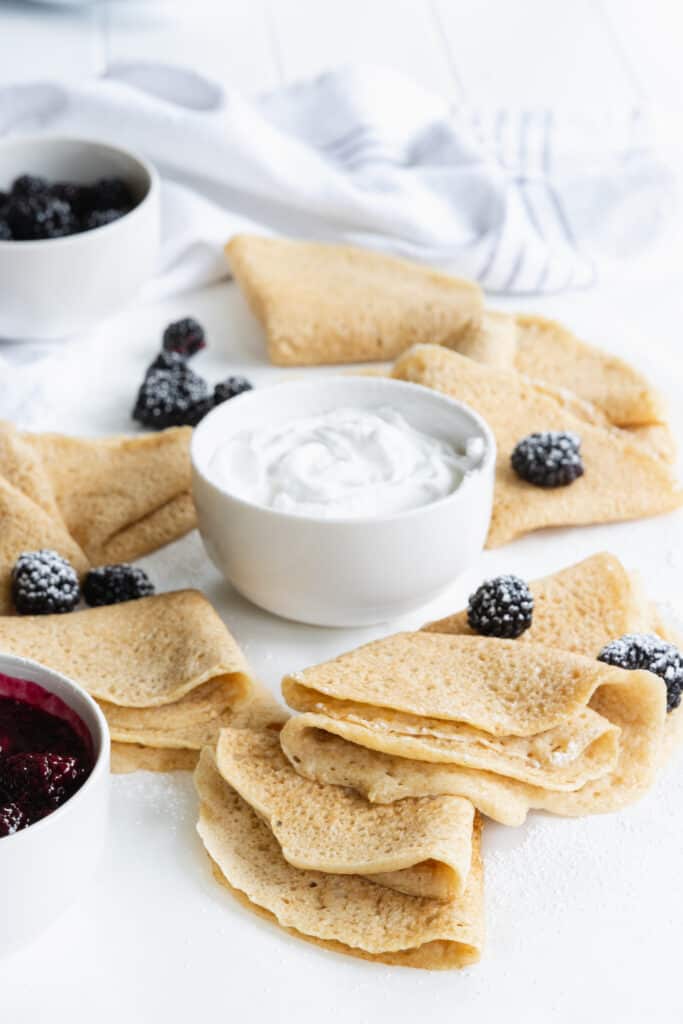 These crepes are delicious on their own, but they are an exceptional treat when served with lemon cream cheese and blackberry filling. I usually serve these crepes with lemon cream cheese and blackberry filling on the side. The lemon cream cheese filling melts when added to the warm crepes, so it works best when added right before serving.
Watch me make this recipe on YouTube!
Print
Crepes with Lemon Cream Cheese and Blackberry Filling
3/4 cup

white whole wheat pastry flour

3/4 cup

all-purpose flour

1/2 teaspoon

salt

1 teaspoon

baking powder
pinch of cardamom (optional)

2

–

3

tablespoons maple syrup or all-natural cane sugar

1/2 cup

almond milk

1 tablespoon

olive oil

1 teaspoon

vanilla

1 cup

sparkling water
Instructions
In a large mixing bowl, combine flour, salt, baking powder, and cardamom. Stir to combine.
In a separate bowl, add all the liquid ingredients: almond milk, olive oil, maple syrup, vanilla, and sparkling water.  
Make a well in the middle of the dry mixture and pour in the liquid ingredients. Stir to combine.  
If the batter seems too thick, add an additional tablespoon of sparkling water until the batter becomes a soupy consistency. It may take an additional 2-3 tablespoons of water.  
Heat a skillet, and when it is hot, add about 1/4 cup of batter. Lift the skillet and twirl around to make the batter spread out into a large circle. Return to the heat source—Cook for a few seconds on each side. Ensure the bubbles on the top are popped before you attempt to turn it (otherwise, it will most likely stick to the pan).
Serve with berries, favorite fruit, vegan whipped cream, or your choice:)
NOTE: These crepes do not usually stick to the skillet, but if they do, spray a little oil on the pan between each crepe.
Lemon Cream Cheese Filling
1 pack (7 oz.) Violife Vegan Cream Cheese
1 tablespoon fresh lemon juice
2-3 tablespoons powdered sugar
With a hand mixer whip the Cream Cheese and lemon juice until smooth; next, add the powdered sugar a tablespoon at a time. Adjust to taste.  Refrigerate until ready to serve.  
Blackberry Filling
10 oz. frozen organic blackberries
3 tablespoons maple syrup
1 tablespoon tapioca (mix with 1 tablespoon water)
In a small saucepan add the frozen blackberries and maple syrup. Bring to a simmer while stirring. Let simmer for a few minutes.  
Mix the tapioca with about 1 tablespoon of water to make a slurry. Add to the saucepan. Stir. It will thicken quickly. Let it simmer on low for about a minute, stirring frequently.
Set aside to cool.
Assembly
Assemble the crepes right before eating. I have found it helpful to let people fill their crepes according to their taste buds, so I usually provide the three components and then let people assemble the crepes according to their preferences.