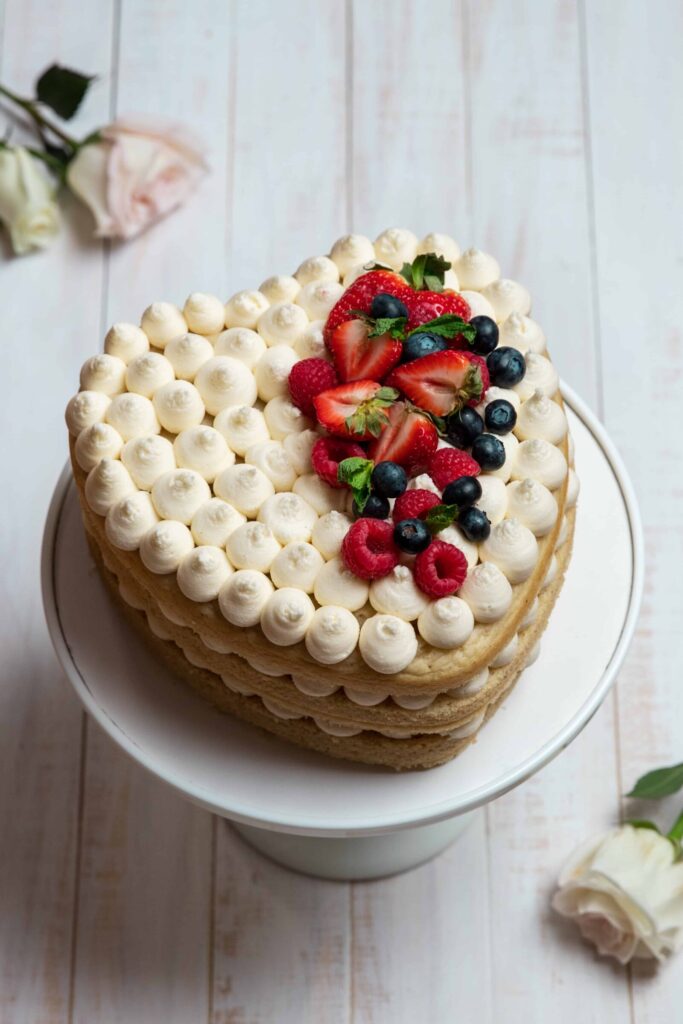 Valentine's Day is right around the corner, and I am so excited! Why not make your Valentine a cake? A Vegan Valentine's Day Cake:) Sounds pretty fantastic to me.
It is the time of year that we show our loved ones that they really matter to us. One could argue that we should show that love every day, and I agree, but a day set aside to recognize someone in a unique way is a pretty awesome thing.
This year I am going to bake my family a Valentine's Day cake and it just so happens that my sister Kaija gave me a heart-shaped baking pan a couple of years ago (thank you, Kaija) and it is going to be the perfect pan for this Valentine's cake.  If you do not have a heart-shaped cake pan, do not worry, it looks just as pretty round, square, or whatever shape you feel inspired to make.  This is actually a pretty easy cake to decorate as you pipe little dots of frosting on each layer of cake and finish it off with some berries.  Fresh berries are one of my favorite ways to decorate a cake, and it makes the cake look fresh and beautiful.  
You could even make the cake a day in advance so that it has time to cool completely before decorating.
Tips For Making a Vegan Cake:
When making a vegan cake, there are a couple of things that will give you a better result. Bake the cake immediately after combining the wet and dry ingredients, and curdle the plant-based organic milk by adding fresh lemon juice. There are many plant-based brands on the market that do not curdle, so make sure you buy organic unsweetened milk.
I want to wish all of you a Happy Valentine's Day, I may not know all of you personally, but I want you to know that you matter to me. Thank you for being so faithful, for supporting me, for encouraging me, for watching my videos, and trying my recipes. I hope you have a fantastic day!
Make someone's Valentine's Day extra special. Bake them a Vegan Valentine's Day cake.
Happy Valentine's Day!
Print
Valentine's Day Cake
Dry:
2 1/3 cup

flour 

1/2 cup

sugar

4 teaspoon

baking powder

1/2 teaspoon

salt

1/2 teaspoon

cardamom
Wet:
2/3 cup

oil

1 1/3 cup

milk

2 tablespoon

lemon juice

1 teaspoon

vanilla
Instructions
Preheat oven to 350F
Grease a pan
Combine and mix dry ingredients
Combine wet ingredients
When oven is ready, mix dry and wet ingredients together, stir until combined.  Pour into pan, and bake for 25-30 minutes until toothpick comes out clean
Remove from oven and let cool
Frosting:
1 cup vegan margarine (earth balance) (I sometimes do half vegan margarine and half vegetable shortening)
2 cups powdered sugar
1 teaspoon vanilla powder
With an electric mixer, whip margarine until fluffy

Sift the powdered sugar and the vanilla powder

Add to the electric mixer and continue to whip
Looking for more Valentine's Day Recipe?