Looking for a refreshing, delicious summer drink to serve your guests and family? Here it is! This fantastic Fresh Strawberry Limeade is a perfect choice. The sweetness of the fresh strawberries, mixed with the unique tartness of the lime, and the beautiful vibrant color will awe any recipient.
More recipes you may like: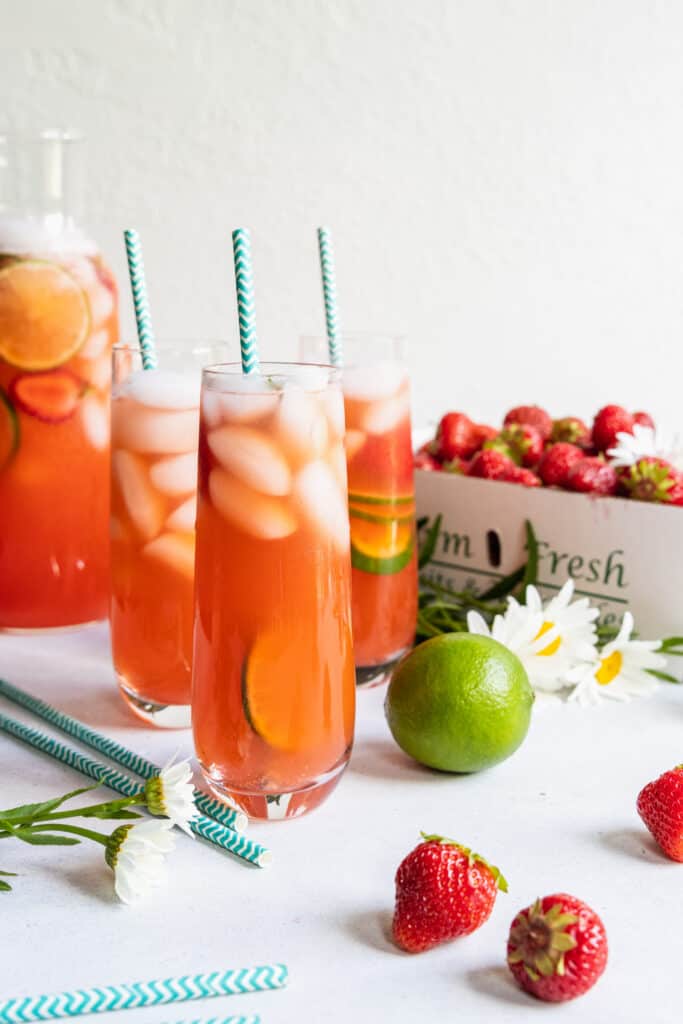 It is strawberry season, and if you have an abundance of fresh strawberries on hand, why not make this awe-inspiring fresh strawberry limeade. Lime and strawberries go very well together. This week mom and I took our annual strawberry picking adventure. We usually go several times during the season, but at least once, we pick for the winter and freeze to have delicious strawberries for wonderful recipes all year around.
Strawberry Limeade can be made with frozen strawberries if fresh strawberries are not available, though I will have to say there is nothing quite like the fresh version. It is quick and easy to make and can be stored in the fridge for several days. It is also easy to adjust to the individual taste.
What is Strawberry Limeade?
Strawberry limeade is a refreshing cold drink made with only four ingredients: lime, strawberries, maple syrup (or sugar) and water. The ingredients are mixed in a blender and ready to serve immediately.
For those of you who do not live in New England, maple syrup may not be readily available, so today, I am showing you how to make a simple sugar syrup that can substitute for the maple syrup in this recipe.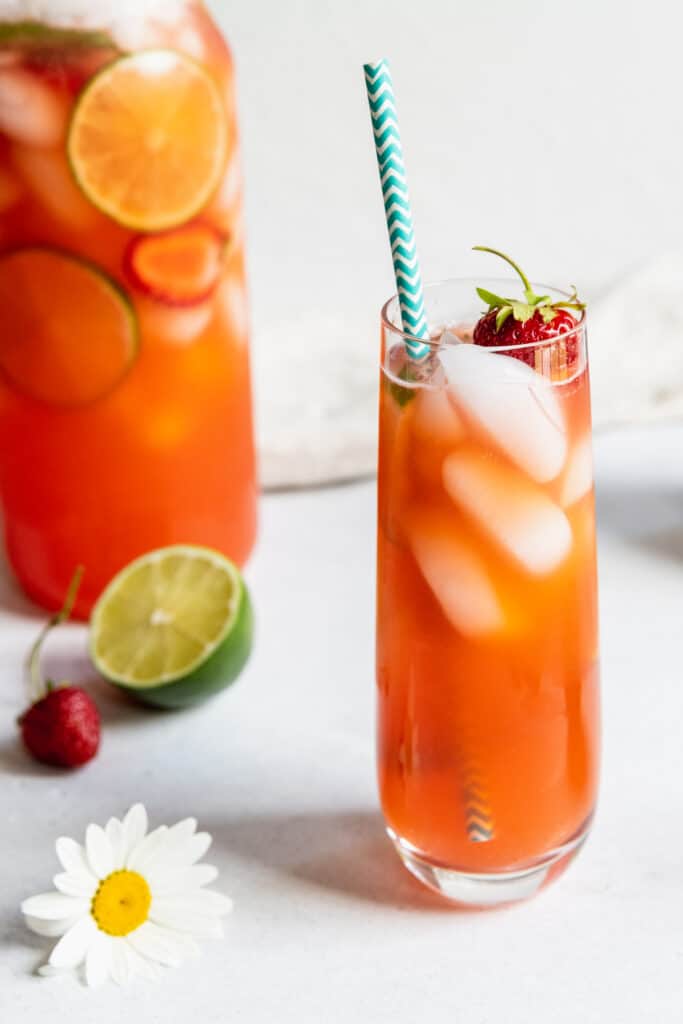 Why Do I think you will like this recipe?
Quick and Easy to make
Refreshing and Delicious
Perfect Summer Drink
Ingredients List:
Lime:
Lime is a wonderful tart citric fruit that is packed with vitamin C and antioxidants that boosts the immune system.
Strawberries:
Strawberries brighten the summer with their vibrant red color and deliver many health benefits. Also rich in vitamin C, potassium, fiber, and antioxidants, strawberries are believed to protect the heart, regulate blood sugar, and fight cancer.
Maple or Sugar Syrup:
Maple syrup is made from the sap of the maple tree. It is collected in the early spring when the days are warm and the nights are cool. Then it is reduced to a thick, sweet syrup, a perfect natural sweetener. Maple is believed to have some health benefits making it a better sweetener than refined sugar.
Water:
Who can argue with the many health benefits of water. Without it, we could not live but a few days. It is well known that most people are chronically dehydrated, and yet water is necessary for almost every function in the body. We need to drink more water.
How to Make Strawberry Limeade:
Strawberry Limeade is an easy and quick drink to make.
measure the sweetener or make the sugar syrup
wash and prepare the strawberries
squeeze the lime juice from the limes
add everything to the blender and blend until smooth
Recipe Variations/Substitutions
Lime can be substituted with lemons
Strawberries can be substituted with raspberries
Maple syrup can be substituted with a sugar syrup
Allergy-friendly Options:
This recipe is:
gluten-free
oil-free
nut-free
soy-free
Serving Suggestions:
Serve with a few thin slices of lime, sliced strawberries, and some fresh mint leaves.
Some people like the drink as it is, but some people may like it less sweet. Encourage people to add water to fit their taste.
How to Store this recipe:
Fridge: strawberry limeade can be stored in the fridge for up to a week.
Freezer: can be kept in the freezer for up to 3 months.
This post may contain affiliate links. If you click on the link and purchase something, I earn a small commission and it doesn't cost you any more.
Special Equipment or Tools:
Blender: It is useful to have a blender when making this strawberry limeade. If you do not have a blender, make sure to mash the strawberry by hand before adding it to the rest of the ingredients. I use a Vitamix Blender.
Citrus Squeezer: I find it helpful to have a citrus squeezer, but it can be done by hand also.
Tips and Tricks:
If you plan to store the strawberry limeade in the fridge or freezer for a while, you may want to add less water to conserve space and then add the water right before serving.
For an extra cold drink, replace some of the water with ice. Be aware that as the ice melts, it will dilute the drink.
For a clearer drink, strain the strawberry limeade before serving.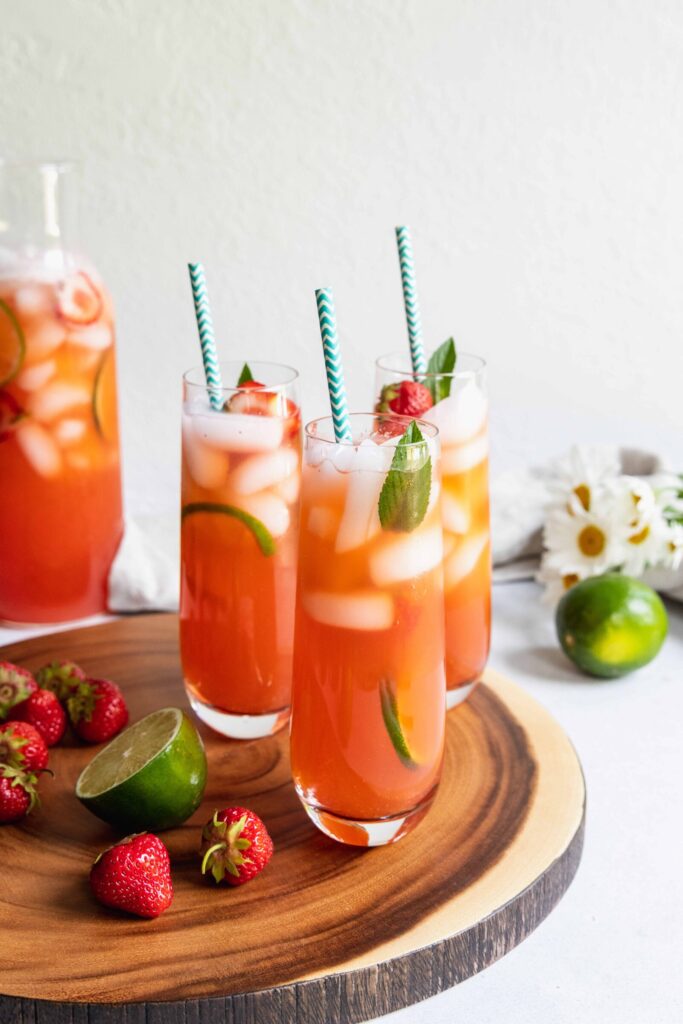 Frequently Asked Questions:
Is Limeade the Same as Lemonade?
No, limeade is made with limes, whereas lemonade is made with lemons.
How Long Does Limeade Last in the Fridge?
It will last in the fridge for up to one week.
Can I Substitute Limes with Lemons?
Yes, you can, but the flavor will be different.
Can I use Sugar Instead of Maple Syrup?
Absolutely. Make a sugar syrup by heating an equal amount of sugar and water until sugar is dissolved. See recipe for details.
Should I buy Organic Strawberries?
It is always best to use organic strawberries whenever possible. Non-organic strawberries may contain pesticides.
How Can I Make this Strawberry Limeade Healthier?
Use less sweetener.
Use a natural sweetener like maple syrup, agave, dates, or coconut sugar.
Buy organic fruit.
Dilute with extra water.
Print
Strawberry Limeade
The sweetness of the fresh strawberries, mixed with the unique tartness of the lime, and the beautiful vibrant color will awe any recipient.
Author:
Prep Time:

15-20 minutes

Total Time:

15-20 minutes

Yield:

Serves: 6-8
1 1/2 cup

fresh strawberries

1 cup

fresh lime juice

1/2 cup

maple syrup (or sugar syrup)

5

–

6

cups of cold water
Instructions
Choose the sweetener: maple or sugar syrup.  If using sugar syrup, start by preparing it (see the recipe below).
Wash and prepare the strawberries. Squeeze the lime juice from the limes.
Add strawberries, lime juice, sweetener, and water to the blender and blend until smooth.
Simple Sugar Syrup:
1/2 cup sugar
1/2 cup water
Add to a small saucepan and heat until the sugar is dissolved.  Remove from heat and cool.
(Read my affiliate discloser here.)
Looking for more recipes?