This is summer in a jug; a refreshing watermelon cooler is all you need to chill a hot summer day!
I love the idea of making my own fresh juice, lemonade, or in this case, watermelon cooler. Bright, beautiful, and delicious, this cooler is wonderful served in a glass jug to show off its gorgeous color.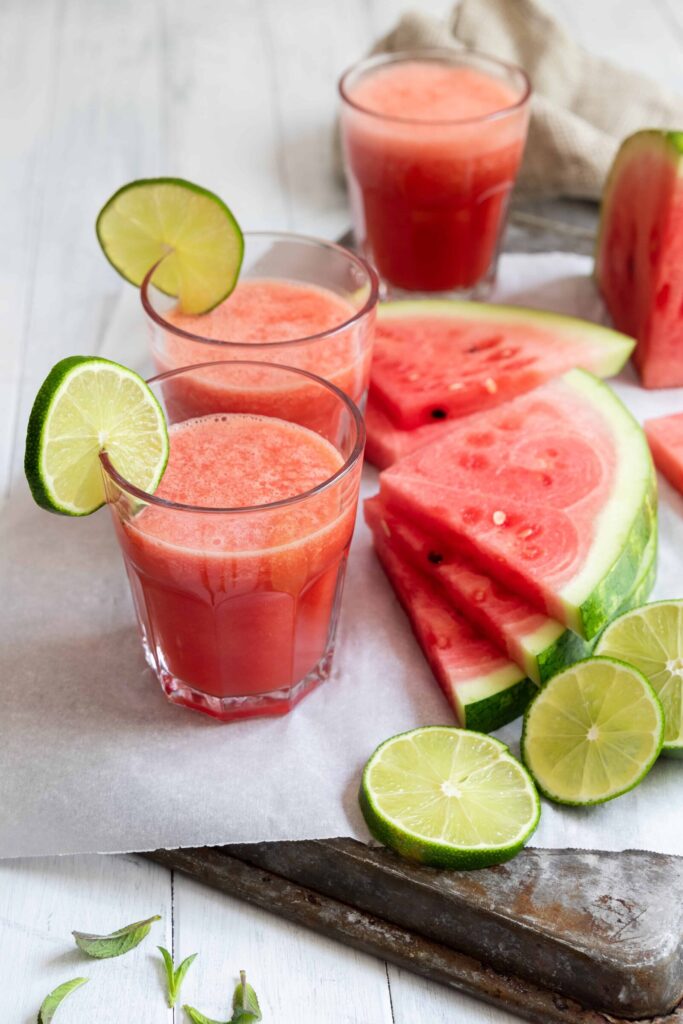 This is a real party trick recipe; everyone will ask you how you made it. It's pretty as a picture, healthy, and can be whizzed up in minutes.
Give this easy recipe a try next time it's sunny outside!
Why you'll love this watermelon cooler recipe
You can see just by looking at the picture of this recipe that its pure joy. There are so many reasons to love it. Check out my favorite attributes about this watermelon cooler.
Thirst quenching and refreshing. A jug of this will cool you down and hit all the summer high notes. It's really great on those blistering days.
Easy to make. Just blend everything together, making it a breeze. If you prep in advance, it'll take you a few minutes to make it up.
Special occasion worthy. This pretty pitcher is great for daytime parties and events, think weddings, baby showers, and birthdays, of course.
Healthy. It's bursting with goodness and is a beautiful alternative to store-bought juice as there is non added refined sugar in this cooler.
Hydrating. Watermelon is a carrier of hydration and moisture, perfect for summertime when you need extra liquids and great for your skin. 
A great base recipe to add another ingredient to, like mint or mango.
Ingredients and substitution notes 
Here are a few notes on the ingredients in this recipe to help guide you to success:
Lime juice. Swap this out for lemon if you like, adds a lovely balance to the watermelon cooler.
Watermelon. Choose a ripe and good-looking watermelon. It shouldn't have dark or bruised patches.
Ginger. You can leave it out if you prefer, but fresh ginger gives this drink a lovely punch!
Mint. Gives that bright pop of flavor. You can add basil instead or leave the herbs out completely.
Apple juice. This is optional. You can also add a drizzle of maple syrup if the watermelon needs to be sweetened.
Looking for more recipes? here are some of my favorite beverages:
Watermelon Cooler Recipe variations and add-ins
I could honestly go on writing these for days; here are my top 5 ideas:
Strawberry-watermelon cooler. Add a cup of clean, hulled fresh strawberries to the blender for a gorgeous twist to maintain the pretty color.
Basil-watermelon cooler. Swap the mint out for fresh basil leaves for a sophisticated turn of events.
Cucumber-watermelon cooler. This is a lovely grown-up combination.
Peach-watermelon cooler. Pair these two summery delights together.
Raspberry watermelon cooler. Add in some fresh raspberries for a tangy taste.
Top tips
This recipe is pretty simple, but there is always room for improvement. Here are my tops tips:
Choose a ripe watermelon. This is the most important tip to take note of. The entire flavor depends on this. Choose a sweet and juicy melon for the job.
Blend well. You want the ingredients to be totally smooth and silky, with no lumps or bumps.
Chill the ingredients. This really helps with the overall result.
Use fresh mint. If you have mint in your garden, this is the first prize, as it's always deeply scented and flavored.
Serve immediately. While it can keep for a little while, it's best straight out of the blender.
Sweeten to taste. Watermelons can vary in sweetness and flavor quite dramatically. Check the cooler before serving, and add a little maple syrup to the mix if necessary.
Make ahead of instructions and storage
You can plan a little by preparing the watermelon. Cut it up into cubes and store it in a sealed container in the fridge until you're ready to blend.
Watermelon coolers do separate a bit on standing. They are, therefore, best served straight from the blender.
Leftovers can be stored in the fridge for a few hours. The texture is best when the drink is consumed straight away. 
Watermelon Cooler Serving suggestions 
Here are some fun serving suggestions for your watermelon coolers:
Chill the cooler before serving. This will take your drink to the next level and is way nicer than room-temperature watermelon juice.
Serve it in pretty vintage glasses for an elegant feel.
Add a splash of twist of cut citrus like lime, grapefruit, or lemon to the jug rim or glass edge.
Make it into a popsicle for a fun party item!
Serve over ice; you'll need to drink it immediately, but this is a lovely touch.
Make a vegan ice cream or sorbet float by pouring the cooler over a scoop of your frozen dessert.
Watch My Watermelon Cooler Recipe Video:
FAQs
What is a watermelon cooler?
It's a refreshing blended watermelon drink that is often combined with lemon or mint.
Is watermelon cooler healthy?
Yes, it's hydrating and has no added processed sugar. It's full of lovely vitamins and minerals from the fruit ingredients.
Can I make watermelon cooler without white sugar?
Yes, you can make it with agave nectar, maple syrup, and cane sugar as alternatives. These sugars are more natural than white sugar and less processed.
How long does the watermelon cooler keep for?
Not long; it'll keep for a few hours in the fridge. Make it to serve and consume it as soon as possible.
Is a watermelon cooler suitable for gluten-free diets?
Yes, it has no gluten in the recipe and is, therefore, suitable for these diets. 
Wrapping it up
I'm pretty sure you will run straight out and make this recipe. It is so inviting, with the hot pink color and the idea of sweet, fruity watermelon in your mouth.
This recipe is super popular at parties, brunches, and lunches; it is loved by all generations and will have everyone asking you how you made it and whether there's any more!? Happy blending!
Print
Refreshing Watermelon Cooler
This is a quick and easy recipe for a wonderful watermelon cooler.  It is so refreshing on a hot day.   The flavor combination is amazing and it looks so beautiful. 
4 cups

watermelon

2 tablespoons

lime juice

1 teaspoon

fresh ginger, minced

1 teaspoon

minced mint

Optional: apple juice concentrate or maple syrup for extra sweetness
Instructions
Blend all ingredients, except mint, in the blender until smooth. Stir in finely minced mint. Garnish with mint leaves.