I am so grateful for all the different Almond Milk brands that are available in the grocery store these days. It is super convenient, and many of them are quite delicious. So, why would I make my own homemade Almond Milk? There are several reasons why: number one being that it is healthier for you. The homemade version contains a greater ratio of real almonds; there is speculation that store-bought almond milk only contains a few almonds; besides, the homemade version has no preservatives or additives. Sure, they only last four days or so in the fridge, but you have to question what makes the milk in the grocery store last for weeks or even months on end. The second reason is that it tastes much fresher and better. You only need to try it once to establish that fact, and the third reason is that store-bought almond milk does not always work in plant-based recipes, especially things like plant-based cheeses.
So, do I make all my own almond milk? Sometimes! It is more convenient to buy, especially in our busy lives, but I usually make my own when I make vegan cheeses. The family loves it when we go to the extra trouble to make our own fresh milk. Even breakfast cereal takes on a gourmet taste.
Special Equipment:
It is actually quite easy to make. As long as you have a nut milk bag or something equivalent and a good blender, you can make almond milk from scratch.
Let's Talk Almond Milk Ingredients:
Almonds:
Use raw almonds when you make almond milk. Almonds are highly nutritious and supply the body with energy and strength. They have plenty of antioxidants, which help protect the body against infections. One cup of almonds will make 4-5 cups of milk. Almonds can be quite expensive, so I have found that buying in bulk and storing in the freezer is more economical.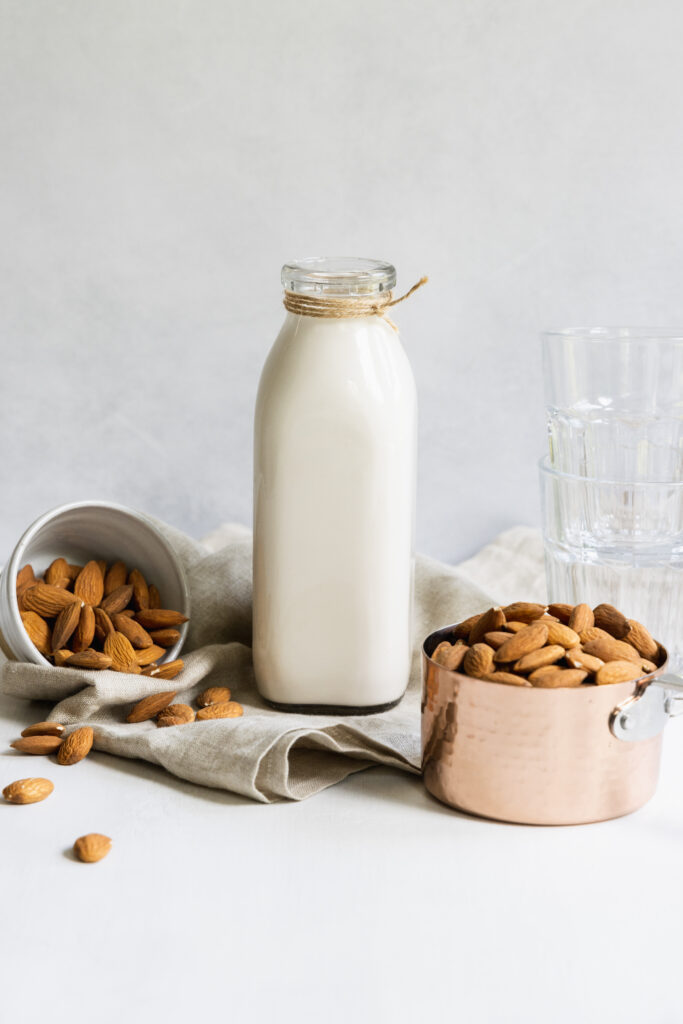 Water:
Water is an ingredient our bodies cannot live without, so add plenty of water to the nuts when making nut milk. I like the ratio of 1:4 (nuts/water), but many like less concentrated milk with a ratio of 1:5.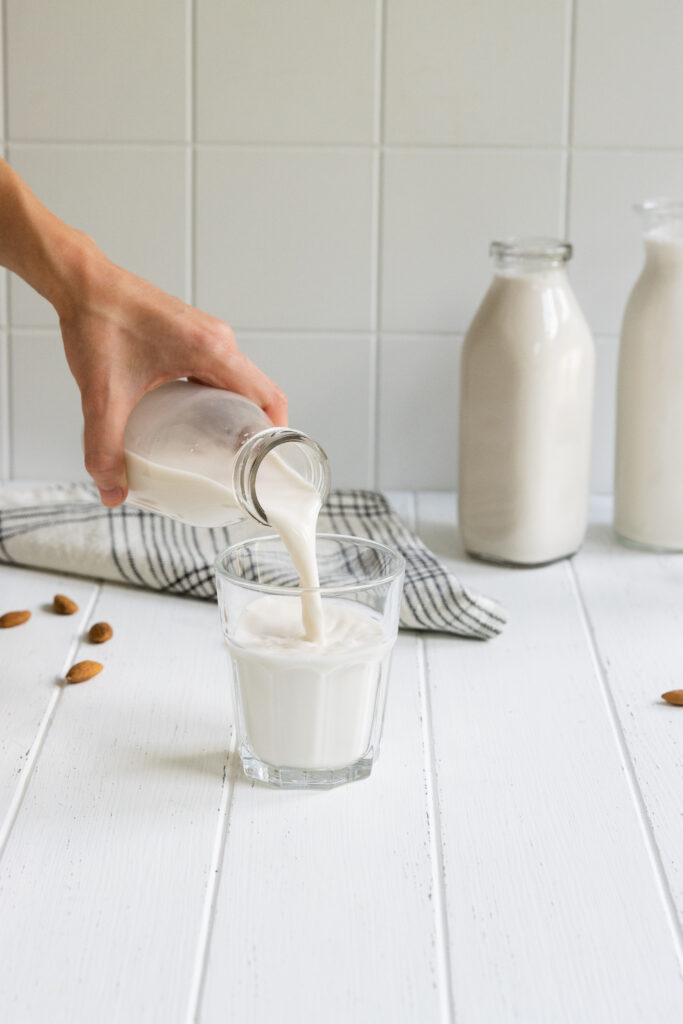 Flavoring:
We usually season with a pinch of salt, but many like their milk sweet which can easily be accomplished with a touch of maple syrup, agave, or a couple of dates.  Some like vanilla added, which can easily be done.  You be you, choose your flavoring.  
Even with so many wonderful almond milk brands on the market, there is a definite need to know how to make your own almond milk. So, here is my simple homemade version. It is delicious and healthy and works so well in many vegan recipes, especially vegan cheese recipes.
Click Here to Watch Me Make this Recipe on YouTube!
Print
Easy Homemade Almond Milk | Plant-based, Vegan
Author:
Yield: Makes

4

–

5

cups

1

x
1 cup

raw whole almonds, soaked overnight

4 cups

water
pinch of salt
Instructions
Soak almonds overnight in a bowl filled with plenty of water
Drain and rinse
Add almonds and 4 cups of water to a blender.
Blend until smooth.
Pour almond mixture through a nut milk bag while catching the liquid in a bowl underneath.   Close the nut milk bag.  Gently squeeze the nut milk bag to release as much liquid as possible.  The liquid in the bowl is almond milk.
Add a pinch of salt to the almond milk and stir.
Store in a glass container in the fridge until ready to use.  Lasts in the fridge for about 4 days.
Optional Ingredients:
1-2 tablespoons of maple syrup for sweeter milk
1 teaspoon vanilla extract if desired
Notes
The almond meal that is left can be used in other recipes, so do not discard it.  Store it in the freezer if you do not have immediate need of it.  It can be added to bread, cookies, granola, crisp toppings, etc., for extra flavor, texture, and nutrition.