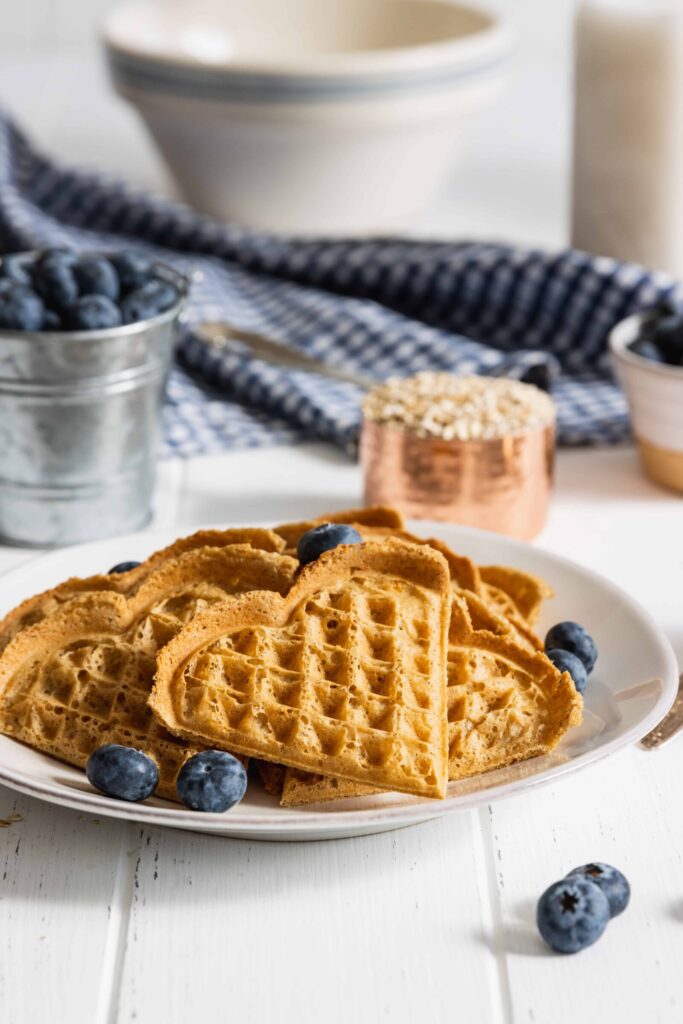 Breakfast is the most important meal of the day, the experts tell us, making perfect sense to me. It is what gives your body the fuel it needs for the day ahead. I love breakfast. I often go to sleep planning what I will eat the following day. When oat waffles are on the menu, it is a happy morning. These breakfast oat waffles are unbelievably delicious. Honestly, if you have never had oat waffles for breakfast, you have been missing out. Super easy, super healthy, super tasty, and one of my favorite breakfast foods.
I first had breakfast oat waffles while visiting my aunt and grandma in Norway. Traditionally Norwegians make waffles for afternoon and evening treats, but my aunt made oat waffles for breakfast. To make them healthy, she made them with oats, and the inspiration for this recipe was born. We usually enjoyed them, with the sun and fresh air streaming through an open window—such happy memories. Do not underestimate the impact of healthy oat waffles on the happy memories of your family. I am proof of that.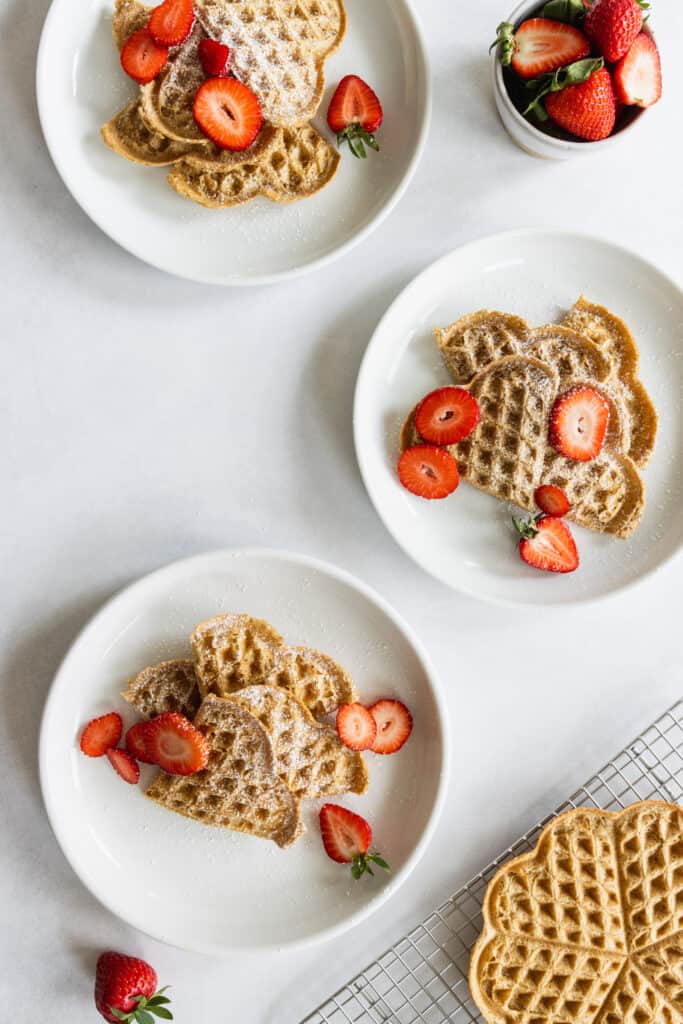 Let's Talk Oat Waffle Ingredients:
I am including links to Amazon to hopefully make it easier for you to find the products. (I earn a small commission and it doesn't cost you any more).
Oats:
As I am sure you know, oats are very nutritious. They are also available gluten-free, making it a great choice for so many people. Oats are the most nutrient-rich grain on the planet, high in phosphorous and iron. Oats are easily digestible and provide energy for several hours.
Almond milk:
Unsweetened almond milk is a nutritious and wonderful milk substitute. It is comparable to cow's milk in both protein and mineral content. The best part is that it contains no cholesterol — a perfect choice for these breakfast oat waffles.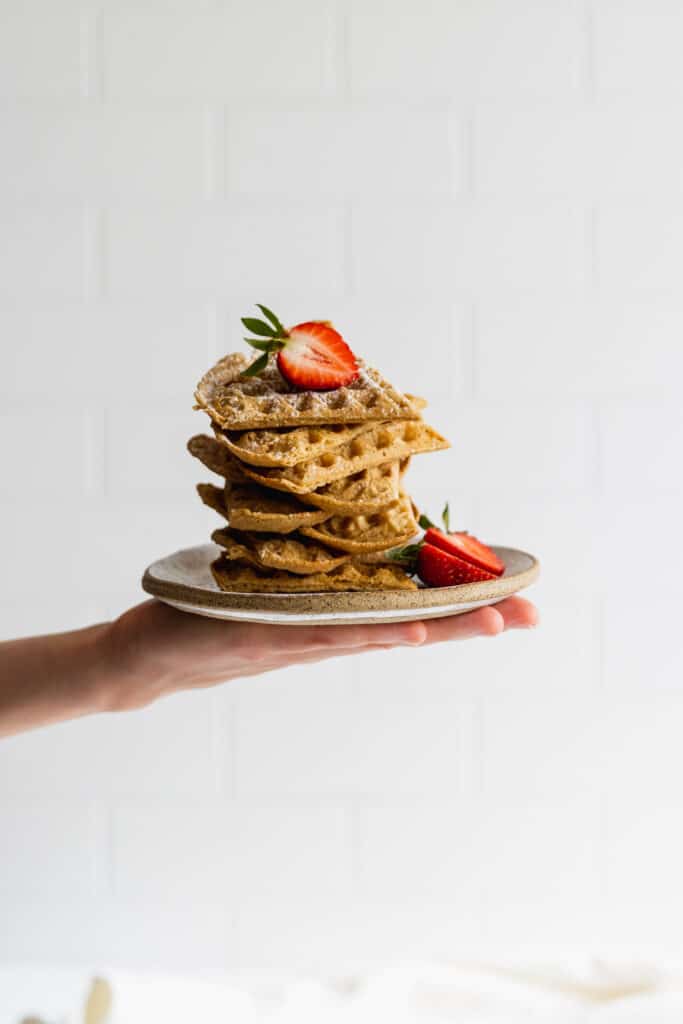 Vanilla Bean Paste:
I love the vanilla bean paste in these waffles. There is something about the vanilla seeds that add to the waffle experience. You can, of course, use regular vanilla extract also. Click Here for the Mexican Vanilla Bean Paste I use on Amazon!
Cardamom:
Cardamom is the finishing touch to these breakfast waffles. It gives the waffles a wonderfully rich and comforting flavor, and to me, it is associated with Norway's baked goods – some of my most favorite memories.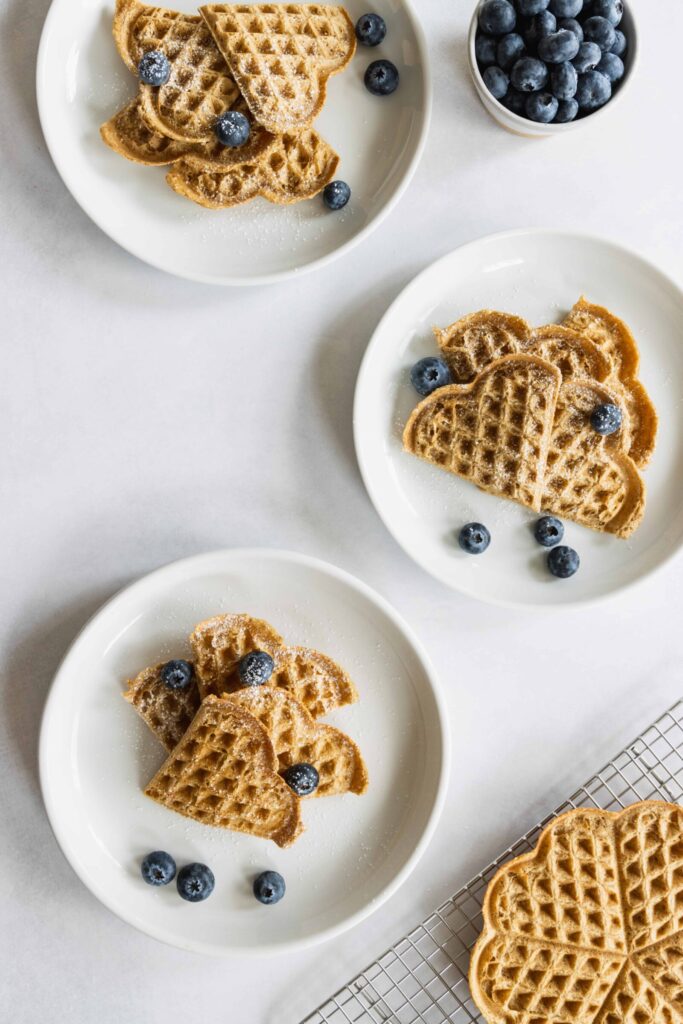 Sweetener:
You can make these waffles without any sweetener, but I like to add a tablespoon of maple syrup. You can get creative and add 1-2 pitted dates for a healthier alternative or some agave or natural cane sugar if that is more to your liking.
Oil:
You can make these waffles without any oil, but I find it is a little easier to manage in the waffle iron when I add a tablespoon of oil to the batter. You can use coconut oil or olive oil.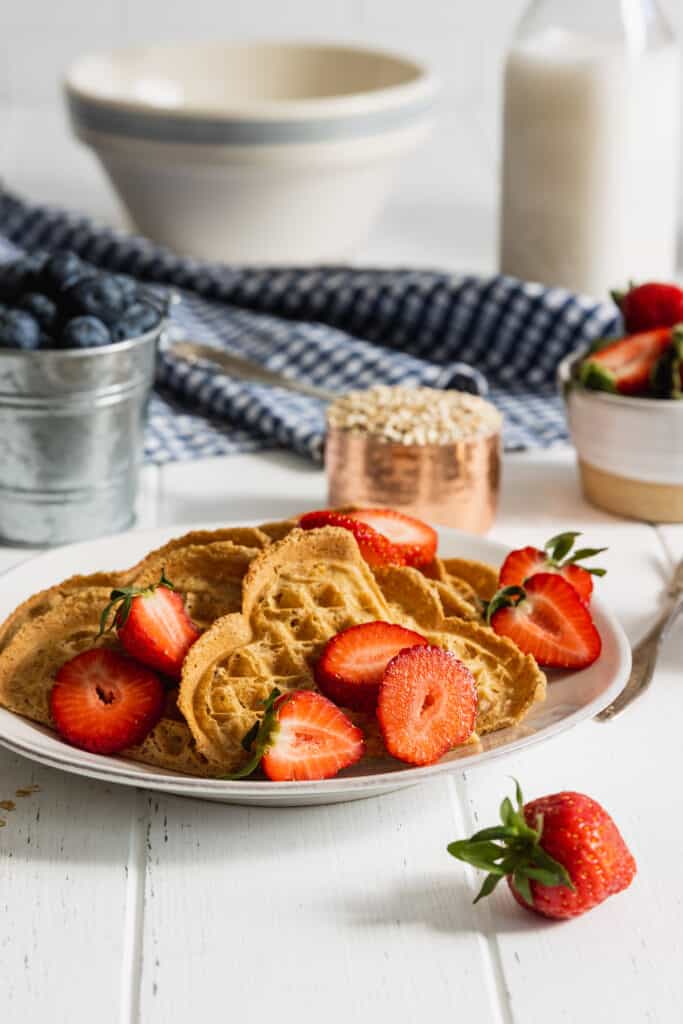 Cooking the Waffles:
I have a heart-shaped waffle iron, which I love, but you can use any regular waffle iron. (They have discontinued the waffle maker that we have, but I found something similar on Amazon).
I have to spray the waffle iron with a bit of oil to make sure the waffles do not stick to the iron.
Again, I hope you enjoy these Amazing Quick and Easy Oat Waffles; they are one of my favorite breakfast foods. Should you have any leftovers, they freeze well and can be popped in the toaster for great waffles the following day.
Click Here to Watch Me Make this Recipe on YouTube!
Print
Quick & Easy Oat Waffles
Author:
Yield:

4

–

5

Waffles

1

x
2 1/4 cups

unsweetened almond milk

2 cups

quick oats (for a gluten-free option use GF oats)

1 tablespoon

oil (olive or coconut oil)

1 tablespoon

maple syrup (agave or sugar)

1 1/2 teaspoons

vanilla bean paste or vanilla extract

3/4 teaspoon

salt

1/4 teaspoon

cardamom
Instructions
Heat waffle iron.
Add the milk to a blender.  Next, add all the remaining ingredients; oats, oil, maple syrup, vanilla, salt, and cardamom.  
Blend until smooth.  
Spray or brush the waffle iron with oil.  
Pour about 1/2-3/4 cup batter into the waffle iron.  Cook the waffles well.  For my waffle iron, I cook them through 2 beeps before I open the waffle iron.  You may have to experiment a little with your particular waffle iron.  If you like crispy waffles, cool them on a cooling rack, or store them in the oven at low heat while you cook up the rest.  If you want your waffle soft, stack them on top of each other.  
Serve with your favorite topping.  I can recommend blueberry sauce or raspberry jam.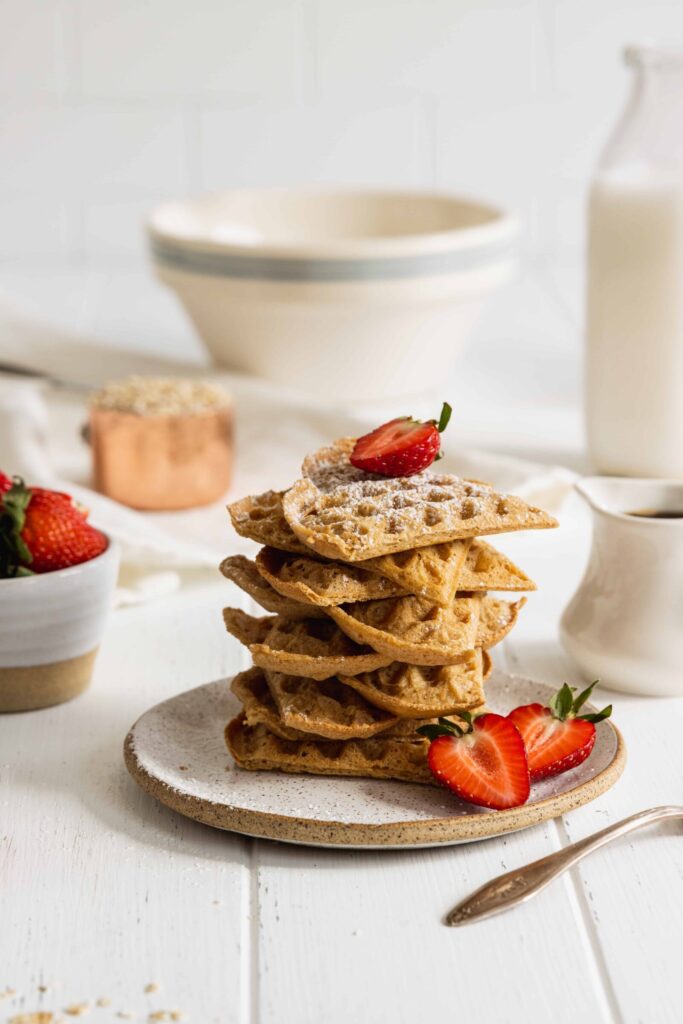 (Read my affiliate discloser here.)