Looking for an easy breakfast meal that will give you energy and strength for the day? Look no further! Overnight oatmeal is a perfect choice. It is a power-packed nutritious breakfast as healthy as it is delicious. This Easy Healthy Overnight Oat recipe can be made the night before and be ready for you in the morning. Healthy Overnight Oats is the perfect breakfast!
Love oats? Try the following oat recipes:
What Are Vegan Overnight Oats?
Overnight oats are a quick and easy, no-cook way to make oatmeal. Let the oats sit overnight in almond milk, and the oats will be soft, creamy, and delicious in the morning. This happens because the dried oats, sitting in moisture, slowly (and thoroughly) absorb the moisture and flavor from the rest of the dish. In the morning, you'll notice that your oats are much more flavorful and the texture is a slightly chewy creamy oatmeal that is easy to digest.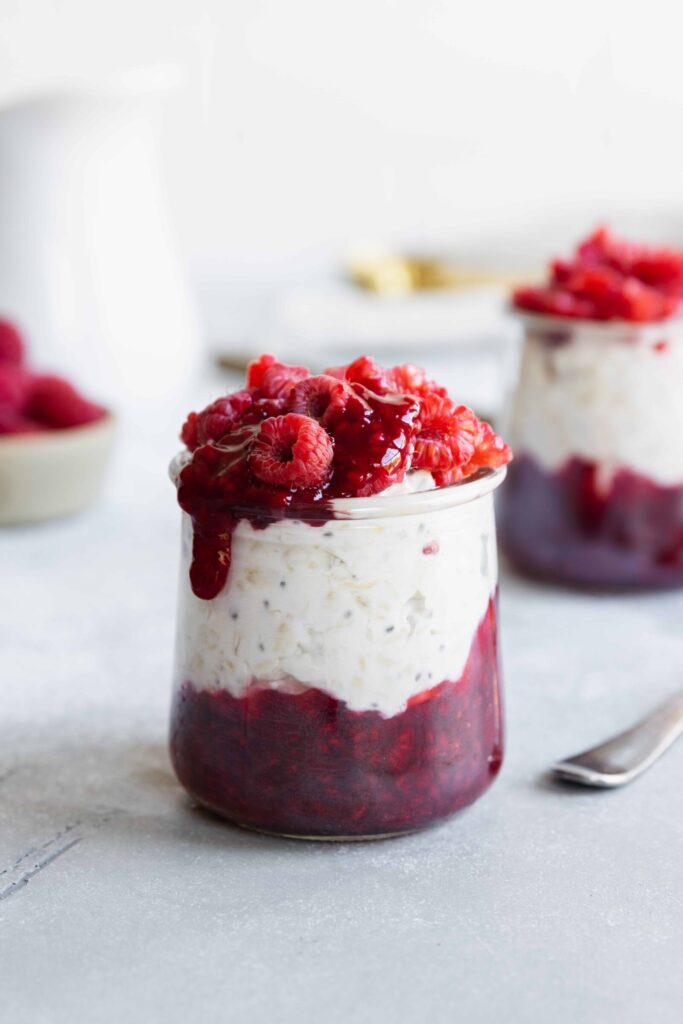 Health Benefits of this Recipe
By choosing quality rolled oats and allowing them to soak overnight, you'll be surprised by the difference it makes in both texture, flavor, and satisfaction. 
Overnight oats offer many health benefits:
Packed with vitamins and minerals
Rich in fiber
Great source of protein
High in antioxidants
Lowers bad cholesterol (LDL)
Lowers blood sugar levels
Promotes healthy bacteria in your gut
Helps you feel full to manage your weight
These oats are so good because your body which sometimes have difficulties absorbing nutrients, can through the soaking process, which allows the oats to absorb moisture (provided by our vegan milk and banana in this recipe), make oats easier for our bodies to digest.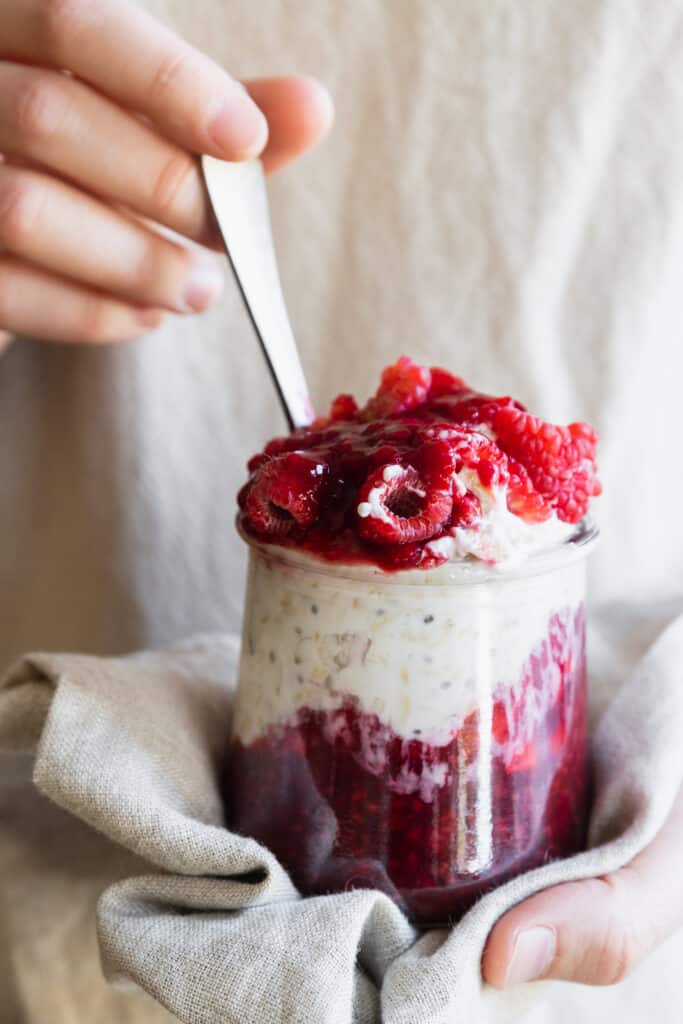 Helpful Tips for this Overnight Oats Recipe:
No special equipment is needed for this recipe, but I find it helpful to use a mason jar (pint-size) with a lid for the overnight oatmeal. It is also so easy to grab in the morning for breakfast on the go.
Be selective when choosing your oats. Rolled oats work best in this recipe. I can highly recommend the Sprouted Rolled Oats from One Degree Organic Foods, which can be purchased online or at Whole Foods Market. Sprouted grains break down the grain's starch, making it easier to digest and increasing the available nutrients. Organic produce contains fewer pesticides, more antioxidants, and more beneficial nutrients.
Sweetener:
I use maple syrup as I live in New England, but feel free to use your choice of sweetener.
For a healthier choice, add the half ripe mashed banana and substitute the maple syrup with 100% frozen juice concentrate (such as apple, or white grape juice).
Add a tablespoon of chia seeds for extra fiber, texture, and nutrition.
You can use any plant-based milk or water for the liquid in this recipe. I prefer almond milk.
Be creative! Think of this recipe as the canvas for adding color and flavor to fit your tastebuds. I used my homemade raspberry jam to add color and flavor to the oatmeal, but you can use any fruit sauce, fresh fruit, or jam that you have available.
A touch of vanilla also adds to the flavor experience. I am partial to vanilla paste, but vanilla extract will also do.
How to Make Easy Healthy Overnight Oats Healthy:
Ingredients you will need to store overnight:
Sprouted Rolled Oats or Old-fashion Oats
Plant-base milk, I use almond milk
Maple Syrup (or 100% frozen fruit juice concentrate)
Vanilla bean paste (or vanilla extract)
1/2 ripe banana
Fresh fruit, fruit sauce, or jam (raspberry jam)
The night before, add oats, milk, maple syrup, vanilla bean paste, and mashed banana to a mason jar. Stir to combine. Attach lid and store in the fridge overnight. The next day, add fresh fruit, jam, or fruit sauce.
My Favorite Homemade Raspberry Jam
This is my absolute favorite homemade raspberry jam recipe! It is super simple and so delicious. You can make this jam using your favorite berries. I love raspberries as they have a unique sweet-tart flavor quality, but blueberries and strawberries will work also. Click here for the recipe!
Frequently Asked Questions About Healthy Overnight Oats Recipes: 
What type of oats would you recommend?
I recommend using Rolled oats, sometimes called Old-fashion oats. The reason is because rolled oats are large flakes of grain called groats. Groats are the husks and cereal germ from the harvest, and these are much healthier for you than quick oats because they contain more fiber and nutrients. Once collected, these groats are steamed, flattened, and rolled, making them an ideal choice for soaking. These absorb more moisture and hold their shape better than any other kind of oat preparation, which is perfect for what we're using it for today.
Can I use quick oats?
Yes, you can use quick oats if that is all you have in your pantry, but keep in mind that the finished product will be mushier. Quick oats are designed to not need as much preparation in the morning. Quick oats don't have as much of a natural coating on them, which allows them to start cooking sooner when you put them into a pan. Fortunately, if you're a fan of extra-mushy oatmeal, or if you're trying to make this recipe in a time crunch that doesn't allow you to let it set overnight, you'll be surprised at how well quick oats works for you. If you do use quick oats, they won't be overnight oats, but I recommend allowing it to sit for at least two or three hours. If you're in a particular hurry and want a little under-done crunch to your oatmeal, even 30 minutes can work provided its thoroughly mixed with the milk and banana.
Can I use steel cut oats?
I don't typically recommend steel cut oats for overnight oats as they are best cooked.  
How long do I need to let the oats sit in the fridge?
Several hours – I recommend at least 6 hours. The longer you allow these ingredients to sit, however, the mushier and creamier they will be. So, if you prefer your oats softer in texture, you can let them sit for 8-10 hours. I personally make this recipe in the evening or at the end of the night so they get around 8 hours to sit and absorb all the moisture from the milk and banana. It's all about preference after the 6-hour mark! 
Will the banana turn brown when left overnight?
No, if the mashed banana is mixed with the milk, it keeps a lovely color for the next few days. Bananas only turn brown when they are left to oxidize in the open air, so mixing it thoroughly with the milk keeps it from open-air conditions. I try to make these overnight oats every couple of days, so I have breakfast with fresh ingredients, and I've never had a problem with banana turning brown while its been in the refrigerator so long as it is mixed properly. 
Why choose organic oats and chia?
The pesticides farmers use to increase their crop yields in an industrial setting can be harmful to humans. Organic produce contains fewer pesticides, more antioxidants, and more beneficial nutrients. Furthermore, using organic products support smaller farms. Whether it is more important for you to be sustainable in your food choices, feel better after eating, or support smaller farmers over big industry, buying organic can help you achieve those goals. 
Why choose sprouted oats?
The germinating process breaks down the starch, making them easier to digest. Sprouting also increases vitamins and mineral content and increases how much of those nutrients your body absorbs. Overall, I recommend sprouted oats because they deliver more nutrients besides being easy to digest. When the point of feeding ourselves is to fuel our body with good food so we feel good, the quality of the ingredients matters a great deal. 
Do I need ground chia seed?
No, you don't need to purchase a special chia seed preparation; they can be used whole. Whole chia seeds are the most common way you'll find them in stores, but if you really aren't a fan of the chia seed texture in food, buy ground chia seeds instead. Personally, I prefer whole chia seed because they blend seamlessly with the rest of the dish but add just enough texture that it creates variety with the oats to ensure you never get tired of the same thing every morning. 
Can you heat overnight oats?
Yes, absolutely. You can eat it straight out of the fridge or heat right before serving. If you do heat it up, I prefer to do it on the stove over medium low heat so I can ensure the oats don't overcook or dry out, while stirring it so I can ensure the heat is evenly distributed. If you ask me, heated oats are a perfect breakfast. Not only will it provide you with a lot of energy, but there's something extra-delicious and satisfying about a warm breakfast on a cold day. Likewise, during the summer, I'll often eat my oats right out of the fridge (after stirring) to offset the heat of the day. 
Is this recipe gluten-free?
Yes, this recipe can be made gluten-free if you use gluten-free oats. Nothing else in this recipe contains gluten, so you'll just want to check the label of your oats to be sure. In my experience, my sprouted organic oats that I recommend are both delicious and gluten-free, which makes them an excellent choice to have in the pantry no matter what you're making that day. 
Can I make it nut-free?
Yes, you can make this recipe nut-free so long as you use a nut-free plant-based milk. If you have a nut allergy, be sure to also check your rolled oats to ensure that they weren't processed in a facility that also processes nuts. One of my favorite nut-free vegan milks that you can find in stores is oat milk, which pairs really well with the flavors of overnight oats to begin with. Oat milk also has a creamy texture, which is why many people prefer it to almond milk in breakfast foods. 
Print
Easy Healthy Overnight Oats
Looking for an easy breakfast meal that will give you energy and strength for the day? Look no further! Overnight oatmeal is a perfect choice. It is a power-packed nutritious breakfast as healthy as it is delicious.  This Easy Healthy Overnight Oat recipe can be made the night before and be ready for you in the morning.
Author:
Prep Time:

5 minutes

Total Time:

10 minutes

Yield:

1

Serving

1

x
1/2 cup

rolled/old-fashion oats (organic & sprouted if possible)

3/4 cup

almond milk (or favorite plant-based milk)

1 tablespoon

chia seeds

1 tablespoon

maple syrup (or 100% fruit juice concentrate)

1/4 teaspoon

vanilla bean paste (or extract)

1/2

ripe banana, mashed
Instructions
Add rolled oats, milk, chia seeds, maple syrup, vanilla, and mashed banana to a mason jar (pint-size) or container of choice. 
Stir gently to combine. 
Cover with a lid.  Refrigerate overnight.