This Mediterranean bowl of goodness is the perfect healthy and filling on-the-go lunch idea.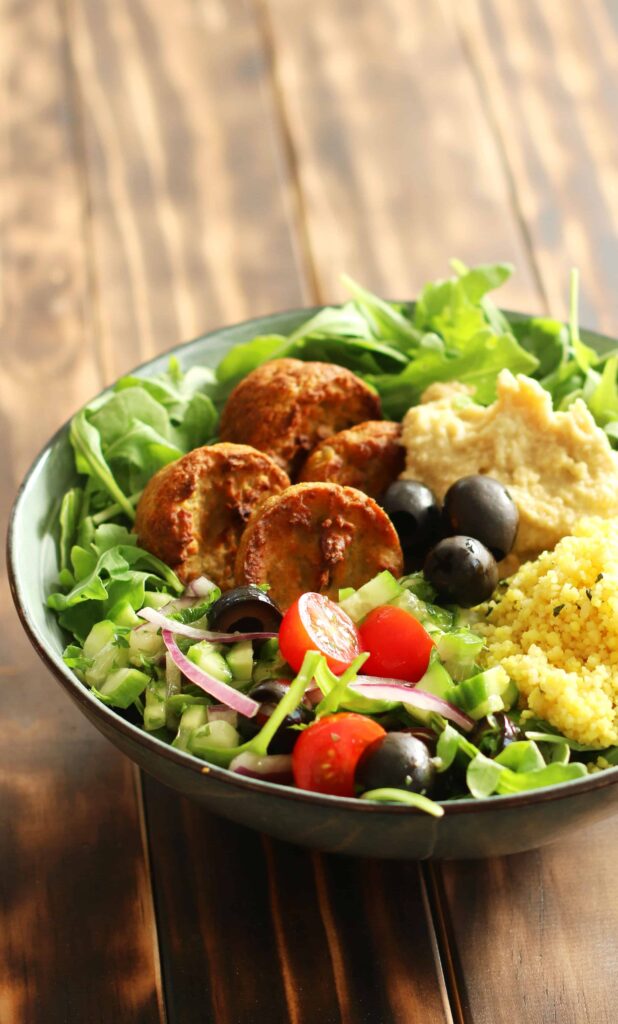 Why you'll love this Mediterranean bowl 
Sometimes I crave this recipe as these flavors really speak to me; here's why you'll love it too:
Great flavors and textures packed into one bowl, perfect if you love Middle Eastern ingredients like hummus and falafel.
Healthy and full of nutrients; all clean and gut-friendly ingredients.
Variety; there is just so much to choose from in one bowl that it's impossible to get bored with this dish.
This dish can transform into a side salad, a large platter, a main course, and more. There's so much you can do with it.
A great make-ahead option. For perfect lunch prep that'll last all week if you bulk it up.
Looking for More Recipes? Here are some of my favorite entrée recipes:
Ingredients and substitution notes 
This dish has a ton of elements; checkout more info about my recipe for easy and quick hummus and my cucumber dill dressing. These each form part of the Mediterranean bowl. Here's my recipe for falafel and vegetable stock recipe too.
Garlic. You can choose to leave this out if you prefer. I recommend fresh garlic for this recipe as opposed to powdered.
Lemon juice. Lime juice is a good substitute, use fresh and not bottled juice if possible.
Sea salt. Pink Himalayan is lovely in this recipe if you need another option.
Tahini. This wonderful nutty, earthy ingredient is the secret ingredient to this recipe.
Agave nectar. You can switch this out for maple syrup if you prefer.
Olive oil. The peppery flavor of olive oil is wonderful, but you can also use avocado oil if you like. 
Cucumbers. Choose a fresh, plump cucumber for this recipe for total freshness.
Cherry tomatoes. Choose your favorite little tomatoes; pure red ones or a mix of colorful ones will be lovely.
Olives. Not everyone loves olives, so leave them out if you like. I love either green or black olives for this bowl.
Red onion. This is a sweeter, milder option for onion.
Parsley. Fresh parsley will lift this bowl and all the elements.
Turmeric. Ground turmeric will bring color and a load of health benefits to your bowl.
Lemon peel. Lime peel is a good alternative but doesn't skip the peel altogether in this dish; it is so lovely and light.
Couscous. You can use wild or brown rice instead of couscous if you'd prefer.
Cilantro. Brings the dish together!
Mediterranean Bowl Recipe variations and add-ins
There are so many potential add-ins and ways to make this bowl. Here are a few ideas to take you to another level:
Grains. Quinoa, rice, and bulgar wheat are all lovely additions to this dish.
Veggies. Use leftover veggies to add in, or roast off a few of your favorites to bulk this up.
Vegan Protein. Think grilled tofu and vegan cheese. 
Sauces. There are a ton of sauces that will go beautifully with this salad in addition to the ones in this recipe. Add in a little red pepper pesto, harissa, or olive tapenade to amp up the olive.
Herbs. You could sprinkle in some extra fresh herbs like mint or basil.
Pickles. Homemade or store-bought, whatever your preference is.
Nuts and seeds. Toast them first for an extra nutty taste.
Top tips
Here are my pro tips for the perfect bowl.
Make this using the freshest ingredients. Nothing wilting, everything bright and beautiful.
Smooth couscous; ensure your couscous is lump-free by making sure you fluff all the lumps out.
Use good quality olive oil. This ingredient really contributes to the overall flavor of the dish.
Make ahead of instructions and storage
You can prepare each element ahead of time, which is one of the best parts of this salad. Store them separately in their own individual containers to keep each element fresh and from turning soggy.
When it's time to assemble the bowl, the elements will be ready, and you can just whip them out of the fridge.
Take time to set the bowl up to look beautiful. You can also just pop them all into a mason jar and gobble them up.
Serving suggestions 
There are so many different ways to serve this dish and the individual elements.
In a pita pocket. I love this! An easy way to contain all the elements and bulk the dish up.
Over a big platter of fresh lettuce leaves. Turn this into a platter or spread as opposed to having it as a bowl.
Inside a wrap. Similar idea to the pita, serving it this way turns it into a fun and healthy on-the-go item.
FAQs
What is a Mediterranean bowl?
It's a meal that typically consists of elements that are popular in the Mediterranean region, such as hummus, cucumber and olives. The dish displays each element, set out in its own line or section, and is considered healthy and wholesome.
What are the main components of a Mediterranean bowl?
There are a few to choose from, but typically it consists of olives, hummus, a grain like a couscous or rice, herbs, other sauces, and vegetables.
Which grains can you use in a Mediterranean bowl?
You can really pick your preference, but quinoa, couscous, and rice are the most common grains used.
Can I make a Mediterranean bowl ahead of time?
Yes, you can make each element ahead of time and store it in its own container in the fridge until you're ready to assemble it.
How can I make the bowl gluten-free?
If you use a gluten-free grain like rice or quinoa, you can make the dish gluten-free.
Wrapping it up
This dish does take a little time, but once the elements have been made up, you can reach for them and assemble the dish in a flash!
Print
Mediterranean Bowl
This Mediterranean bowl of goodness is the perfect healthy and filling on-the-go lunch idea.
COUSCOUS
1

T olive oil

2

large garlic cloves, minced

1 2/3 cups

vegetable stock

1/4 teaspoon

turmeric

1/2 teaspoon

lemon peel

1/2 teaspoon

salt

1

–

2

teaspoons fresh lemon juice

 

1 cup

couscous

1 tablespoon

cilantro, minced
SALAD
2

mini cucumbers, petite diced

1/2 cup

cherry tomatoes, cut in half

 

3 tablespoons

sliced olives
a few slices of red onion

1 tablespoon

fresh parsley

 

olive oil
salt
TAHINI DRESSING:
1

garlic clove, minced or crushed

 

1/4 cup

lemon juice, fresh

1 teaspoon

sea salt

1 tablespoon

tahini

1 teaspoon

agave nectar

1/3 cup

olive oil
Instructions
Couscous
In a medium size sauce pan, sauté the garlic in the olive oil.
Add the turmeric, lemon peel, salt, and vegetable stock. Bring to a boil.
Turn off heat. Add couscous and let sit for 20 minutes or until tender.
When ready to serve add the minced cilantro.
Salad:
Toss vegetables with a little olive oil, and add salt to taste
ASSEMBLE THE BOWL
Fill the bottom of the bowl with arugula or spinach Fill 1/4 of the bowl with hummus
Fill 1/4 of the bowl with couscous
Fill 1/4 of the bowl with salad
Fill 1/4 of the bowl with falafels
Serve with dressing on the side. Add a few olives for garnish.
Tahini Dressing
Prepare the dressing by adding all the ingredients into a small bowl, except oil. Stir.
Add oil while whisking continually until emulsified.