Today we are making a vegan, practically 'right-off-the-farm' fresh corn salad. It contains such a fantastic amount of nutrients, you can almost feel the energy burst within you as you eat it, and of course, it tastes fantastic.
Fall in New England:
As I am sure you know by now, I love Fall. New England is at it's best during the fall season. Charming little farm stands, apple orchards, and country stores are busseling with visitors (or as we call them in New England: Leaf Peepers), eager to see what New England has to offer.
The leaves are beginning to turn, and those glorious red and yellow colors will soon be in full bloom. The farmer's markets are filled with lots of fresh, vibrant, healthy vegetables. If that is not fresh enough, you can 'pick-your-own' and get your apples and veggies even fresher:)
One of my absolute favorite veggies is fresh corn. It is such a beautiful, crunchy, and sweet vegetable. I find that the best veggie recipes are usually those prepared in a simple and easy way, using very few other ingredients.
That is why this recipe is one of my favorites. Simple, with a pop of flavor, this recipe is outstanding. Plus, it contains valuable B vitamins, which is good for our health. What more can you ask?
How I make my Vegan Fresh Corn Salad:
I like to start by making the dressing. I use fresh lime juice, which adds a fresher kick to the salad. Finely chopped onion, garlic, and minced herbs make the dressing come alive. My favorite herbs in this dish are basil and parsley.
Then mix everything while carefully adding the oil, and you have a beautiful dressing, which is best if left in the fridge to chill for an hour or more.
Cut the corn off the cob. See my video for instructions.
Mix with sliced tomato, diced cucumber, and toss with the flavorful dressing.
I hope you enjoy this Vegan Fresh Corn Salad. It is such a favorite this time of year.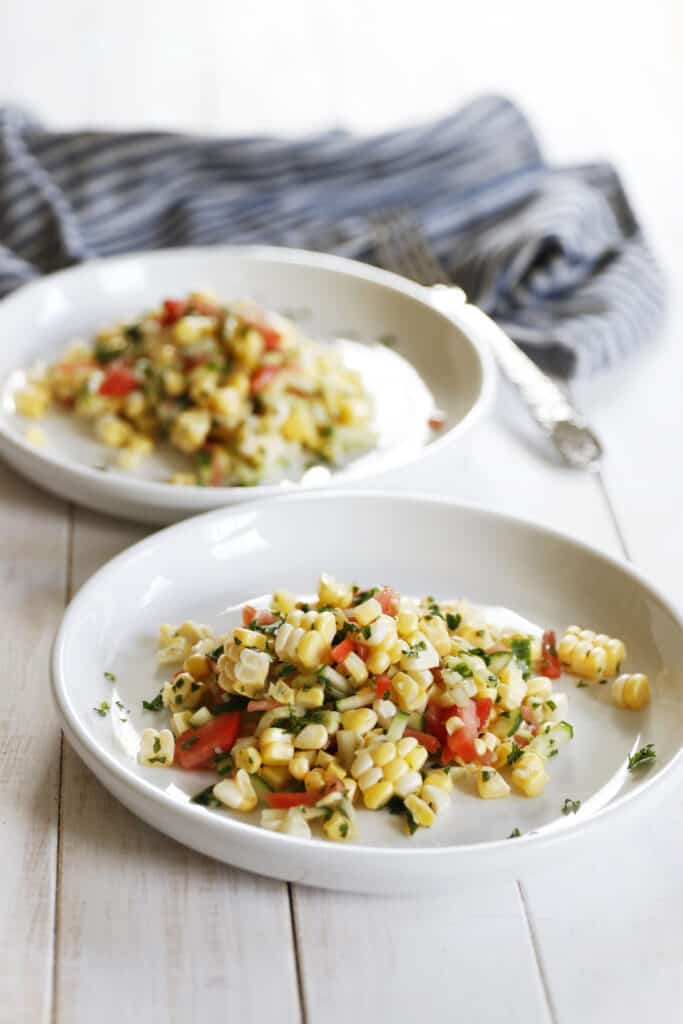 Print
Vegan Fresh Corn Salad
DRESSING:
1 tablespoon

fresh lime juice

1 tablespoon

finely diced onion

1

minced or crushed garlic clove

1/2 teaspoon

salt

1 tablespoon

finely minced basil & parsley

1 tablespoon

oil
SALAD:
2 cups

of fresh corn

1/2

tomato, finely diced

1/4

European cucumber, finely diced
Instructions
In a small bowl, add lime, onion, garlic, and salt. Slowly add oil, while stirring. Mix in the fresh herbs. Cover and let sit in the fridge for an hour or more. This will decrease the raw flavor of the onion and garlic.
In the mean time, combine the fresh corn, finely diced tomatoes, and cucumbers in a medium size bowl. When it is time to serve, add the dressing to the salad and gently stir to combine.