Here's a healthy hash brown recipe you'll go dilly for (yup, I said that). If you love a savory breakfast item and you're looking for a golden delicious hash browns with all the crispy elements, look no further.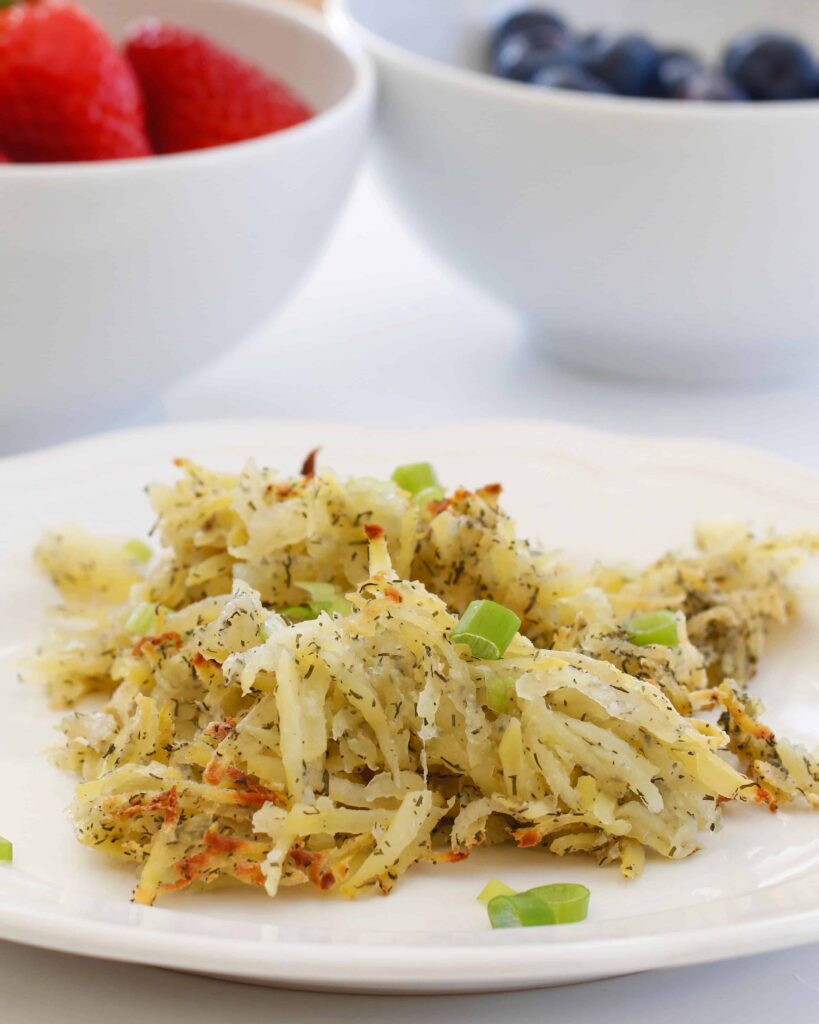 Learn the secret trick to making the perfect hash brown dish. 
Easy as one, two, three; you'll be whipping this recipe up at the drop of a hat.
Why you'll love these hash browns
Ah, who doesn't love hash browns? In case you're wondering, here are reasons to love these:
Golden and crunchy: these hash browns deliver from a texture and crunch perspective.
Interesting taste sensation with the added dill flavor.
Easy to make and cook quickly: there's no need to fuss over breakfast, this recipe can be put together quickly.
The perfect hot breakfast item: if you're into making and eating hot breakfasts, then you need to put this recipe into your culinary bank!
Looking for more breakfast recipes? Here are a few of my favorites:
Ingredients and substitution notes 
Here's what you'll need to whip these crispy hash browns up:
Organic golden potatoes. These are my favorite but you can use red russets too.
Dried dill. You can use fresh dill if you like but the dried dill flavor is a lot more concentrated.
Granulated onion powder. You can also try the smooth, fully ground onion powder if you can't find this version.
Garlic powder. Use this for a delicious garlic flavor.
Olive oil or vegan margarine. These are optional but I love to add in a little oil to encourage the crunch.
Salt. Use Kosher or Himalayan salt.
Recipe variations and add-ins
Here are a couple of add-ins to consider if you want to glam-up the flavor:
Vegan bacon substitute: try adding in a few spoonfuls of chopped vegan bacon. These will deliver a smoky, savory flavor that you're going to love.
Other Herbs: Think thyme, chopped parsley – dried or fresh.
Vegan Parmesan cheese: add a little to the mixture or once they've cooked for cheesy joy!
Jalapeños: add in some chopped jalapeños (or any peppers or chilis, really) to the mixture before cooking the hash browns.
Top Tips for Making the Best Hash Browns
Here are my pro cooking tips related to making hash browns with dill!
Dry the potatoes well: this will help to achieve that lovely crunch that you're looking for.
Season the potatoes well: hash browns can take a lot of flavor so make sure you season well.
Use the best quality potatoes you can get your hands on. Not all potatoes are equal so pick up the best ones you can find. They should be firm and not soft at all.
Make ahead instructions and storage
If you shred your potatoes in advance (peel, shred etc), you can store them in the refrigerator, for about 3 days but they must be totally submerged in water.
Submerging them in water will prevent oxidization from occurring and affecting the color of the potatoes (nobody wants pink hash brown!).
Any leftovers can be popped in the fridge or freezer for a 2-3 days and enjoyed on the go. These make a great snack and can be heated up in the oven, microwave or in a pan.
Serving suggestions
Looking for ways to serve up your hash browns? Here are a few:
With scrambled tofu: the ultimate vegan scramble, I love to add a load of chopped fresh herbs to my scramble. This will make the perfect partner to your crisp hash browns.
Crunchy Brussel sprouts with vegan bacon: Slice up and roast some Brussel sprouts with some lovely smokey vegan bacon. You will love this breakfast plate full of flavor and crunch. An absolute win and tasty to the max.
Roasted Veggie skewers: layer mushrooms, peppers, zucchini and/or eggplant onto skewer sticks. Roast them with a drizzle of oil, some red pepper flakes and good old salt and pepper.
Homemade chili: Bean chili is the perfect "sauce" to serve with your hash browns. The beans in a zingy tomato sauce taste incredible alongside this potato dish.
Stuffed and roasted bell peppers: Stuff them with chopped tomatoes, olives and herbs and roast them until they become sweet and tasty.
Crunchy garlic and herb toast: Leave the garlic out if you can't handle it with breakfast but I love the rich complex taste garlic adds to anything.
FAQs
Where did hash browns originate?
Crispy hash browns appeared on the menus in New York's breakfast restaurants all the way back in 1890.
Are hash browns American or British?
Although hash browns can be found all over Britain, they are originally American.
Watch My Hash Brown Recipe Video:
Wrapping it up
Be sure to add these to your breakfast menu the next time you're planning to put a hot plate of food out on the table.
These hash browns are total crowd-pleasers and your friends and family are sure to love them.
Print
Breakfast Hash Browns with Dill
If you love a savory breakfast item and you're looking for a golden delicious hash browns with all the crispy elements, look no further.
Author:
Yield: Serves

4

-6

1

x
3

pounds organic golden potatoes

1 tablespoon

dried dill

1 tablespoon

granulated onion powder

1 tablespoon

garlic powder

1 tablespoon

olive oil or vegan margarine (optional)

2 teaspoons

salt
Instructions
Preheat oven to 400 F.
Rinse, peel, and quarter potatoes.
In a food processor, with the shredder attachment, shred the potatoes.
Add shredded potatoes to a colander, rinse until water runs clear.
Let drip dry for a couple of minutes. Squeeze the water out as much as possible. Transfer shredded potatoes to a large bowl. Add the remaining ingredients. Stir well to combine. Add the seasoned potatoes to a sheet pan (use baking paper or silicon mat to prevent sticking).
Bake at 400 for 30 minutes. Stir slightly, bake an additional 5-10 minutes.
Notes
Rinsing the potatoes removes the starch, and the hash browns are much better in texture.