This cabbage steak recipe is so tasty and super simple to prepare. It's a quick and healthy meal, great for the midweek rush. Made by slicing the head of cabbage into rounds and then seasoning them beautifully before sending them into the oven.
These cabbage steaks are crisp on the outside with that golden caramelization we all know and love. Inside, the steaks are beautifully juicy and tender, so this recipe will deliver whether you're looking for a main course item or the perfect vegan side.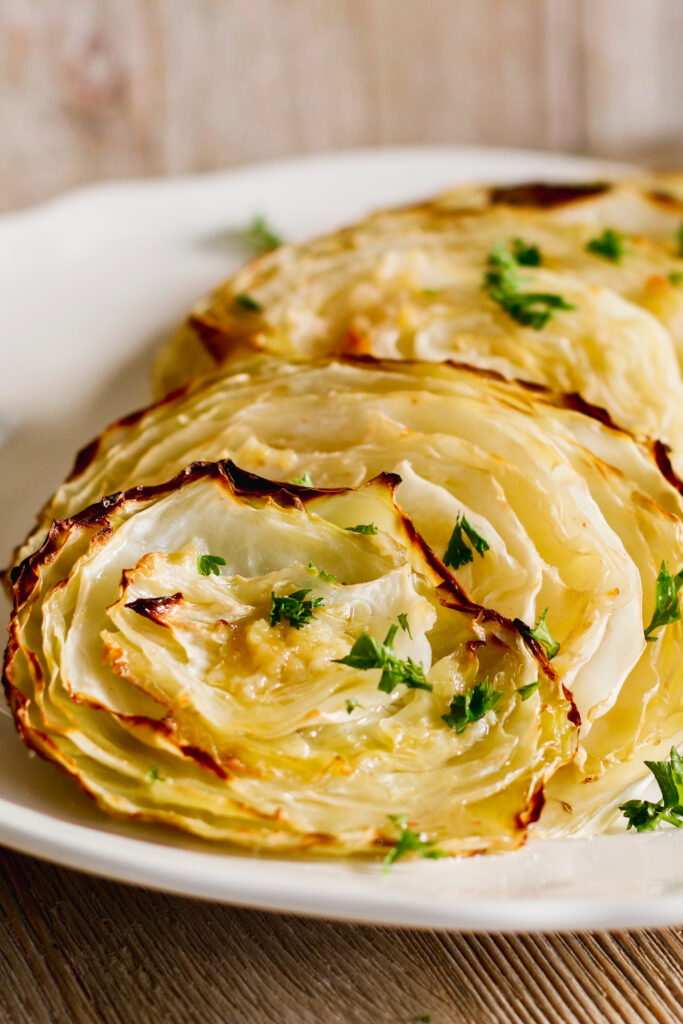 Why you'll love these cabbage steaks
There are so many reasons why you're going to love these. I'm pretty sure you're going to add cabbage steaks to your weekly meal rotation, like asap.
Cabbage steaks can be served as a side dish, main course, or as a veggie-friendly alternative to meat, making them flexible and versatile little numbers.
Truly tasty from the caramelization process and the seasonings you will pair it with. Cabbage steaks are mouth-watering to say the least.
Healthy and nutrient-dense – not only are these steaks low-calorie, they are also loaded with vitamins and minerals and rich in antioxidants. Who doesn't love the sound of that?
Cost effective; cabbage is a healthy, wholesome, relatively inexpensive vegetable. It has a wonderful yield and is great for end of the month budgeting.
Easy to make; this is so simple you won't even believe it. Quick as a flash to prep, this recipe is a no-brainer if you're time strapped.
Looking for More Vegan Recipes?
Here are some of my favorites:
Ingredients and substitution notes
Here are a few points on the ingredients in this cabbage steak recipe to help you succeed:
Cabbage. Use a lovely firm cabbage with a compact and sturdy head. Purple and green cabbages are both fine for this recipe, it just depends on what your preference is. 
Oil. I love using either avocado oil or olive oil with this recipe. Go ahead and pick your favorite.
Salt. Crunchy and healthy sea salt will season these steaks to perfection. 
Garlic. Fresh, minced garlic will give a lovely rich flavor to your recipe. Go ahead and use garlic powder if you need to.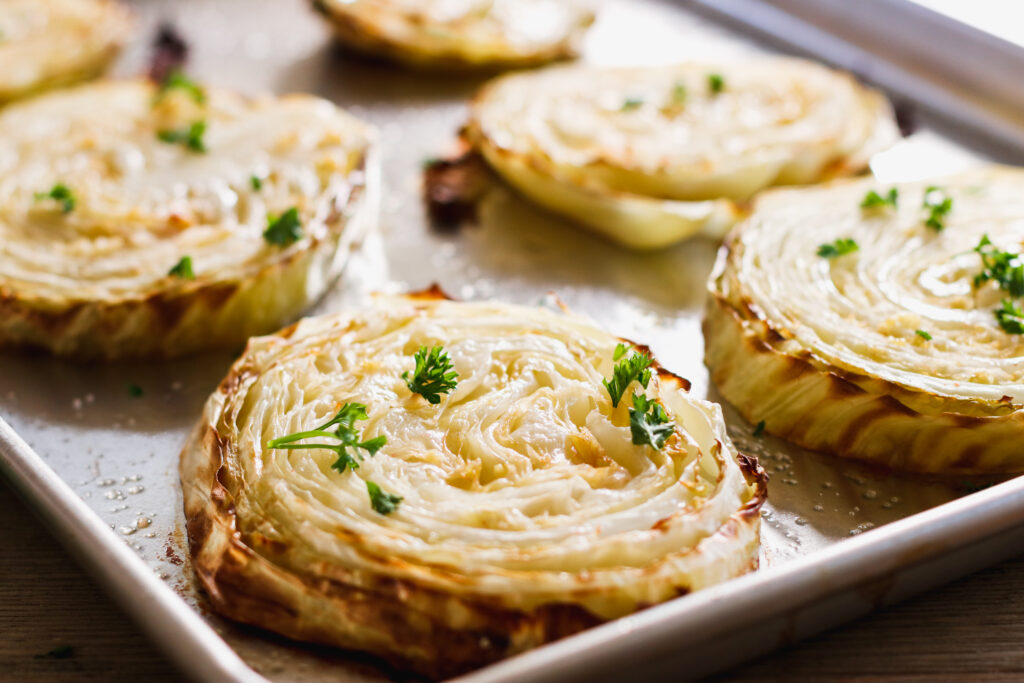 Cabbage Steak variations and add-ins
This tasty recipe can be adapted with added ingredients; check these ideas out:
Lemon, lime and ginger. How good does a squeeze of fresh lime or lemon and some grated ginger sound with this? These flavors will hit a high note with the rich cabbage.
Herbs. A sprinkling of dried herbs is a lovely, fragrant addition to these steaks.
Vegan cheeses. Crumble a little vegan cheese on top of your steaks before popping them into the oven.
Spices. Think cumin, ground cilantro, paprika, and turmeric. Each of these will bring its own little pop of flavor.
Sliced veggies. Caramelized onion, bell peppers, mushrooms, peas…there are just so many options.
Grains and seeds. Toasted sunflower seeds are a lovely addition to cabbage steaks after they've come out of the oven.
Sauce. Make up a batch of vegan white sauce and pour it over the steaks just before you serve them. Also, consider a drizzle of hot sauce; wow!
Nuts. Toasted and chopped, a spoonful of nuts on each steak will deliver the perfect crunch.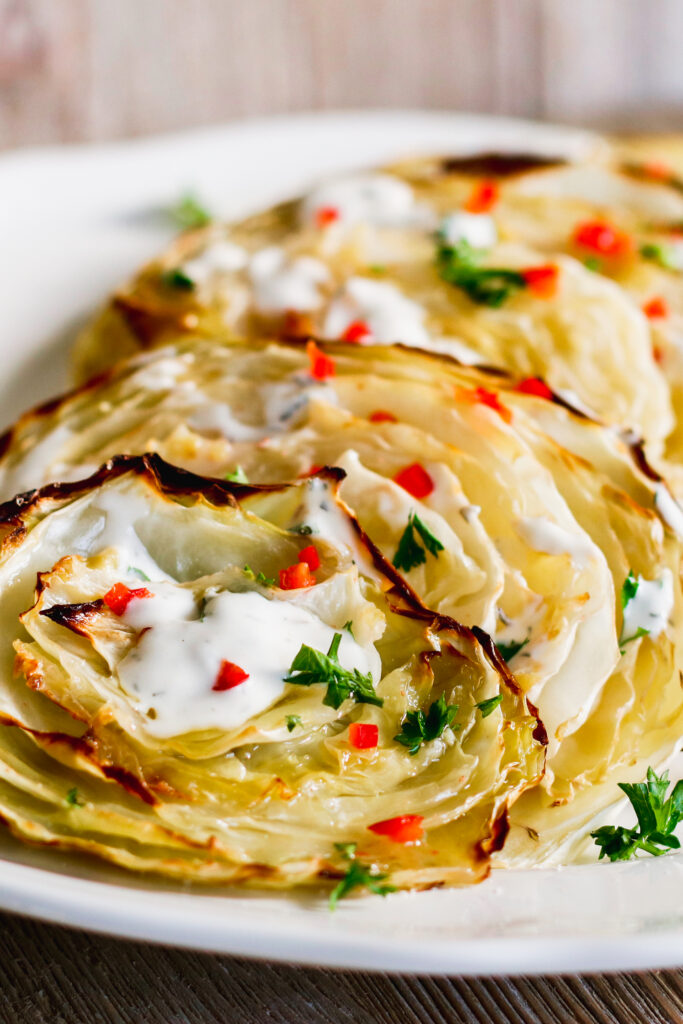 Top tips
Here are my pro tips for the perfect cabbage steak:
When selecting your cabbage, look for a heavy, densely packed one. This will indicate a juicy cabbage that won't fall open when you cut into it. You want tightly packed leaves for good shape.
Cut the steaks into thick slices. They should be around an inch thick, ideally. Cutting them this way will ensure the steaks don't fall apart.
Make sure you season your steaks adequately; they are quite mild in flavor and need a good hit of seasoning.
Don't overcrowd the tray. This will create a steam bath between the steaks. You want them roasted and golden, not soft and mushy.
Flip your steaks for even cooking.
Don't forget to check for doneness. Poke a fork through the steak to check its cooked through.
Make ahead of instructions and storage
So, there aren't many steps to skip with this recipe, but you can certainly cut the cabbage steaks ahead of time and keep them in the refrigerator. They'll be fine in a sealed container.
Cooked, they'll keep for 2-3 days. Let them cool down totally before popping them into a sealed container and then into the fridge.
You can also freeze these cabbage steaks, believe it or not! What a great way to have them on hand.
To reheat them, pop them into the oven at 350°F for 15 minutes.
Cabbage Steak Serving Suggestions
Here are a few ways to serve up these juicy cabbage steaks:
As a main course: serve the cabbage steaks with roasted veggies, vegan gravy, and mashed sweet potatoes. 
Serve cabbage steak as a side dish to a vegan protein item.
As part of a salad, picture a warm winter salad.
It could be a filling for a sandwich. Layer in vegan cheese, tomato, and lettuce with it.
As an appetizer: cut these up into little pieces to top a round of baguettes with.
With dips, serve your steaks with hummus and vegan ranch dressing.
With sauce on the side, pesto, chimichurri or hot sauce is a great accompaniment to these steaks.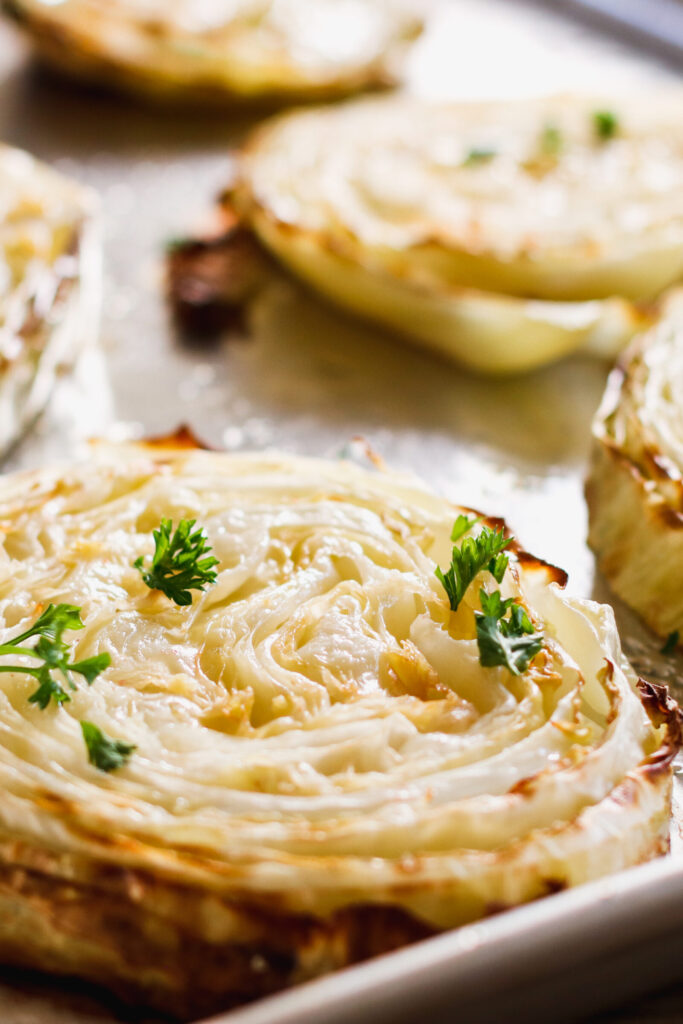 FAQs
What is a cabbage steak?
It's a thickly sliced, seasoned, and roasted cut of cabbage.
Can I use any type of cabbage for a cabbage steak recipe?
Yes, pick out your favorite cabbage and go for it.
How thick should I cut the cabbage?
Cut it to about 1 to 1 and ½ inches thick.
Can I freeze the cabbage steaks? 
Yes, you can; they will freeze for up to 3 months if you seal them in an airtight container.
Wrapping it up
Cabbage steaks have been around for a little while now on the vegan scene, and it's unlikely they'll be going anywhere anytime soon. Juicy and filling, these steaks are full of flavor and will impress your guests.
Print
Cabbage Steak Recipe
This cabbage steak recipe is so tasty and super simple to prepare. It's a quick and healthy meal, great for the midweek rush. Made by slicing the head of cabbage into rounds and then seasoning them beautifully before sending them into the oven. 
Author:
Prep Time:

5 minutes

Cook Time:

45 minutes

Total Time:

50-60 minutes

Yield: Serves

2

-3

1

x
1

medium size cabbage

3 tablespoons

oil

1 teaspoons

sea salt

2

cloves fresh garlic, minced (optional)
Instructions
Preheat oven to 420F and grease or line a baking sheet.
Cut the cabbage into 1/2 in. slices and arrange on the baking sheet.
Mix together the oil and minced garlic.  Brush the oil mixture over the cabbage steaks and season with salt. 
Bake for 45 minutes.
Serve as is, or with a favorite dressing. Vegan Ranch or Creamy Italian Dressing.
Click Here to Visit My YouTube Channel!
Looking for Some Fun Vegan Dessert Recipes? Here are some of my favorites: